Home

/

News

/

2022

/

June

/

EU: Artificial Intelligence Act: consolidated version of the Presidency's compromise text
EU: Artificial Intelligence Act: consolidated version of the Presidency's compromise text
Topic
Country/Region
16 June 2022
On 15 June the French Presidency of the Council circulated a consolidated compromise text of the proposed Artificial Intelligence Act, which aims to establish a legal framework for the development and deployment of "trustworthy" AI in the EU.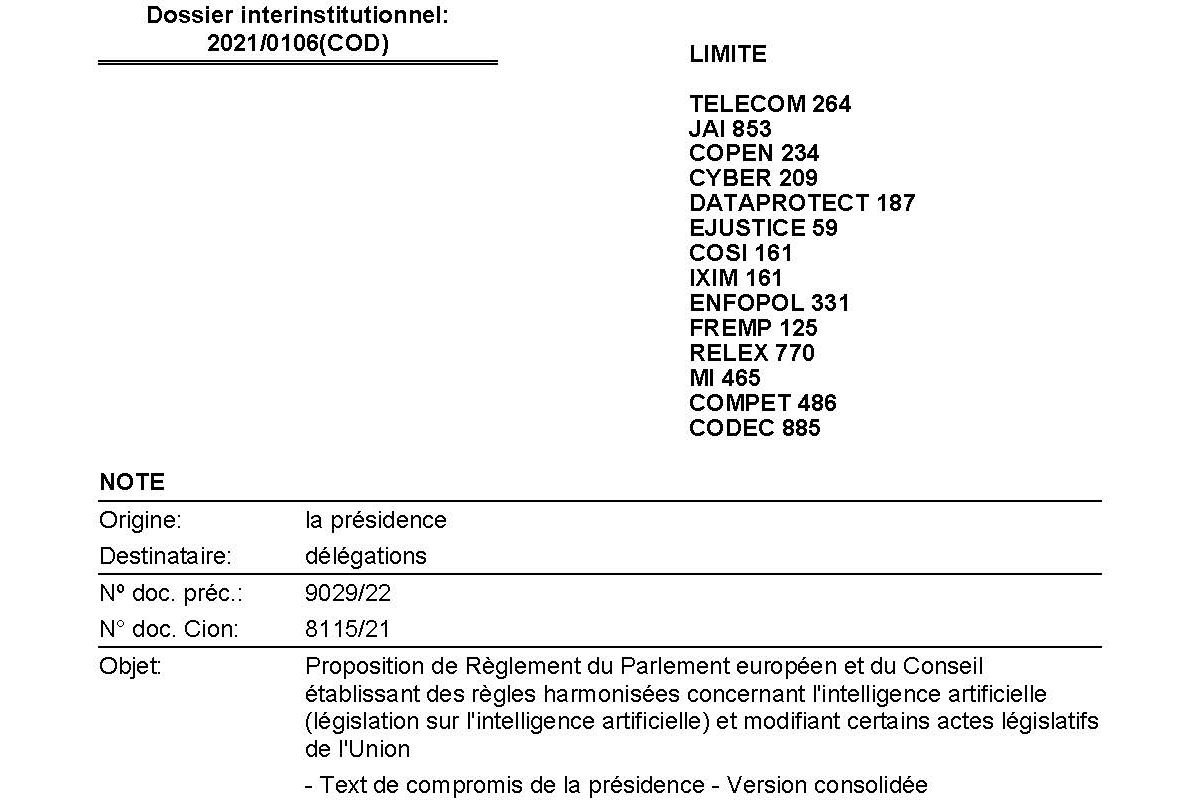 The document (pdf) contains the full text of the proposed Regulation, taking into account changes made after multiple rounds of discussion within the Council.
The most recent changes - mostly to the recitals, but also to some substantive parts of the text - are due to be discussed in the Council's Telecom Working Party tomorrow, 17 June.
If they are agreed, then the text will head to the Committee of Permanent Representatives (COREPER) and then the Council for approval, after which the Council will have to wait for the European Parliament to finalise its own negotiating position.
That may take a while - in the Parliament, over 3,00 amendments have been submitted on the proposal.
The Presidency's document explains the main changes to both the recitals and the substantive parts of the text, the latter as follows:
"2.1 The definition of 'small provider' in Article 3(3) has been deleted as this concept no longer appears in the text.
2.2 Article 53 on regulatory sandboxes in the IA has been considerably shortened and simplified in order to give Member States more flexibility when setting up such sandboxes. Article 53(4a) has been added to create an additional benefit for suppliers to participate in the sandbox, while Article 53(7) has been included to allow for live testing in the IA regulatory sandbox.
2.3 Article 54 has been amended to remove the amendments introduced earlier, creating a new legal basis for the collection of personal data. This is due to the lack of legal certainty of this provision, which could be challenged in court on the grounds that it is not compliant with the GDPR. On the other hand, in Article 54(1)(a), additional categories have been added to the list of areas in which further processing of personal data is allowed in the public interest with regard to AI regulatory locks.
2.4 Articles 54a and 54b have been updated to clarify that they cover the testing of high-risk AI systems under real-world conditions outside the regulatory AI airlocks.
2.5 Additional clarifications have been made to Articles 71(3), (4) and (5) with regard to the amount of penalties for various infringements of the AI Act. In addition, Article 72(2) on administrative fines imposed on Union institutions, agencies and bodies has been updated to take account of the amendments made to Article 71(3)."
Documentation
Further reading