Home

/

News

/

2022

/

August

/

Frontex celebrates "expanding footprint" beyond the EU in report on third country cooperation
Frontex celebrates "expanding footprint" beyond the EU in report on third country cooperation
Topic
Country/Region
18 August 2022
EU border agency Frontex is obliged to report annually to the European Parliament, European Commission and Council of the EU on its cooperation with non-EU countries. The 2021 report, obtained by Statewatch and published here, focuses on an expanding influence in the Western Balkans, information sharing, the expansion of the European Border Surveillance System (EUROSUR) to non-EU states, and deportations.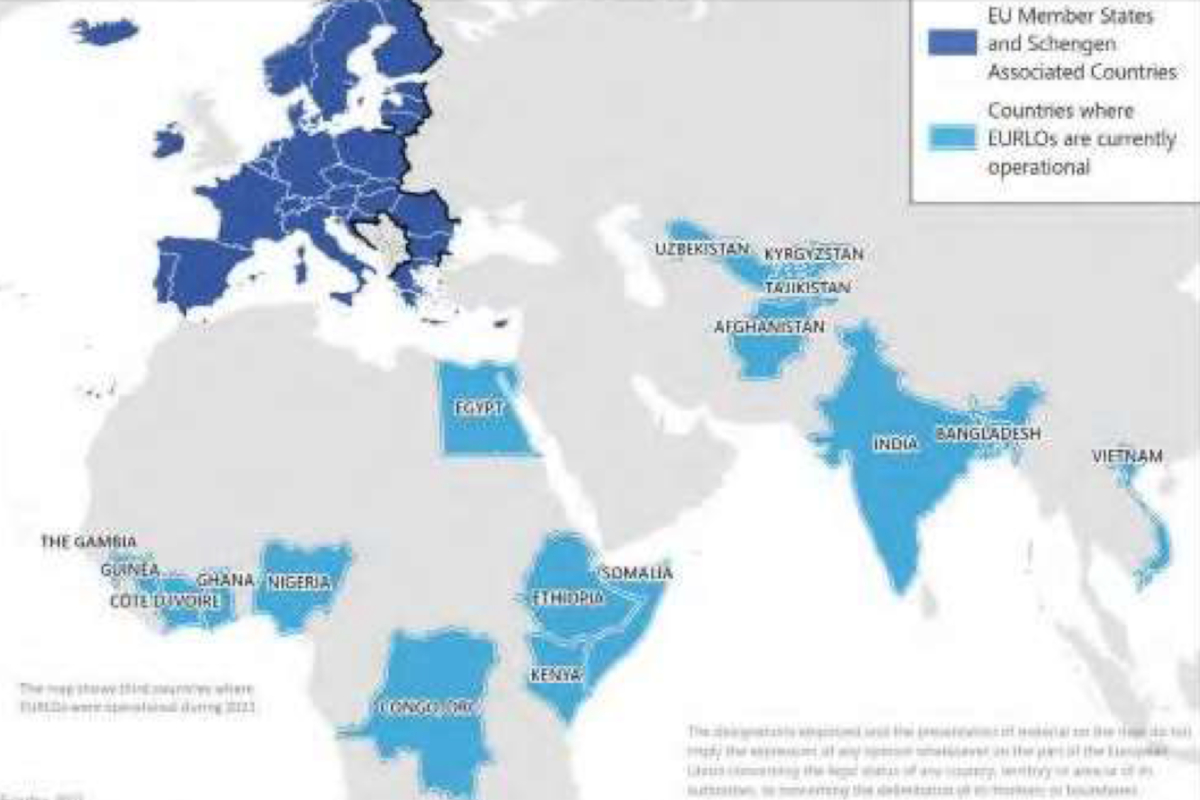 The report (pdf) covers Frontex's priorities and achievements in terms of cooperation with various non-EU states throughout the year, against the background of the Covid-19 pandemic and the crisis in Afghanistan. "Abrupt developments" put Frontex's cooperation with Belarus on hold, and a cooperation plan with the State Border Guard Service of Ukraine and the deployment of a liaison officer to Kyiv "regrettably could no longer take place", due to the Russian invasion earlier this year.
Via Joint Operation Coordination Points 2021, Frontex has deployed "EU experts" and members of the standing corps at border crossing points outside the EU, including in Albania, Bosnia and Herzegovina, Georgia, Moldova, Montenegro, North Macedonia, Kosovo, Serbia and Ukraine. The agency aims to gather awareness of matters related to irregular migration and cross border crime at locations that have "a direct link or influence on the Schengen area border crossing points". 
While the report predominantly focuses on Western Balkan states and the agency's information sharing network in Africa – the Africa-Frontex Intelligence Community or AFIC – a potential deployment of a Frontex liaison officer to Pakistan is also discussed, along with capacity building of national services in Central Asia.
Western Balkan focus

2021 marked an "expansion of Frontex operational footprint" outside of EU territory. The agency launched Joint Operation Serbia Land at the border between Serbia and Bulgaria, and aimed to increase its technical and operational assistance through coordinating activities to tackle illegal immigration and cross-border crime, and enhancing cooperation on law enforcement activities.
The agency extended its operations in Albania to cover the maritime border, as well as seeking to "establish and exchange best practices on border security, operational cooperation, exchange of information excluding personal data and identification of possible risks and threats". A new Frontex liaison officer took up their post in Tirana in early 2022.
The report refers to the Frontex Fundamental Rights Officer (FRO) advocating for "strong fundamental rights safeguards" for operations in Albania, Montenegro and Serbia. A Frontex spokesperson confirmed that these related particularly to: 
"the identification of vulnerable groups and their referral to relevant authorities, the internal reporting and accountability mechanism (Serious Incident Report and Complaints mechanisms), the role of the Fundamental Rights Monitors (including in relation to on-the-spot monitoring visits) and the key role of the FRO as point of contact for all matters related to fundamental rights."
Working arrangements between the agency and Albania and Georgia were renewed, and an operational plan for 2022-2014 was concluded with Moldova, which signed a status agreement on Frontex activities on its territory in 2022.
2021 saw the conclusion of phase II of the "regional support to protection sensitive migration management" project under the Instrument for Pre-accession Assistance (IPA). The project was intended to encompass Turkey, as well as Western Balkan states, but work in Turkey was "put to a large extent on hold" due to the pandemic and the "geopolitical situation". However, Frontex claims its liaison officer in Ankara has "kept the channels open for technical dialogue".
Under this project, Frontex organised 20 trainings and capacity building projects for border guards on:
On this last point, the European Ombudsman recently concluded that Frontex did not provide sufficient fundamental rights training to its own fundamental rights monitors.
Two technical assistance projects will be funded by the European Commission from 2022 to 2025, following up on phase two of the protection sensitive migration management project, to cover a new project on border security and support the implementation of status agreements.
Do you want us to keep tracking the powers and practices of Frontex?
We need your support to do so.
Information sharing
Frontex involved non-EU partners in its study 'The Technology Foresight on Biometrics for the Future of Travel', ran "innovation cells" on surveillance and an international conference on biometrics for borders.
North Macedonia and Montenegro were supported to register and process mixed migration flows through a communication infrastructure that can be interconnected and interoperable with Eurodac, though the report emphasises that this connection will not be made until the states have acceded to the EU. 
Furthermore, a Frontex spokesperson has offered more details on Joint Operation Montenegro Sea, which the report refers to as facilitating a platform for "implementation of other Frontex projects, services and products". The press office confirms:
"In this respect, during JO Montenegro Sea 2021, Frontex provided support for the information exchange platform JORA to facilitate the reporting process within the joint operation. The app is used by analysts from Frontex and Member States to report all types of events happening at the EU external borders where the agency has operational activities. Moreover, Frontex supported the operation with aerial surveillance activities."
Frontex investigated the capacities of key states to set up and adapt coordination centres which could "in the future exchange information within the framework of EUROSUR," the European Border Surveillance System. The development of EUROSUR coordination centres will be supported by Commission funding under the IPA process in six Western Balkan states from 2022, following a 2021 pilot project in Montenegro establishing a coordination centre to serve as "best practice for EUROSUR compatible coordination centres".
To enhance the agency's "situational awareness beyond national borders", Frontex conducts daily information and data exchanges with its risk analysis network in the Western Balkans (WB-RAN), and coordinates joint analytical activities between border authorities. The Eastern Partnership Risk analysis network (EP-RAN) continued in 2021 with an empty seat policy operating for Belarus.
The Africa-Frontex Intelligence Community (AFIC)
Frontex's activities in Africa and the Middle east focus much more on "dialogue and cooperation", in contrast to the more technical and operational role it plays in Western Balkan states where it is mandated to exercise executive powers. The Commission-funded EU4BorderSecurity project, which engages authorities in the Southern Neighbourhood, prioritises familiarisation and capacity building activities, and the agency also demonstrates a strong focus on intelligence sharing. The deployment of Frontex liaison officers in North, West and the Horn of Africa, as well as the Silk Route region, was endorsed by the management board as a priority for 2022.
In 2021, Frontex prioritised cooperation with the EU security and defence missions EUCAP Sahel Niger and EUBAM Libya, with which the agency is preparing working arrangements. This included providing advice on maritime strategy to Libyan coast guard authorities. The agency also pursued cooperation with priority states, particularly in West Africa, with a scoping mission to Noakchott taking place in November ahead of the EU's 2022 pursuit of the conclusion of status agreements and working arrangements with Senegal and Mauritania. 
"Strengthening Africa Frontex Intelligence Community", a Commission-funded capacity building project, ran meetings, field visits, trainings, joint analytical work, and support for Risk Analysis Cells, with a focus on reducing facilitated illegal migration "and other types of cross-border crime".
The project aims to enhance cooperation on risk analysis within the AFIC to improve the capacity for border management and countering cross-border crime. An upgrade of the AFIC online information exchange system allows for "secure and instantaneous communication" between Risk Analysis Cell (RAC) analysts and Frontex analysts. Five RACs are operational in Abuja, Accra, Banjul, Dakar, and Niamey, issuing 150 reports between them in 2021.
Deportations
Frontex deported 18,301 people in 2021 to 102 destination countries (Statewatch previously reported on the agency deporting a record number of people in the first half of the year). 10,193 of these people were returned by charter flight (337 flights to 33 countries), and 8,108 travelled by scheduled flight to 107 countries. 57% of all deportations by scheduled flights were so-called voluntary returns, reflecting the agency's newer mandate in coordinating voluntary departures.
Officers from the standing corps were deployed to airports in Rome, Frankfurt, Amsterdam and Vienna as forced return escorts and support officers, and the agency plans to deploy more such officers at airports throughout the EU. As well as coordinating and staffing return operations, Frontex also assists non-EU countries to identify, document and readmit deportees, organising "identification missions" from six third countries in 2021.
2021 also saw the agency take over the European Return Liaison Officers' Network (EURLO), developing roles in Afghanistan, which was discontinued, Bangladesh, Egypt, Ethiopia, the Gambia, Ghana, Kenya (the RLO here has a mandate also covering Somalia), Nigeria, Uzbekistan (with a mandate covering Tajikistan and Kyrgyzstan), and Vietnam. The agency also coordinated EURLO deployments to the Ivory Coast (also covering Guinea), and the Democratic Republic of Congo, funded by the Asylum, Migration and Integration Fund.
Frontex developed a new Readmission Case Management System (RECAMAS), for member states to electronically process return and readmission requests. This and the takeover of the EURLO network were examined in-depth in the Statewatch report Deportation Union.
Deportations to Belarus and Afghanistan were suspended in 2021 following a FRO analysis of the implications of return operation to countries "with increasingly challenging fundamental rights records".
Documentation
Further reading
---
This article was edited on 13 September 2022 to include responses from the Frontex press office.
Image: Frontex