Home

/

News

/

2022

/

August

/

USA: Attorneys and journalists illegally searched during visits with Julian Assange sue CIA and Michael Pompeo
USA: Attorneys and journalists illegally searched during visits with Julian Assange sue CIA and Michael Pompeo
Topic
Country/Region
18 August 2022
Plaintiffs call on DOJ to drop charges; Members of legal team were illegally surveilled inside Ecuadorian embassy, violating fourth amendment. Indictment against Julian Assange cannot stand as a result of gross government misconduct.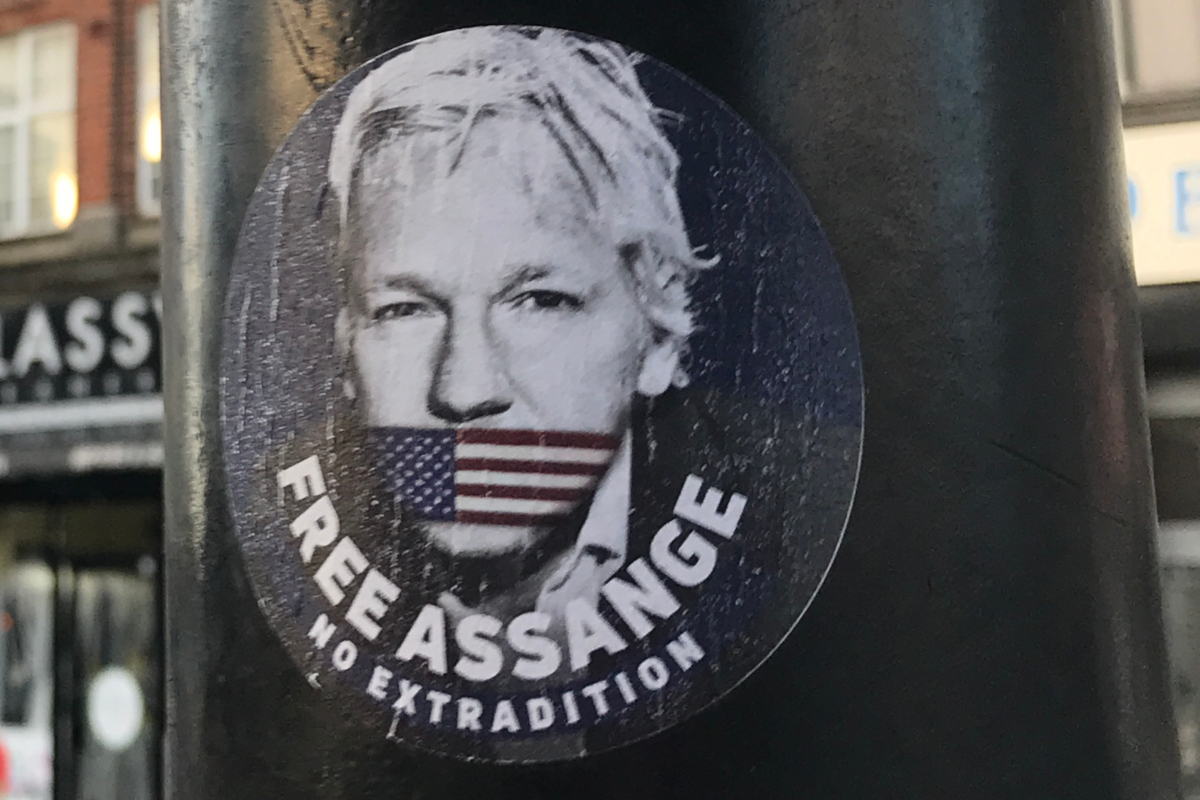 Press release issued by the Don't Extradite Assange campaign on 15 August 2022.
---
NEW YORK, NY, August 15, 2022 – US journalists and attorneys who visited WikiLeaks publisher Julian Assange filed suit today against the Central Intelligence Agency and Michael Pompeo, former CIA director, as well as the Spanish security firm Undercover Global and its former CEO, David R. Morales Guillen, for violating the plaintiffs' constitutional rights.
Assange is currently fighting extradition to the United States where he faces 175 years in prison on unprecedented charges for publishing classified information. He has been imprisoned in HMP Belmarsh in London since his arrest in April 2019. Assange founded WikiLeaks in 2006 and has won multiple journalism awards for WikiLeaks publications. Over 40 human rights organizations including Amnesty International, the ACLU and PEN have called for Assange's release.
The lawsuit was filed in the Southern District of New York this morning and can be found here. It alleges that Pompeo oversaw and directed an extraordinary campaign of illegal spying on Assange's attorneys and others inside the Ecuadorian embassy in London, where Assange had taken sanctuary as a political asylee. Pompeo not only directed the effort but his agents – with the help of Sheldon Adelson's security detail - also recruited David Morales, then CEO of UC Global to implement the violations.
Plaintiffs include renowned civil rights activist and human rights attorney Margaret Ratner Kunstler, media lawyer Deborah Hrbek, and national security journalists Charles Glass and John Goetz. They are represented by The Roth Law Firm. The plaintiffs are suing to "protect their fundamental constitutional right to be free from unreasonable searches and seizures in violation of the Fourth Amendment of the Constitution of the United States."
The plaintiffs, along with more than 100 American guests—among them doctors, lawyers, and journalists—were forced to turn over all electronic devices, including smartphones and laptops, to employees of security firm UC Global. As UC Global whistleblowers revealed following Assange's forcible removal from the embassy in 2019, under the direction of Morales' CIA handlers UC Global copied the information stored on these devices without the visitors' knowledge or consent and provided that information to the CIA, then headed by Mike Pompeo. Similarly, British and EU attorneys' conversations with Assange were targeted and recorded, and the substance of those conversations – which necessarily included private strategy and decisions relating to the defense - are now in the hands of the same US government who is seeking Assange's extradition and were undoubtedly shared with the UK Crown Prosecution Service.
"The United States Constitution shields American citizens from US government overreach even when the activities take place in a foreign embassy in a foreign country. Visitors who are lawyers, journalists and doctors frequently carry confidential information in their devices," said lead counsel for the plaintiffs, Richard A. Roth. "They had a reasonable expectation that the security guards at the Ecuadorian embassy in London would not be US government spies charged with delivering copies of their electronics to the CIA."
"If a foreign journalist can be prosecuted for publishing factual documents, then no journalist is safe," said Margaret Ratner Kunstler. "And apparently Mike Pompeo believes that attorneys representing journalists should not be safe either. These actions are outrageous."
As Zach Dorfman and Michael Isikoff reported in their series of articles for Yahoo! News in September 2021, Trump administration officials spoke of the unprecedented campaign against WikiLeaks and its staff beginning in 2017. "Some senior officials inside the CIA and the Trump administration even discussed killing Assange, going so far as to request 'sketches' or 'options' for how to assassinate him. Discussions over kidnapping or killing Assange occurred 'at the highest levels' of the Trump administration, said a former senior counterintelligence official. 'There seemed to be no boundaries.'" The conversations were part of an unprecedented CIA campaign directed against WikiLeaks and its founder. The agency's multipronged plans also included extensive spying on WikiLeaks associates, sowing discord among the group's members, and stealing their electronic devices.
The complaint notes that in one of his first speeches as CIA Director, Pompeo outlined what would be his unconstitutional campaign against Wikileaks, Assange and any of Assange's perceived supporters. Pompeo had warned his audience that the situation is now more dangerous because "the one thing [current] whistleblowers don't need is a publisher" since the internet enables information to be shared instantly. Pompeo then directly referenced the target of his fury – WikiLeaks. "It is time to call out WikiLeaks for what it really is,", Pompeo stated, "a non-state hostile intelligence service." Yahoo! News reporting revealed that this designation of WikiLeaks as a non-state hostile intelligence service enabled the CIA to avoid Congressional oversight of its activities in pursuing WikiLeaks and its founder, Julian Assange. Assange has noted that this designation "mirrors attempts throughout history by bureaucrats seeking … to criminalize speech that reveals their own failings."
"Assange remained in the embassy in London for 7 years, believing he would face extradition to the US if he left the building," said Deborah Hrbek. "He suffered character assassination for this belief. As it turns out, he was right."
WikiLeaks' publications have had enormous impact. They have changed many people's views of their country's leaders, exposing war crimes, corruption, and government malfeasance all around the world. They have changed journalism as a practice, as debates have raged over the ethics of secrecy, transparency, and reporting on stolen documents. WikiLeaks has gained the admiration of people and organizations worldwide, as evidenced by the many prestigious journalism awards it has won.
Assange and WikiLeaks have incurred the wrath of several governments who they exposed in the releases, most notably the United States. Probably no organization in the world undertaking legitimate activity is the subject of such intense scrutiny, vilification, and threats by the US government as WikiLeaks. As Robert J. Boyle, constitutional lawyer consulting with the plaintiffs, noted, "The Obama administration declined to prosecute Assange because of 'the New York Times' problem – you can't criminalize publication of leaked classified materials when mainstream press outlets published the same material. The Trump administration was not concerned about creating such a precedent." Unless President Biden's Department of Justice drops the extradition request or underlying indictment lodged by the Trump administration, Assange will be extradited to the United States and likely spend the rest of his life behind bars. "This Democratic administration will have succeeded in helping Trump accomplish his goal of criminalizing investigative journalism," said Boyle.
Assange's wife, Stella Moris Assange, outlined what this means in personal terms for her husband. "Julian's young boys miss their father. Not in my worst nightmares could I have ever envisioned the ferocity of attacks against Julian and the entitled arrogance and 'above the law' actions that are being carried out against my husband."
CONTACT:
Trevor FitzGibbon 704-775-0487
Trevor [at] SilentPartnersMedia.com
-##-
Margaret Ratner Kunstler et. al. v. CIA et. al. - Complaint  (PDF)
https://dontextraditeassange.com/complaint.pdf
---
Image: charcoal soul, CC BY-ND 2.0