Home

/

News

/

2021

/

November

/

EU: Deportations at record levels as Frontex foresees an "unprecedented number" of post-pandemic removals
EU: Deportations at record levels as Frontex foresees an "unprecedented number" of post-pandemic removals
26 November 2021
Frontex supported EU member states in removing over 8,300 non-EU nationals to their countries of origin in the first half of 2021, the largest ever number for a six-month period. However, the number of operations with at least one human rights monitor on board decreased by 7%, according to a report recently circulated to EU member states by the border agency.
---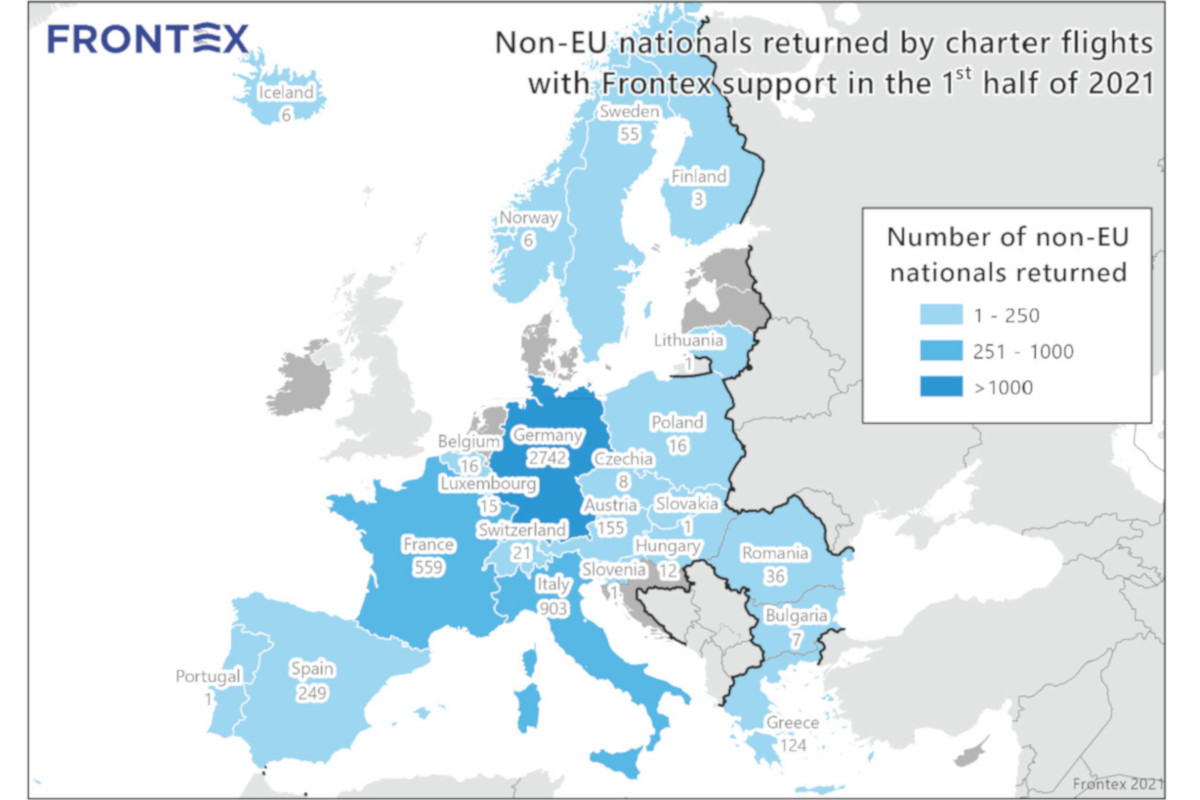 NOTE: FRONTEX's Reports on Return operations - 1st half 2021 (Council doc. 13405/21, LIMTE, 10 November 2021, pdf)
The number of people removed with Frontex's support amounts to twice the figure for the same period in 2020 and is 9% higher than in 2019. The report, drafted by the agency's Returns Division, states that once COVID-19 related restrictions are no longer a barrier to deportations, "the Agency will play an even stronger role in assisting with an unprecedented number of returns, also taking into account possible backlogs in member States."
The number of charter flights with a human rights monitor on board fell by 7% compared to the previous period, which the report says was largely due to COVID-19. 109 human rights monitors were deployed on charter flight operations coordinated by Frontex, 51 of which came from the agency's 'pool' made up of national monitors. At least one monitor was on board 47% of those flights (100% for collecting return operations, 73% for joint return operations and just 23% for national return operations). By comparison, 80% of the charter flights coordinated by Frontex in 2019 had a monitor on board.
Frontex and the FRO are unable to consider the merits of return decisions issued by member states yet these may, per se, be based on breaches of individual rights. The report does not provide details on the destination of the return flights supported by the agency – so even if the monitoring of flights and condition on board improve, there is no certainty that Frontex is not supporting flights that could be refoulements.
Moreover, the EU's drive to increase the number of forced and 'voluntary' removals makes it likely that associated human rights violations (such as discriminatory police operations or undue detention) will increase despite recent moves to comply with formal obligations, including recruitment of fundamental rights officers.
The decline in monitoring recorded in the report contrasts sharply with the fact that Frontex was able to provide an increase in "operational support" to return operations transiting major airports. The new Frontex Regulation allows deployment of return teams drawn from the Standing Corps (Frontex's armed, uniformed wing) on the agency's own initiative with the consent or at the request of member states, providing technical and operational assistance under member state command and control structures.
Two deployments in the reporting period took place in Rome (since January) and Frankfurt (since May). The Italian authorities received support from 11 forced return escort and support officers (FRESOs, providing direct support to the implementation of removal operations) and a coordinator, while the 13 FRESOs and one coordinator were deployed in Frankfurt. The report notes that FRESOs would also be deployed at Amsterdam Schipol airport in September, and Vienna airport in November.
In Rome, the return team supported the return of 408 people, assisting 22 charter flights and 105 scheduled flights; in Frankfurt, the return of 306 people, six charter flights and 114 scheduled flights were supported by return team personnel, including 12 FRESOs who supported Germany as a "backup team" on a JRO – the first operation of this kind.
The share of so-called "voluntary" returns grew in relation to "forced" returns, and health and safety requirements including testing sometimes impeded removals, says the report, often due to non-cooperation by deportees (in August this year, the French Observatory on Detention of Foreigners warned that forced PCR tests were a contributing factor in an uprising in the Mesnil Amelot detention centre).
Frontex has provided "tailored support" in cases involving health and safety restrictions imposed by member states, third countries and airlines, says the report, thus ensuring "flexibility". Never seeking to miss an opportunity to advance its role, the report says the agency is also developing "Health and Safety Guidelines in return operations during pandemics or outbreaks," intended to facilitate removals even if EU citizens are in lockdown and international travel is largely suspended.
Charter flights
4,938 people were removed to 28 destinations using 169 charter flights during the reporting period, in operations supported by Frontex that involved 22 participating member states and 11 organising member states. Such operations included:
joint return operations (JROs, removing 1,420 people);
national return operations (NROs, in which people are returned from a single member state, 2,756 people);
collecting return operations (CROs, in which aircraft and escorts are provided by countries of return, 762 people);
voluntary returns; and
voluntary departures enacted voluntarily by third-country nationals.
A growth in CROs is deemed to show "good cooperation" with relevant third countries and the report welcomes a 75% increase in JROs compared to the previous semester. Germany is by far the primary user of Frontex's 'services' for deportations, accounting for over half of all removals by charter flight:
Germany: 2,742 people, 56% of all those removed)
Italy (903, 18%)
France (559, 11%)
Spain (249, 5%)
Austria (155, 3%)
Greece (124, 3%)
The new German coalition government has promised a "repatriation offensive" as part of its immigration and asylum plans, so it is likely that Germany will continue to be a significant user of Frontex's deportation services.
Apart from flights, there were no returns by sea in the reporting period – in March 2020, Turkey suspended 'readmissions' from Greece under the aegis of the 2016 EU-Turkey statement. However, the deployment by Frontex of forced return escort and support officers to Greece is envisaged with a view to the resumption of these readmission operations. Frontex supported an Austrian operation to deport five people by chartered bus, for which Austria provided a return monitor. Frontex will seek to make its support for returns by land and sea systematic, says the report.
Scheduled flights 
Regarding returns on scheduled flights (that is, ordinary passenger flights) with Frontex support, 3,296 people were returned on 1,950 flights to 87 destinations by 21 Member states using 21 partner airlines.
Returns by scheduled flights grew by 43% due to an increase in voluntary returns and voluntary departures, which accounted for 61% of returnees by scheduled flights. Austria, Croatia and Italy joined 15 other member states by starting to regularly use Frontex-supported voluntary returns and voluntary departures.
21 member states enacted returns by scheduled flights, among which Sweden (963), France (796), Belgium (418), Austria (269) and the Netherlands (186) accounted for almost 80% of such returns. The report sees this increase as resulting from formal cooperation between Frontex and national institutions in Austria (Bundesagentur fur Betreuungs und Unterstutzungsleistungen, BBU), France (Office Francais de l'Immigration et de l'Integration, OFII) and Sweden (Swedish Migration Office). This may herald further increases as cooperation agreements with other member state authorities are expected to be struck.
Growing participation
The number of member states that participated in operations increased from 18 to 22, and Frontex also supported removals from the Schengen Associated States: Switzerland (21 people), Iceland (six) and Norway (six). Scheduled flights continued being used alongside charter flights for "voluntary" returns and low risk forced return cases.
The evaluation report by the Frontex Returns Division does not take removals organised by member states without Frontex involvement into account, so the total number of deportations from the EU over the same period will be substantially higher.
Fundamental rights
The report includes observations from the agency's Fundamental Rights Officer (FRO), covering issues ranging from the deployment of return monitors to conditions on return flights, pre-return facilities and how returnees were received.
The FRO highlights best practices and issues recommendations on formal aspects such as monitor deployment, communication and the right to information, medical issues, and the right to respect for family life and the right to property of returnees.
Problems identified by monitors among the FRO's observations included possible overuse of restraints (and the fact that children should not see their parents in handcuffs), questions about fitness to fly in individual cases and issues ranging from privacy, medical needs and interpretation to conditions in departure areas and upon arrival, timely notification of returns and access to toilets.
The FRO does not examine the possibility of Frontex involvement in human rights violations, for instance, if people are deported to locations where their wellbeing would be in peril, and the report does not include any data on the destinations of removal operations. However, increases in deportations to Egypt from Italy, and to Iraq (with Frontex support) during 2021 have been reported in the press. Frontex does not consider the merits of decisions to return third-country nationals taken by member states, limiting its acts to providing "technical assistance" and "operational coordination".
Elsewhere in the report, Frontex encourages member states to find solutions to prevent absconding – which may mean states expanding their detention estates, limiting safeguards to make detention a measure of last resort and allowing longer detention periods – and to open up their flights to other member states, which may allow aircraft to be filled at short notice. The report notes that more JROs would increase the number of returns and lessen the number of flights, but this option was limited due to the pandemic context during the reporting period.
Frontex calls on member states to improve reporting of their return related needs and plans to enable improved coordination. The pandemic has resulted in a lower participation of forced return monitors in return flights than in previous years, with some authorities choosing "not to deploy monitors to physically monitor return operations". Effective deployment of monitors is also hindered by the 21-day notice required to draw from resources from the pool of return experts.
Source: NOTE from the General Secretariat to Delegations: FRONTEX's Report on Returns operations - 1st half 2021 (Council doc. 13405/21, LIMITE, 10 November 2021, pdf)