Home

/

News

/

2021

/

March

/

EU-USA: Action against encrypted communications to be discussed at senior officials' meeting in April
EU-USA: Action against encrypted communications to be discussed at senior officials' meeting in April
Topic
Country/Region
24 March 2021
The next high-level justice and home affairs meeting between the EU and USA will include a discussion point on "challenges related to encryption and lawful interception," with both sides keen to find a way to grant law enforcement agencies access to encrypted communications technologies - something that experts have warned time and again is impossible without fundamentally compromising those technologies for all users.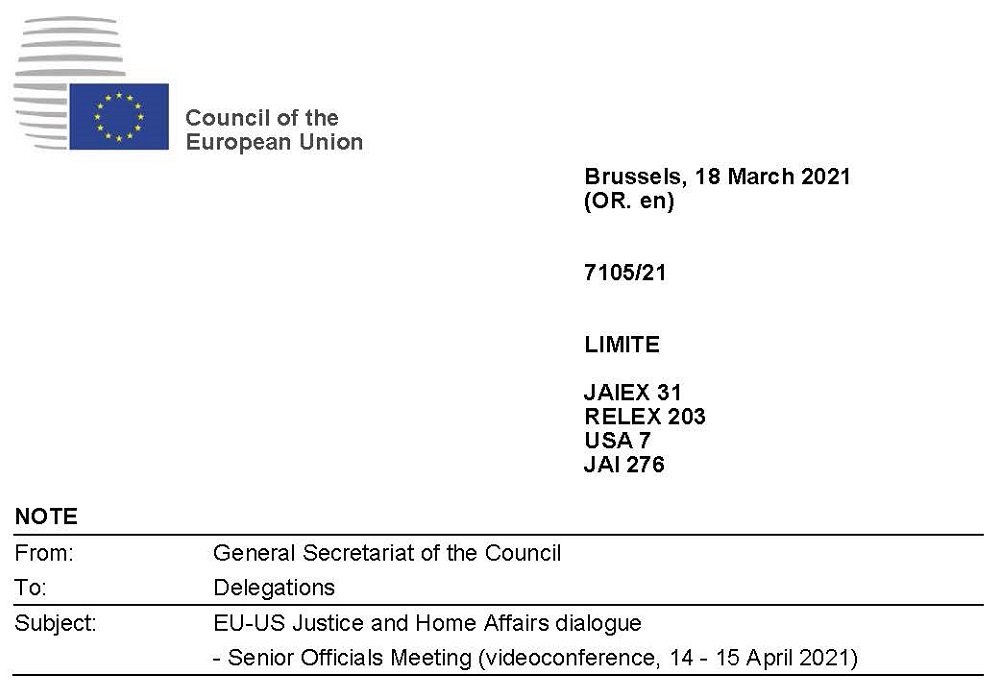 The agenda for the two-day meeting (pdf), which will be held on 14 and 15 April, was circulated to national delegations in the Council of the EU last week.
On the topic of "challenges related to encryption and lawful interception", the only further information provided is: "Focus on: Presidency to present recent Council Resolution".
That Resolution was adopted late last year and calls for "technical solutions for gaining access to encrypted data" through cooperation between states, industry and "other stakeholders".
It states:
"Protecting the privacy and security of communications through encryption and at the same time upholding the possibility for competent authorities in the area of security and criminal justice to lawfully access relevant data for legitimate, clearly defined purposes in fighting serious and/or organized crimes and terrorism, including in the digital world, and upholding the rule of law, are extremely important."
While EU states may consider these two ideas extremely important, they are also mutually incompatible. Nevertheless, the contradiction has been crystallised in what the Resolution refers to as the "principle of security through encryption and security despite encryption".
The USA is no stranger to the ideas set out in the Resolution - it is a signatory to the broadly similar 'International statement: End-to-end encryption and public safety', signed in October 2020 by the 'Five Eyes' states (Australia, Canada, New Zealand, the UK and the USA), along with India and Japan.
Law enforcement agencies have recently managed to take down two prominent encrypted communications networks: Encrochat, whose servers were bugged; and Sky ECC, whose encryption was cracked by the Belgian police, according to the police themselves (and apparently with the assistance of Europol).
However, what states are really seeking is more systematic access to encrypted communications systems. It remains to be seen how they will go about it.
The EU-US meeting will also cover a host of other issues, including (emphasis added):
Counterterrorism (CT): "overall assessment of CT threats priorities; cooperation among agencies; use of battlefield information; next steps for cooperation on PNR [Passenger Name Record]"
Migration: "cooperation against migrant smuggling in key transit countries; return/readmission policies and tools"
"Countering disinformation and interference: Focus on: best practices in tackling foreign influence and manipulation of the electorate"
"Cross border access to electronic evidence: Focus on: update on relevant developments, including EU legislation and possible next steps in the negotiation of the EU-US agreement"
"Data protection and law enforcement cooperation: review of the EU-US Umbrella Agreement/DPPA"
Full-text of the agenda below or here: EU-US Justice and Home Affairs dialogue - Senior Officials Meeting (videoconference, 14 - 15 April 2021) (Council document 7105/21, LIMITE, 18 March 2021, pdf)
EU - US Senior Officials Meeting on Justice and Home Affairs (VTC)
14 and 15 April 2021
 DRAFT AGENDA (17.03.21)
Day 1
Expanding cooperation against terrorism and other security threats
a) Counterterrorism priorities and information sharing
Focus on: overall assessment of CT threats priorities; cooperation among agencies; use of battlefield information; next steps for cooperation on PNR
b) Cooperation against racially-motivated violent extremism and radicalisation
Focus on: assessment of the challenges; online propaganda and hate speech; use of online gaming and algorithm amplification by extremist groups; update on ongoing initiatives and proposals for follow-up initiatives
c) Countering child exploitation and child sexual abuse
Focus on: discussion of respective strategies to address the phenomenon; identification of areas for joint work
Mobility, migration and visa policy
a) Enhancing cooperation on migration issues
Focus on: areas for renewed cooperation at bilateral and global levels, including resettlement; cooperation against migrant smuggling in key transit countries; return/readmission policies and tools
b) Mobility challenges under the Covid-19 pandemic
Focus on: cooperation and consultations on COVID-related travel issues, including a possible vaccine certificate
c) Visa policy
Focus on: update on progress towards full visa reciprocity
Promoting democratic values and practices
a) Promotion of resilient democratic processes
Focus on: exchanges of best practices and relevant information on the resilience of democratic processes, and exploring joint EU-US efforts to promote strengthening of democratic systems, and free and fair elections internationally; 
b) Countering disinformation and interference
Focus on: best practices in tackling foreign influence and manipulation of the electorate
Day 2
Working together for a more secure cyberspace
a) International instruments to fight cybercrime
Focus on: updates on the negotiations for the Second Additional Protocol to the Budapest Convention and the UN processes, prospects for joint initiatives
b) Cross border access to electronic evidence
Focus on: update on relevant developments, including EU legislation and possible next steps in the negotiation of the EU-US agreement
c) Responsibility of online platforms
Focus on: exchange on recent policy and legislative developments
d) Challenges related to encryption and lawful interception
Focus on: Presidency to present recent Council Resolution
Enhancing cooperation on justice issues
a) Judicial cooperation in criminal matters (MLA and extradition)
Focus on: set-up of experts group on MLA and extradition agreements and EPPO
b) Advancements towards a more digital justice
Focus on: exchange of best practices and recent reforms concerning digital justice
c) Data protection and law enforcement cooperation: review of the EU-US Umbrella Agreement/DPPA
Focus on: exchanges on the review process
Presentation of the priorities of the incoming Slovenian Presidency in the area of Justice and Home Affairs