Home

/

News

/

2021

/

July

/

EU: New Slovenian Presidency discussion paper on a "sustainable return policy"
EU: New Slovenian Presidency discussion paper on a "sustainable return policy"
Topic
Country/Region
08 July 2021
In a discussion paper focusing on Frontex's deportation activities, the new Slovenian Council Presidency proposes more strategic cooperation with "crucial third countries of origin and transit", as well as stronger internal structures and improved procedures at EU and member state level, to overcome "fragmentation" between national approaches.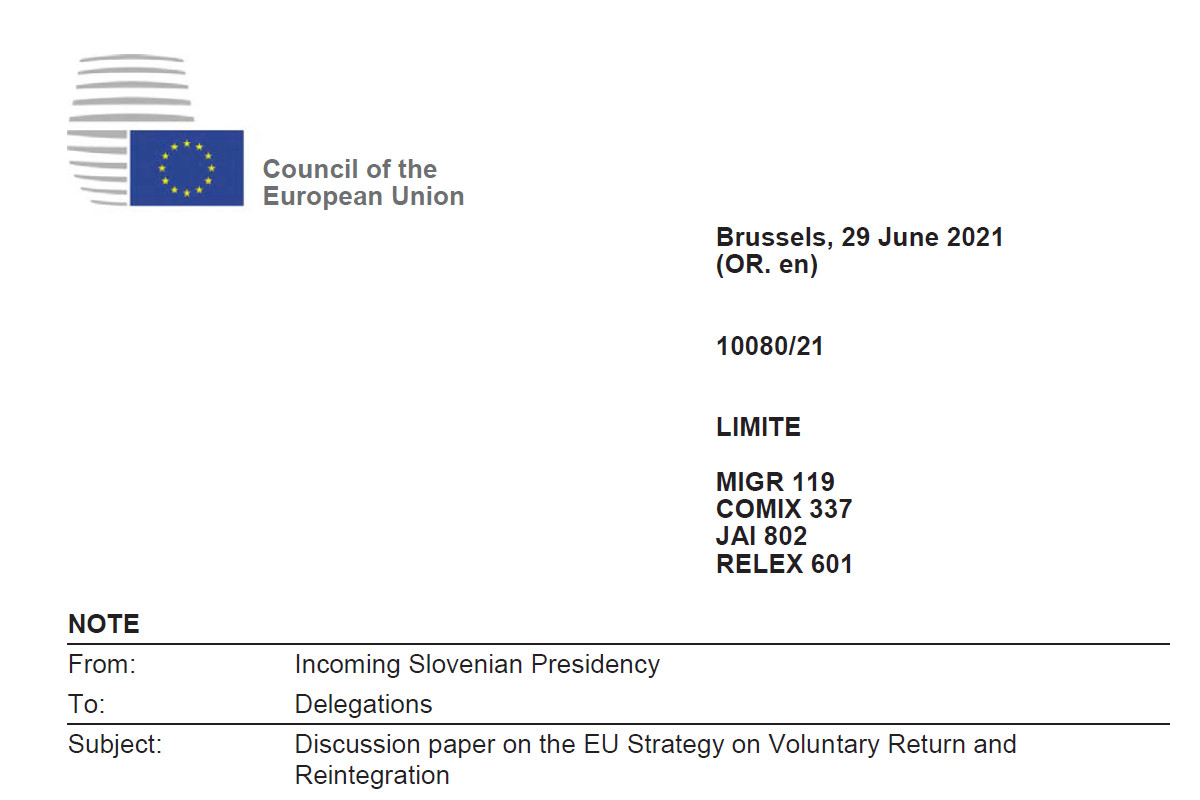 NOTE from: Incoming Slovenian Presidency to: Delegations: Discussion paper on the EU Strategy on Voluntary Return and Reintegration – focus on FRONTEX activities (Council doc. 10080/21, LIMITE, 29 June 2021, pdf)
In a note circulated to delegations of the Council's Working Party on Integration, Migration and Expulsion (IMEX), the new Slovenian Presidency prepares the ground to overcome obstacles in the establishment of a successful voluntary and forced return policy at EU level.
The note identifies three key obstacles to be overcome "in order for the strategy to be fully implemented and bring about sustainable results". These concern fragmentations of or between member state approaches to:
Data collection
Return counselling
Return and reintegration programmes
Having identified common goals, the Presidency now wishes to discuss concrete requirements and expectations in order to develop what it calls "a more sustainable return policy for the mutual benefit of the returnees, the EU and… Frontex."
At a meeting on 6 July 2021 IMEX delegates shared views on the questions:
In relation to the measures proposed in the strategy to reinforce voluntary returns and reintegration, what do Member States regard as priority activities to be implemented?
What are the Member States' expectations from Frontex as one of the main actors in the implementation of the strategy? Which activities do Member States regard as priorities in this regard?
How can Member States best contribute to the successful implementation of the strategy steps related to Frontex activities?
Further reading