EU: Outgoing Portuguese Presidency report on "e-evidence" state of play
Topic
Country/Region
08 July 2021
Just prior to handing over the Council Presidency to Slovenia, the Portuguese authorities circulated a note setting out the state of play with negotiations on the controversial "e-evidence" proposal. The proposal would make it simplier for law enforcement and judicial authorities to obtain electronic data held in another member state, but without sufficient safeguards it poses grave risks to fundamental rights.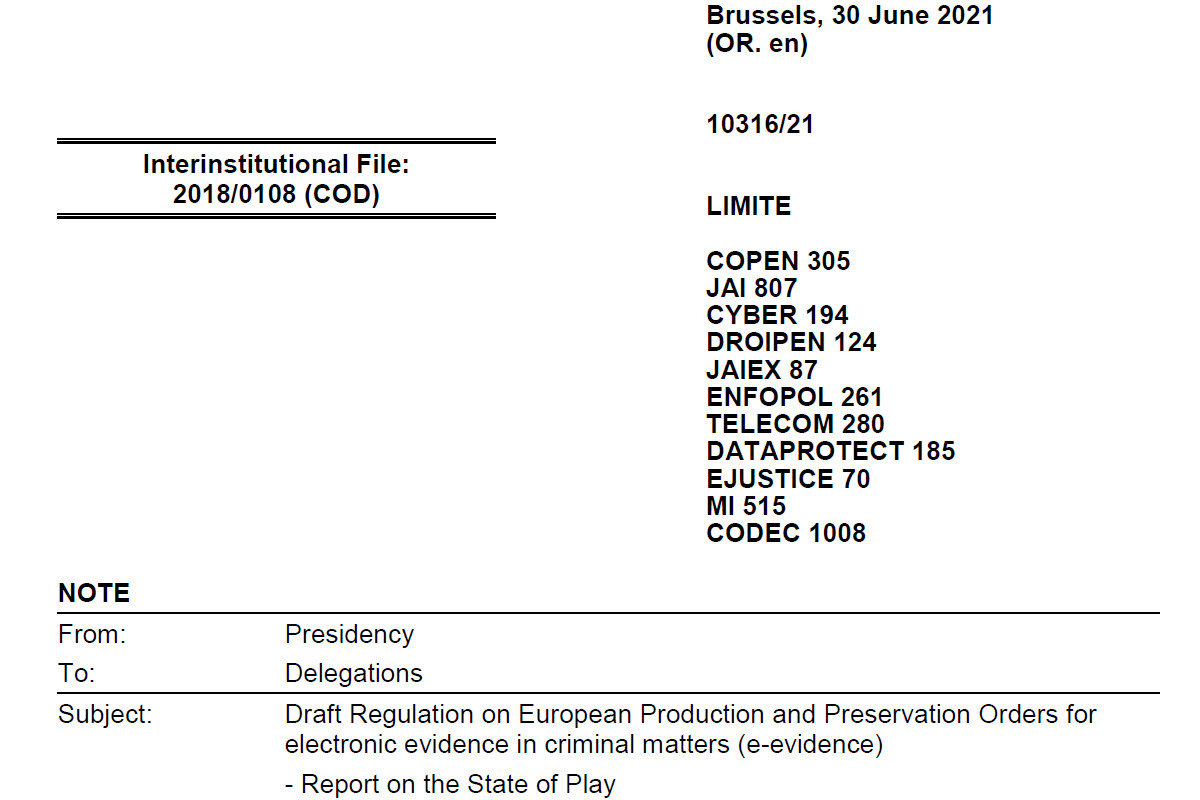 See: NOTE from: Presidency to: Delegations: Draft Regulation on European Production and Preservation Orders for electronic evidence in criminal matters (e-evidence) - Report on the State of Play (Council doc. 10316/21, LIMITE, 30 June 2021, pdf):
"Despite the very opposing starting points of the co-legislators, a compromise text was reached on the definition of service providers and categories of data, including on the data necessary for the identification of the subject, on the grounds for non-execution of an Order for reasons of a formal nature, on the acceptance of additional languages for the transmission of Orders and certificates, as well as on the possibility that Orders may be requested by the suspect or accused person or by a lawyer representing him or her.
Even though the desired progress regarding notification has not been made, the Presidency believes that important discussions have been held to clarify and better understand the positions of the co-legislators.
During the process, the Presidency tried to ensure that the coherence of the system as a whole was never out of sight. It also advocated that, while considering the specific nature of electronic evidence, the regulation has to add value in relation to the instruments and forms of cooperation already in place, and that it should rely upon the principle of mutual trust between Member States."
Further reading