Home

/

News

/

2021

/

June

/

EU: Austrian proposals on upping Frontex's role in "voluntary return and reintegration"
EU: Austrian proposals on upping Frontex's role in "voluntary return and reintegration"
Topic
Country/Region
25 June 2021
"To effectively incentivise voluntary return and promote sustainable reintegration, well-established reintegration programmes are needed. Against this background, the ERRIN take-over by Frontex constitutes big potential but at the same time a major challenge," says a document produced by the Austrian authorities on increasing Frontex's role in "voluntary return and reintegration."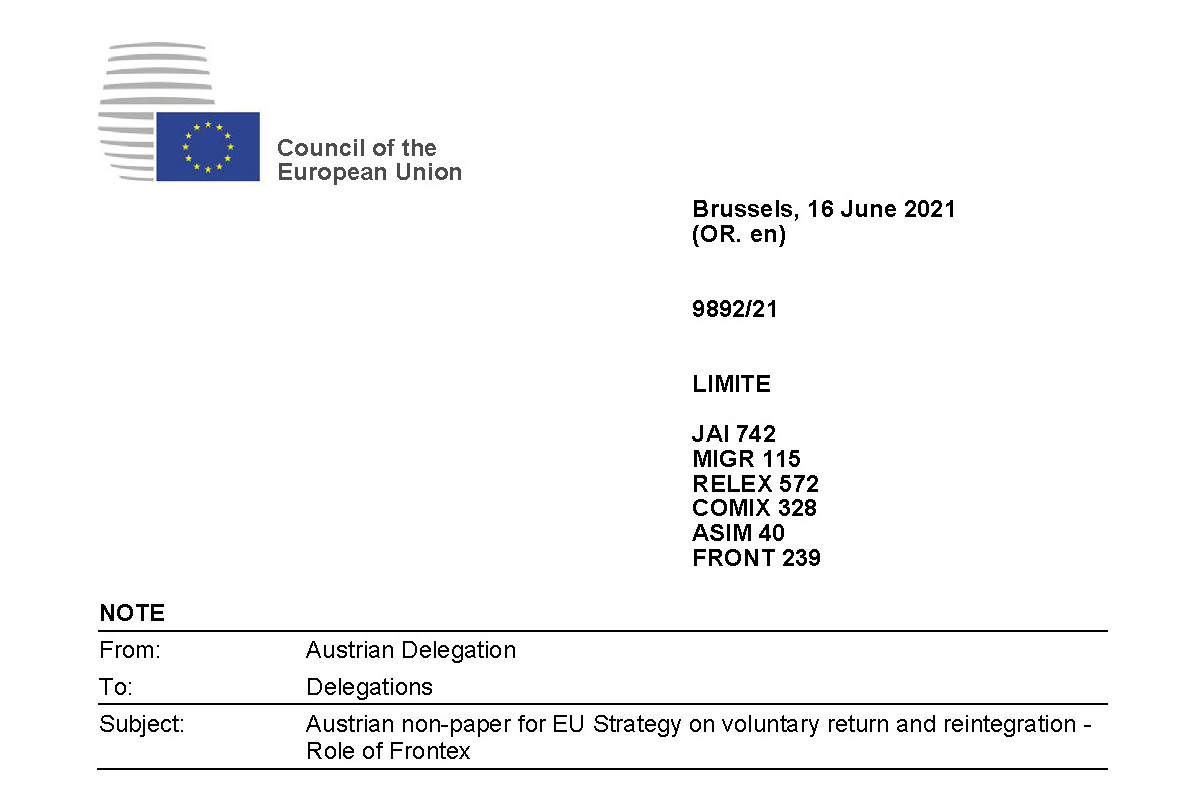 NOTE from: Austrian Delegation to: Delegations: Austrian non-paper for EU Strategy on voluntary return and reintegration - Role of Frontex (Council doc. 9892/21, LIMITE, 16 June 2021, pdf)
On the European Return and Reintegration Network (ERRIN), which Frontex is due to take charge of:
"A staged takeover of all activities should take adequate account of the financial and personal resources of the Agency and the necessity to establish the required internal structures. This said, it is crucial that the agreed scope for the transfer in 2022 is not changed substantially as this might affect the phase-out plan in a negative way and decrease the resilience, credibility as well as predictability of the programme. Furthermore, an uninterrupted continuation of the ERRIN activities has to be guaranteed for the transition period and the time following, as agreed upon in the ERRIN transfer plan. When it comes to considerations between Frontex and the European Commission on the scope and frame of Frontex' reintegration mandate, transparency and an open as well as timely communication are of utmost importance so that Member States can take well-informed decisions and take appropriate preparatory measures."
The paper contains a series of specific recommendations on how the member states can make more use of Frontex's "services".
On "digitalization":
"The future interconnection between national return case management systems (RECAMAS) with IRMA is the key factor to guarantee a consistent return process and reduce MS manual workload. Frontex should in accordance with Art. 49 of the Frontex Regulation ("The Agency shall operate and further develop an integrated return management platform…") grant MS financial and personal support to further develop their national RECAMAS based on gap analysis performed by the Agency. Furthermore, the Reintegration Assistance Tool (RIAT) should be interconnected with IRMA to accomplish a single platform solution for all return activities."
On the structure of Frontex:
"The increased responsibilities of Frontex in the field of return were encouragingly reflected in the organizational structure of the Agency. In addition to the establishment of an own return division, one of the three new posts of a Frontex Deputy Executive Director will be dedicated to return. To realize the full potential of the reorganization and to enable needs-based support to Member States, it is necessary to foster a well-informed decision-making process at management level. Therefore, we should dedicate parts of the Management Board to return and ensure that experienced national return authorities are present."
Further reading