Home

/

News

/

2022

/

May

/

EU: Disappearing documents: Frontex's transparency efforts fall short of requirements
EU: Disappearing documents: Frontex's transparency efforts fall short of requirements
Topic
Country/Region
16 May 2022
Earlier this year, EU border agency Frontex created a public register of documents, as the law requires, in response to a complaint filed by Statewatch. However, the register does not include everything it should - and some documents that were previously made public appear to have been removed from the agency's website.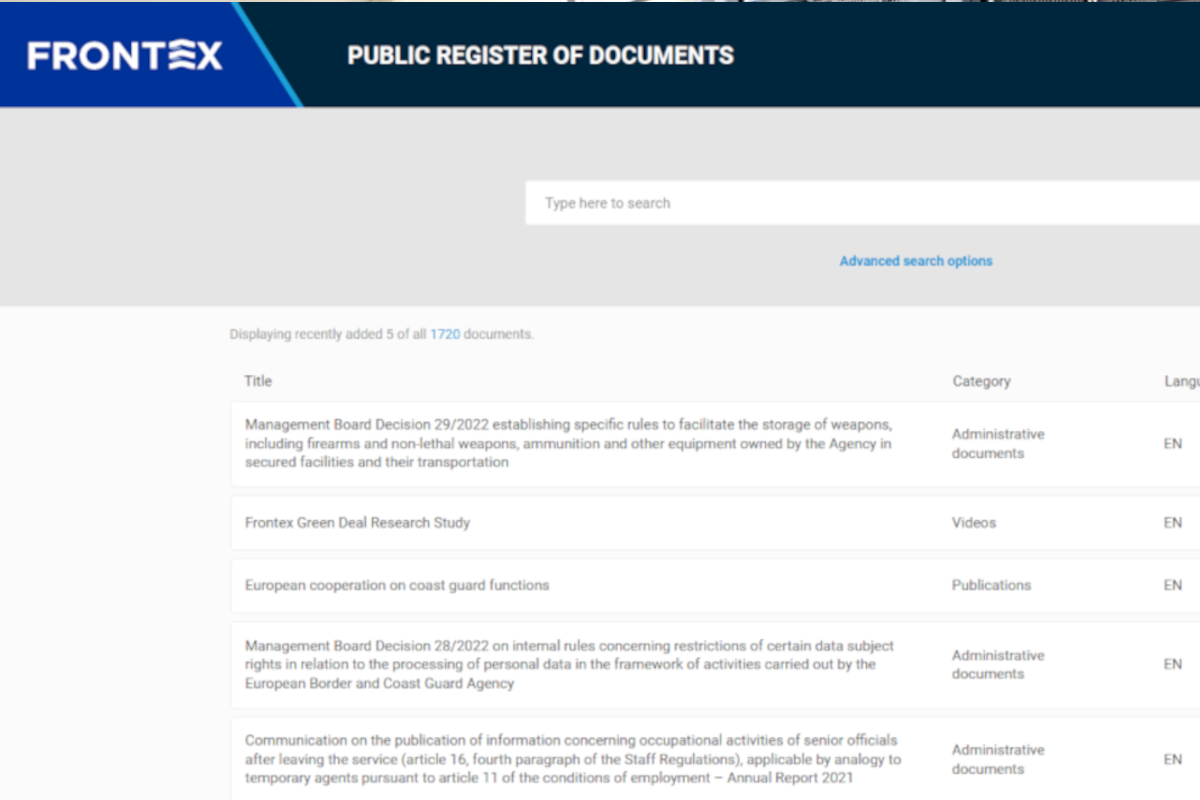 On 2 March 2022 Frontex launched a public register of documents, 18 years late - the establishment of a such a register is a legal requirement under Regulation 1049/2001 and so it should have been in place since the agency was founded in 2004.
The establishment of the register is the result of a complaint made by Statewatch to the European Ombudsman in 2019, and is a key step in ensuring transparency. However, in creating the register some key pages and documents have apparently been lost to the public.
In response to the Ombudsman's conclusions resulting from our complaint, in early 2021 Frontex set out a roadmap of actions to comply with its transparency obligations. Among these was the establishment of the register, planned to be completed by the end of last year.
Statewatch's response to Frontex's proposed solution noted that the agency's proposal would not ensure the "greatest possible degree of openness, transparency and accountability", as Regulation 1049/2001 requires, because it did not encompass all documents concerning decision making, planning, procurement or projects undertaken by the agency. We further noted that an adequate solution would need to fulfil Frontex's obligation to include references in their register to all documents drawn up or received by them and, where possible, to provide direct access to them, subject to the exceptions laid down in the Regulation.
The new public register of documents does not fulfil this requirement. In fact, some documents that were previously searchable via the Frontex website have now disappeared.
The previous 'Public Access to Documents Registry' included a limited selection of documents that had been released to the public following access to documents requests. However, documents provided to Statewatch following access to documents requests are not present in the new public register; nor does it seem that any other such documents are present.
In a response to a request for updates on implementation of the register by MEP Clare Daly in February 2022, then-executive director Fabrice Leggeri focused on technical aspects such as the ongoing incompatibility of the Advanced Records System (ARES) with existing document registers and workflows.
When asked why some documents are not included in the register, what plans Frontex has to include documents released via access to documents requests, and where such documents can currently be found, Frontex's press office told Statewatch:
"In implementing the roadmap provided to the European Ombudsman for the centralization of the Public Register of Documents, Frontex is merging all previous registers and constantly populating the Public Register of Documents in line with Article 11 of Regulation (EC) No 1049/2001."
This response fails to take into account the Ombudsman's decision, which requires Frontex to maintain a "complete" register, which means:
"...all documents concerning the institution's core activities should be recorded individually. In addition, the register should at least refer to the existence of other types of documents not listed. This also implies that no documents should be excluded from the register automatically."
The Ombudsman noted Frontex's response, that its new document management system would "include... documents that Frontex discloses in reply to requests for public access, which it will make proactively available in future."
The Ombudsman also found that Frontex "is legally required to report annually on the number of sensitive documents it holds that are not recorded in its register of documents", citing Article 17 of Regulation 1049, and a Frontex management board decision on access to documents.
Frontex responded that it would "publish the number of sensitive documents it holds that are not included in its register in its upcoming Consolidated Annual Activity Report of 2020", but it does not appear to have done so - the report refers to "the Annual report on public access to documents (Annex 10)," but there are no annexes attached.
Documentation