Home

/

News

/

2022

/

March

/

Frontex: border agency with ballooning budget in transparency tug of war
Frontex: border agency with ballooning budget in transparency tug of war
Topic
Country/Region
04 March 2022
This week, Frontex has finally acted on its obligation to create a Public Register of Documents, while it is simultaneously the subject of a reportedly explosive report by the EU's anti-fraud body – a report which is not (yet) public. The European Parliament's civil liberties committee (LIBE) has demanded the report's publication.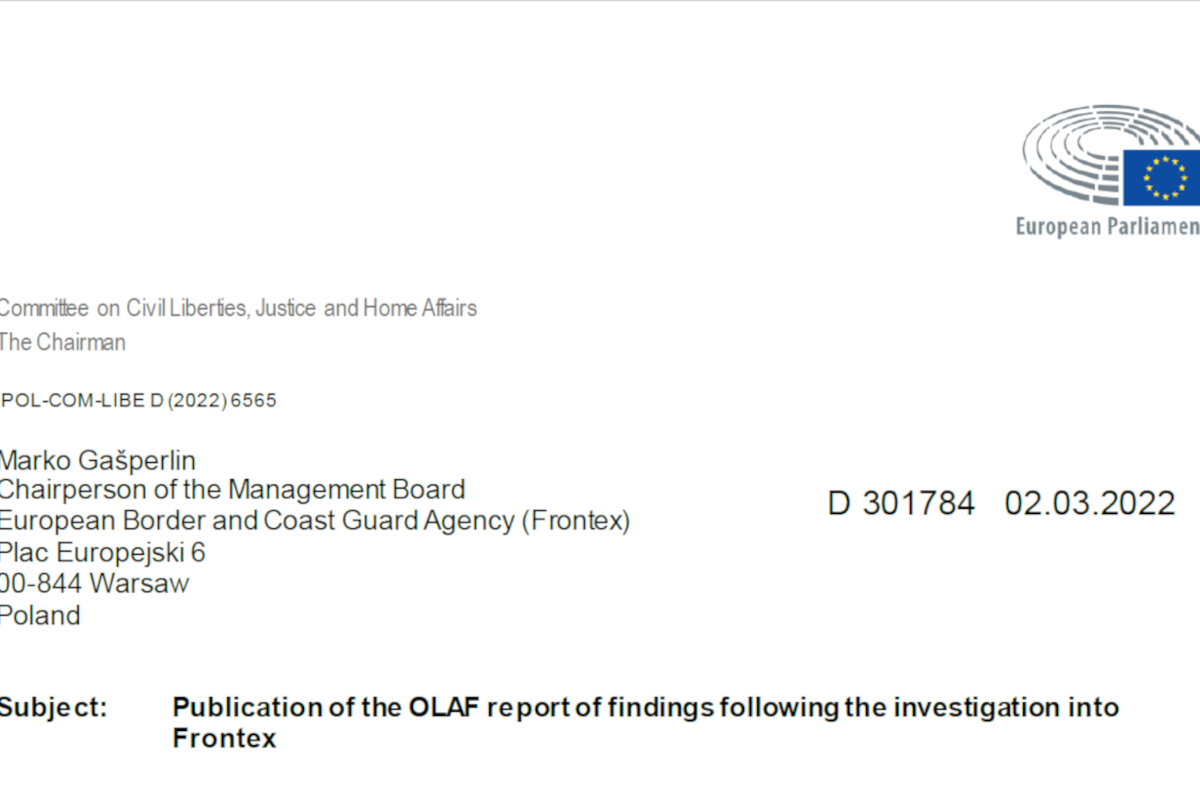 By 1 March, news circulated that the investigation of OLAF, the EU's anti-fraud office, into possible fraud, workplace harassment allegations, and fundamental rights compliance at Frontex was completed. However, OLAF's conclusive report of findings is not public; while the European Parliament and the Frontex management board have held confidential discussions, the public still does not know the outcome of the investigations. On 2 March, a new Frontex Public Register of Documents was launched, a significant step for transparency and accountability resulting from a complaint made by Statewatch to the European Ombudsman in 2019.
Since 2019, Frontex has been caught up in accusations of fundamental rights violations, transparency related court cases (amid condemnation of its treatment of transparency activists) and investigations into its internal suppression of incident reports and public control of information. In December 2020, OLAF raided the offices of Frontex executive director Fabrice Leggeri and his head of cabinet Thibauld de la Haye Jousselin, following the October 2020 allegations of Frontex involvement in pushbacks in the Aegean. OLAF's investigation continued throughout 2021. Meanwhile inquiries and investigations were launched by the European Ombudsman, LIBE's Frontex Scrutiny Working Group (FSWG), the management board itself, and two cases were launched against Frontex at the Court of Justice of the European Union (CJEU).
The Ombudsman inquiry into Frontex's failure to keep a Public Register of Documents closed in January 2021, with Frontex committing to establish its overdue register, and setting out certain milestones over the rest of the year to achieve this.
This week, the Public Register of Documents was made public, though Frontex's work on transparency is far from finished. To remain compliant with Regulation 1049/2001 (and with its own roadmap presented to the Ombudsman), Frontex must systematically upload any documents released as part of an access to documents request. If this measure is upheld, it will have a real impact on transparency; in the past the agency has been inconsistent in granting access, releasing documents to one organisation that have been refused to others.
A transparency contradiction?
On the one hand, Frontex has, after multiple Ombudsman conclusions that it must do so, and after at least two management board decisions acknowledging the obligation to create a register (though without issuing instructions to do so), finally upheld one aspect of its obligations under Regulation 1049.
On the other hand, a report detailing findings of great public interest is kept confidential. This means there is no public overview of whether mismanagement, human rights violations and harassment are taking place in a publicly funded agency with a budget of over €750 million for this year alone. LIBE has formally requested that Frontex's management board publish the investigation's findings, to comply with Article 15 of the Treaty on the Functioning of the European Union, under which all Union institutions, bodies, offices and agencies shall conduct their work as openly as possible in order to promote good governance.
Green MEP Tineke Strik, who launched the initiative urging Frontex to disclose the report, comments:
"The findings of OLAF need to be disclosed to the public, although we understand that some parts need to be anonymized. Frontex is an EU-agency and therefore it is conducting its operations on behalf of the EU. So we all have the right to know whether the organization is functioning properly, and hold them accountable for misconduct if this occurs."
Despite the secrecy, an exclusive by Der Spiegel states that the report reveals Frontex senior management involvement in cover-ups of illegal acts, including pushbacks. A management board meeting will be held on Monday 7 March; disciplinary action is expected to be on the agenda. Given the seriousness of the topic and the clear public interest, LIBE has requested a response form the management board within 15 working days.
Documentation
LIBE: Letter re: Publication of the OLAF report of findings following the investigation into Frontex