Home

/

News

/

2021

/

March

/

EU: Frontex: "human intelligence" sources will provide "actionable intelligence", says document
EU: Frontex: "human intelligence" sources will provide "actionable intelligence", says document
Topic
Country/Region
09 March 2021
Fourteen Frontex officers have been trained on "Interrogation, questioning and debriefing tactics" and "How to recruit an informant" as part of a plan for "a long-term increase in the flow of incoming intelligence related information," a document obtained by Statewatch reveals.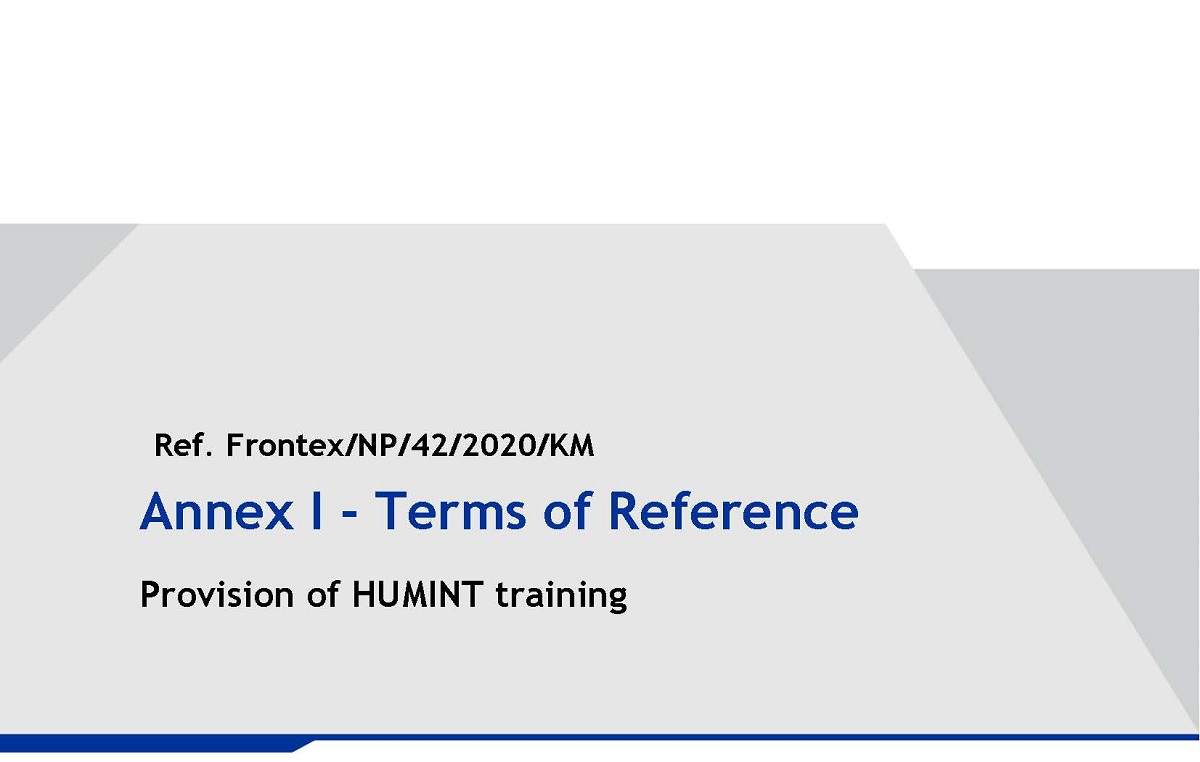 The training was provided by private security company Chenega Europe, as previously reported by Statewatch, with an earmarked budget of €40,000.
The terms of reference for the contract (pdf), obtained by Statewatch through an access to documents request to Frontex, show that the five-day training course was primarily aimed at "debriefing advisers and operational analysts" from Frontex's Risk Analysis Unit.
"Knowing what's what, and building a common language and approach in dealing with information to ultimately get to actionable intelligence is one of the key focuses of the training program laid out in this proposal," says the document.
The terms of reference provide further details on the purpose and content of the training course and the intended learning outcomes:
"Topics to be discussed/taught in the training shall focus on the application within a multi-disciplinary team, varying in the operational 'getting the information' (source recruitment, interview techniques) to 'validating the information' (source evaluation, corroboration of information), 'interpreting the information'(analysis) to 'dissemination of information' (intelligence outcome)."
Chenega Europe, which is based in Northern Ireland and led by ex-British military personnel, was awarded the contract after receiving the highest score (97.73 technical score and 100 financial score) compared to an unknown number of other bidders.
The terms of reference say that "students' learning will highly benefit from input from high profile experts in Human Intelligence that would be able to share their invaluable 'hands on' experience with policy development in the area of intelligence collection and analysis".
The document also says that the forthcoming "standing corps" – currently being recruited and trained – is expected to "lead to a long-term increase of the flow of incoming intelligence related information. To prevent and to react proactively to future possible challenging working conditions, it is mandatory to properly train a pool of experts having already peculiar skills on intelligence analysis."
The terms of reference forbid Chenega Europe and its experts from having any contact with media about their contract with Frontex without the latter's approval.
The recruitment of informants by border agencies has had controversial results in the past. Frontex guidelines on "debriefing of migrants for intelligence purposes" from 2012 instructed officials to target "migrants from minority ethnic groups, and individuals who may have been isolated or mistreated during their journey, as such people are often more willing to talk about their experiences."
In October 2020 it came to light that Greek police had recruited two undocumented migrants to work as undercover agents. The accounts these informants gave about their crossing of the Aegean were cited by Greek police as one reason for launching criminal investigations against four NGOs.