Home

/

News

/

2021

/

March

/

EU: Data retention: Council Presidency tells national ministers that "a solution is necessary"
EU: Data retention: Council Presidency tells national ministers that "a solution is necessary"
Topic
Country/Region
08 March 2021
A discussion paper from the Portuguese Presidency of the Council of the EU to national justice ministers says that "a solution is necessary" on the issue of telecommunications data retention for law enforcement purposes.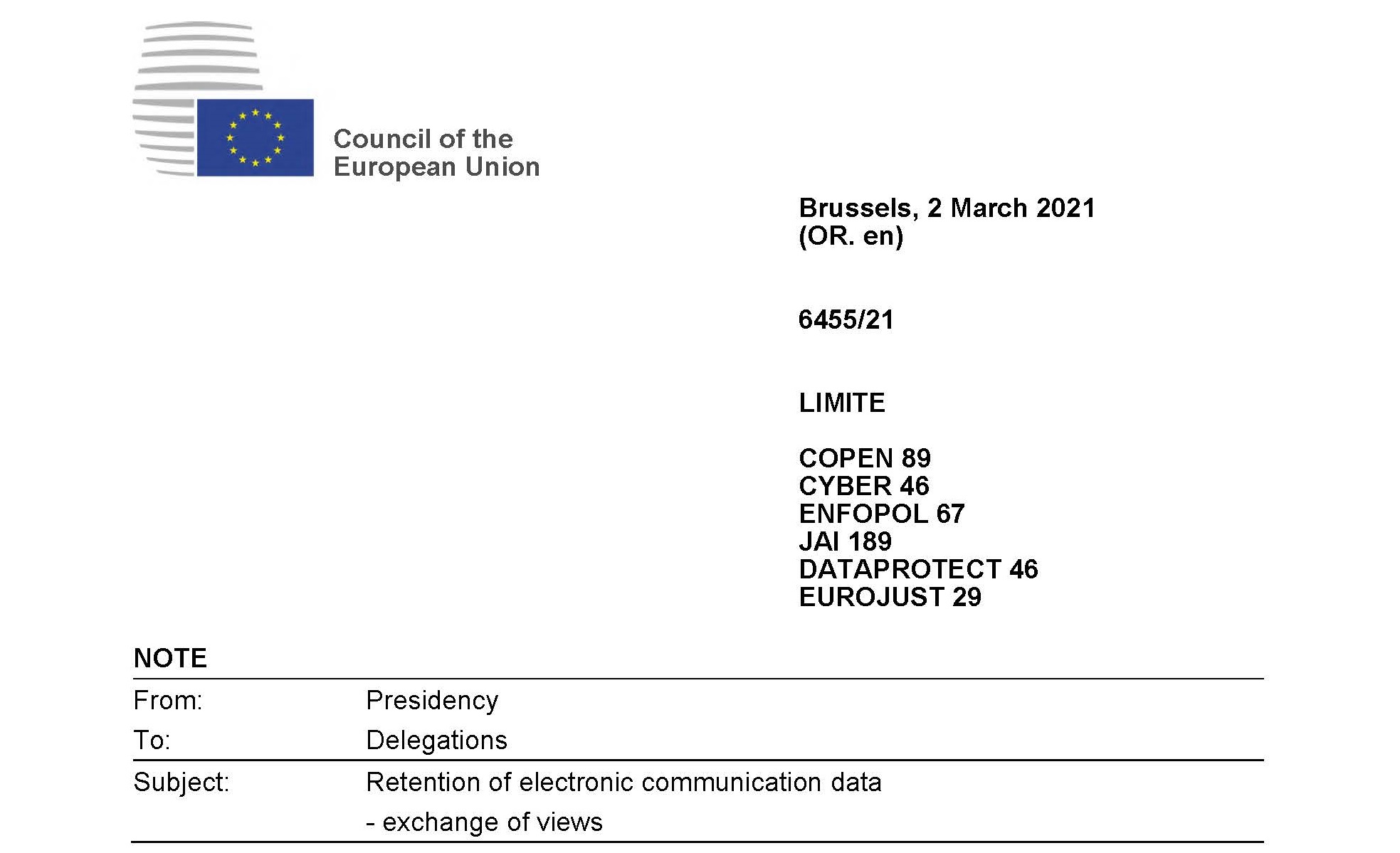 The paper was produced by the Presidency to inform discussions at the "informal videoconference of the Ministers of Justice", due to take place this Thursday.
It follows another recent document on the issue of data retention that was published by Statewatch, as well as the news that France and Spain are particularly keen on new EU legislation, arguing that it is "urgently needed".
See: Retention of electronic communication data - exchange of views (Council document 6455/21, LIMITE, 2 March 2021, pdf)
"...while recent CJEU rulings on data retention have confirmed the "prohibition of generalised and indiscriminate retention of data in principle," the court has also "set out a number of exceptions from that principle that Member States now wish to explore, in view of the important role of communications metadata in preserving national security, attributing crimes and identifying criminals."
And:
"In the judgements of 6 October 2020, the CJEU confirmed its previous jurisprudence that electronic communications data are confidential and, in principle, traffic and location data cannot be retained in a general and indiscriminate manner. The Court set out limited exceptions to this rule concerning national security, public defence and security or crime prevention, investigation, detection and prosecution.
(...)
Seven years after the CJEU invalidated the Data Retention Directive, a solution is necessary.
Against this background, the Presidency considered the need to exchange views on how to seize the opportunities offered by these new judgments of the CJEU.
Therefore, the Presidency would like to invite Ministers to express their views on the following questions:
(a) Do you consider that legislation should be adopted to ensure a harmonized legal regime on data retention at EU level, taking due account of the case law of the Court?
(b) If so, should we adopt a comprehensive or a targeted approach?
(c) On the contrary, do you consider that police and judicial cooperation that may need the retention of data can take place solely based on national data retention laws, in line with the Charter of fundamental rights and the ECJ case law?"