Home

/

News

/

2021

/

March

/

EU: Ad-hoc relocation: A lottery from the sea to the hotspots and back to unsafety
EU: Ad-hoc relocation: A lottery from the sea to the hotspots and back to unsafety
04 March 2021
A new report shows how people rescued at sea and brought ashore in the EU are "being denied their fundamental rights" through the ad-hoc relocation mechanism, through which people seeking international protection are relocated from maritime border states such as Italy and Malta to elsewhere in the EU.
---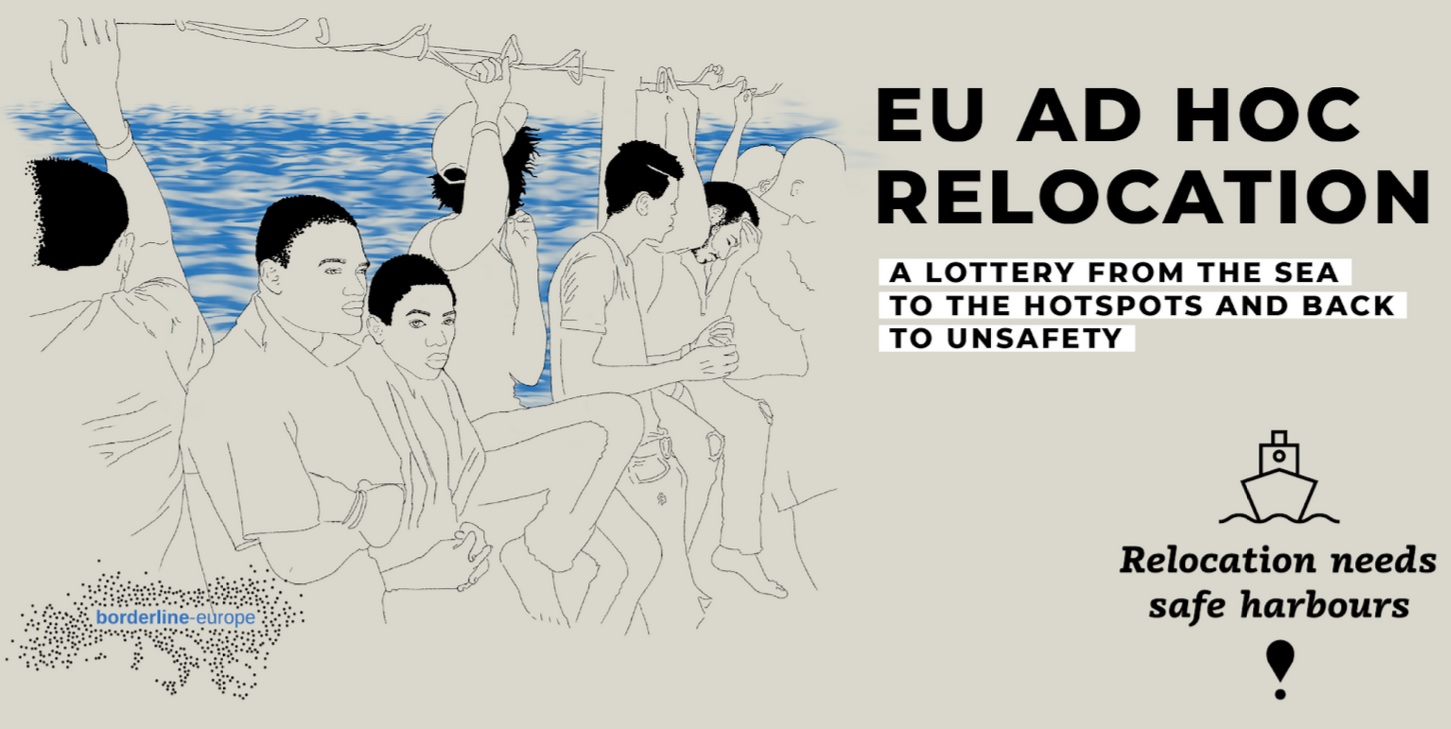 The report, which is published by borderline-europe, Borderline Sicilia, Flüchtlingsrat Berlin, Equal Rights Beyond Borders and Sea-Watch, says that the ad-hoc relocation mechanism in place for people rescued at sea is "degrading, non-transparent and inhumane":
"With inhumane and unjustified detention in Italian and Maltese hotspots, there is a massive lack of fair access to information. Legal assistance for protection seekers in the EUropean border states is not granted. Many protection seekers remain stuck after being excluded from the relocation procedure because of dubious security screenings by the German Domestic Intelligence Service. Once in Germany, most protection seekers face renewed insecurity, accelerated asylum procedures without access to prior counselling and legal remedy, in the end, threaten to be deported."
The report is based on interviews with people rescued at sea and an in-depth policy analysis. The report makes a number of demands, supported by some 20 organisations (including Statewatch):
full transparency of the entire relocation and asylum procedure for the affected people 
no discrimination against persons seeking protection in EUrope 
no detention in border states
safe passage to and inside EUrope
international protection and the right to stay
A press conference is being held on Friday 5 March at 10:00 CET and will be broadcast live via Facebook. Journalists can contact the organisers to request Zoom access data via brezger [at] fluechtlingsrat-berlin.de.
The report will be available here as of 5 March.