Home

/

News

/

2021

/

March

/

Council of the EU: Proposal for the possible inclusion of national databases on firearms and their owners in the future Prüm framework
Council of the EU: Proposal for the possible inclusion of national databases on firearms and their owners in the future Prüm framework
Topic
Country/Region
04 March 2021
The Portuguese Presidency of the Council has proposed that "national databases on firearms and their owners" be included in the "Prüm" network of national law enforcement databases.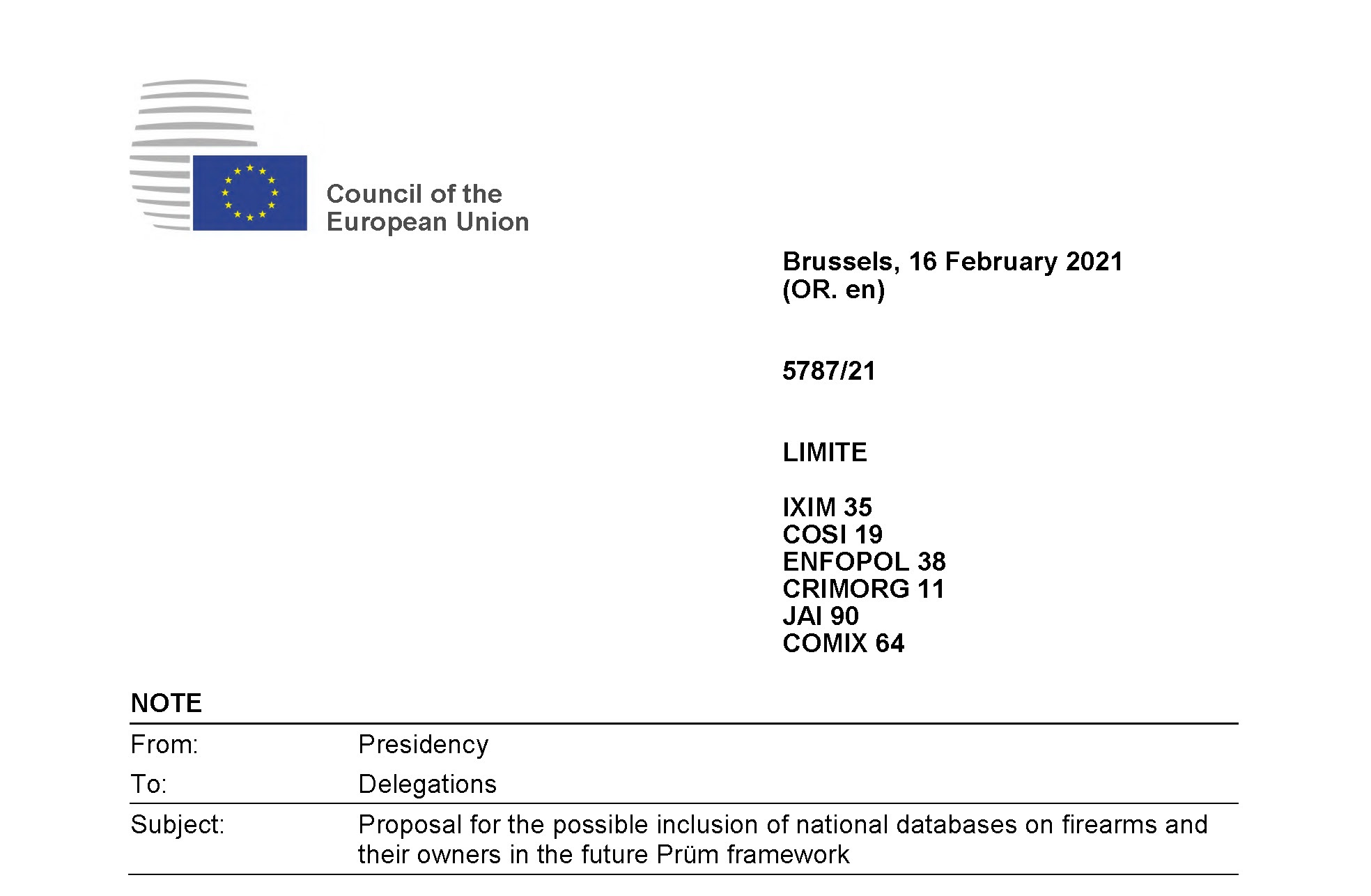 The "Prüm framework" currently interconnects national DNA, fingerprint and vehicle registration databases, and the document notes the extent to which this network is used annually:
"In 2019, the Prüm network had over 9.2 million DNA profiles available for comparison throughout Member States databases, with more than 2.2 million DNA searches made in that year. There were almost 400 000 fingerprint searches and more than 16 million VRD [vehicle registration data] searches in 2019."
The document says:
"In order to combat terrorism, violent extremism, serious and organised crime and illicit trafficking in firearms, greater control over the movement of firearms, and automated consultation of information concerning the location, identification and possession of firearms and their owners, is becoming increasingly relevant as it eliminates the need for consultation on a point-by-point basis, through the designated contact points."
And:
"Although the registration of stolen, missing or misappropriated firearms is already recorded in existing INTERPOL, Europol and SIS databases, it is of prime importance to extend the possibility to consult the national databases on remaining firearms, and their legitimate owners, in a rapid manner."
Alongside firearms, discussions are ongoing about the possible inclusion of national facial recognition and identity document databases in the Prüm system.
A proposal from the European Commission on expanding Prüm is expected in the coming months.
See: Proposal for the possible inclusion of national databases on firearms and their owners in the future Prüm framework (Council document 5787/21, LIMITE, 16 February 2021, pdf)