EU: Deportations organized on the basis of "social media profiles"?
Topic
Country/Region
13 February 2023
Thirteen non-EU countries sometimes accept "social media profiles and phone contacts" as evidence of identity for the purpose of deportations, according to an internal Commission assessment of third country cooperation on readmission. The assessment, which is produced annually, is used to determine where and how to apply pressure on third states not deemed to be sufficiently cooperative with deportations from EU member states.
---
The European Commission annually assesses the level of certain non-EU countries' cooperation on "readmission", producing a lengthy report (pdf) that outlines obstacles faced by EU member states in the organization of deportations to these countries.
The assessment is part of the decision-making process on whether to implement sanctions according to Article 25a of the Visa Code, which has been in force since February 2020 and allows the Council to punish countries deemed "non-cooperative" by limiting access to short-stay Schengen visas for citizens of these countries.
Sanctions and the mechanism of regular assessments are part of a strategy of creating "leverage" to scale up deportations, with possible sanctions including the creation of bureaucratic hurdles such as considerable increases in visa processing time and visa fees.
The Gambia became the first country to face such sanctions in 2021 and in late 2022 the sanctions were further escalated. Sanctions targeting Bangladesh, Iraq, and, most recently, Senegal have also been proposed by the Commission but they have not (yet) been implemented.
While in the case of Bangladesh the 2021 assessment credits the mechanism with effecting increased cooperation on deportations, it states with respect to Iraq that though visa sanctions remain under consideration they have not been implemented to date in light of other diplomatic considerations including the response of the country to the Lukashenko regime's "instrumentalization" of migration from Iraq.
The report also claims that "new channels of discussion and communication" on deportation were opened with Ghana and Cameroon through the mechanism, though sanctions against these countries have not been formally proposed.
As in the 2019 assessment published by Statewatch, the 2021 report places considerable focus on the introduction of Readmission Case Management Systems (RCMS), electronic platforms "facilitating the exchange of information between competent authorities in Member States and in a given third country in order to advance on individual cases" for the purpose of deportation or so-called "voluntary" return.
Armenia, Sri Lanka, Bangladesh, and Pakistan are all mentioned as possessing operational RCMS, with varying levels of implementation; an RCMS for Azerbaijan presumably also already exists, as the report indicates that it should be fully operational by late 2022. RCMS also exist in countries not featured in the report, and are under discussion for several others - for example, Georgia and Ukraine.
One of the assessment's central concerns is countries' level of cooperation on identifying and issuing travel documents for purported citizens and it evaluates the types of evidence of citizenship accepted by each country.
In addition to the types of evidence already listed in the 2019 report - such as biometric data, information extracted from the Visa Information System, or other identity documents - the 2021 assessment mentions that several countries sometimes also accepted "social media profiles and phone contacts" as evidence of identity.
Algeria, Cameroon, the Ivory Coast, the Democratic Republic of the Congo, Ghana, India, Iran, Kosovo, Lebanon, Morocco, Pakistan, Sudan, and Nigeria are all mentioned as at least occasionally accepting such evidence; Nigeria additionally sometimes accepted "money transfers" as evidence.
The Commission also notes that a number of countries frequently requested information considered "confidential information under EU or national legal frameworks (e.g. information on asylum processes, medical information or criminal records)" in connection to the organization of deportations.
The following countries were mentioned as often, very often, or always/almost always requesting such information from certain member states: Algeria, Belarus ("a ruling stating that a return order has been issued to the person concerned"), the Ivory Coast, the DRC, Egypt ("criminal records, in particular terrorism related crimes"), Ghana, Guinea, India, Iran, Iraq ("in most cases, this concerned the criminal record of the returnee as the only forced returns Iraq accepts are returns of criminals, and only in some cases."), Lebanon, Mali, Morroco, Nigeria, Pakistan ("in all cases this concerned criminal records"), Russia, Senegal, Somalia, Sudan, Tunisia, Turkey, and Vietnam.
A number of other countries more rarely requested such information. The assessment does not clarify how Member States responded to such requests.
Documentation
---
Further reading
12 October 2022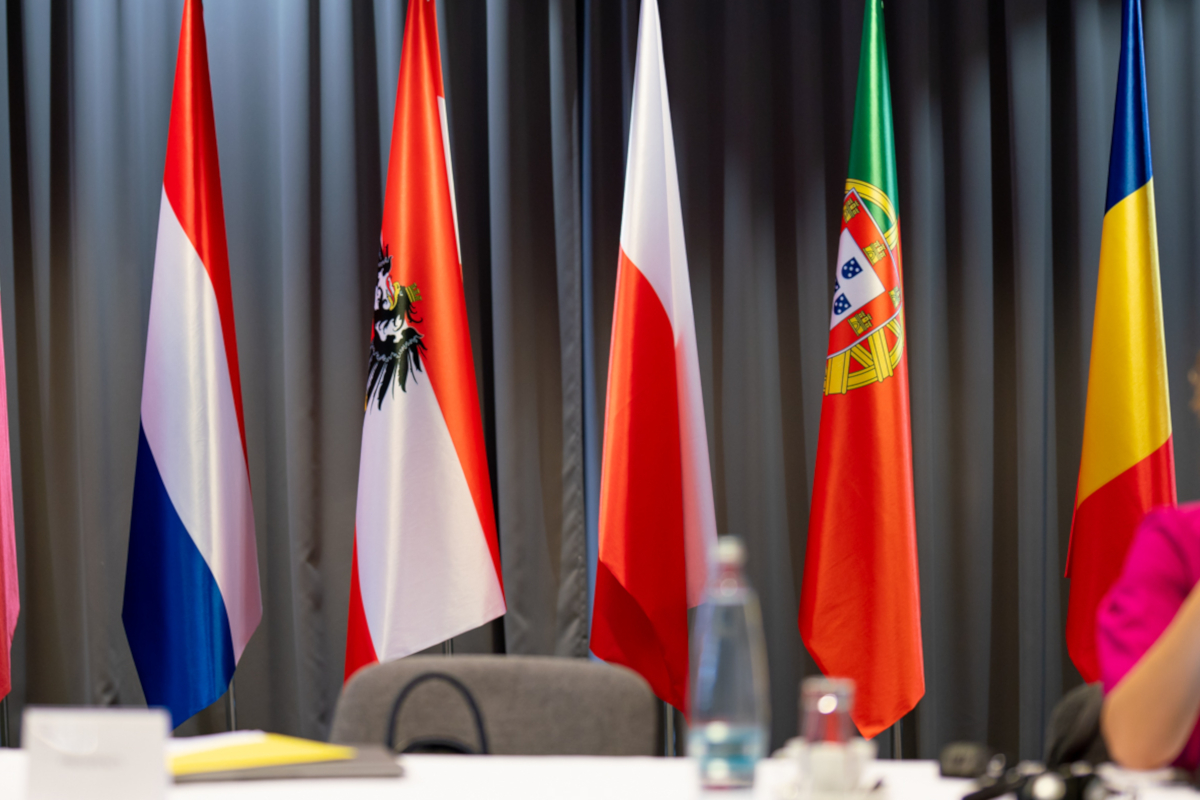 The EU should "substantially" increase the number of deportations, the Czech Presidency of the Council has proposed, in a document that sets out four "priority actions in the external dimension" of migration. The Presidency also wants to pressure Serbia to change its visa policy; fight the "instrumentalisation of migration" by non-EU states; and step up the work of information-gathering networks to improve "monitoring of newly emerging trends and the related-early warning activities".
17 March 2022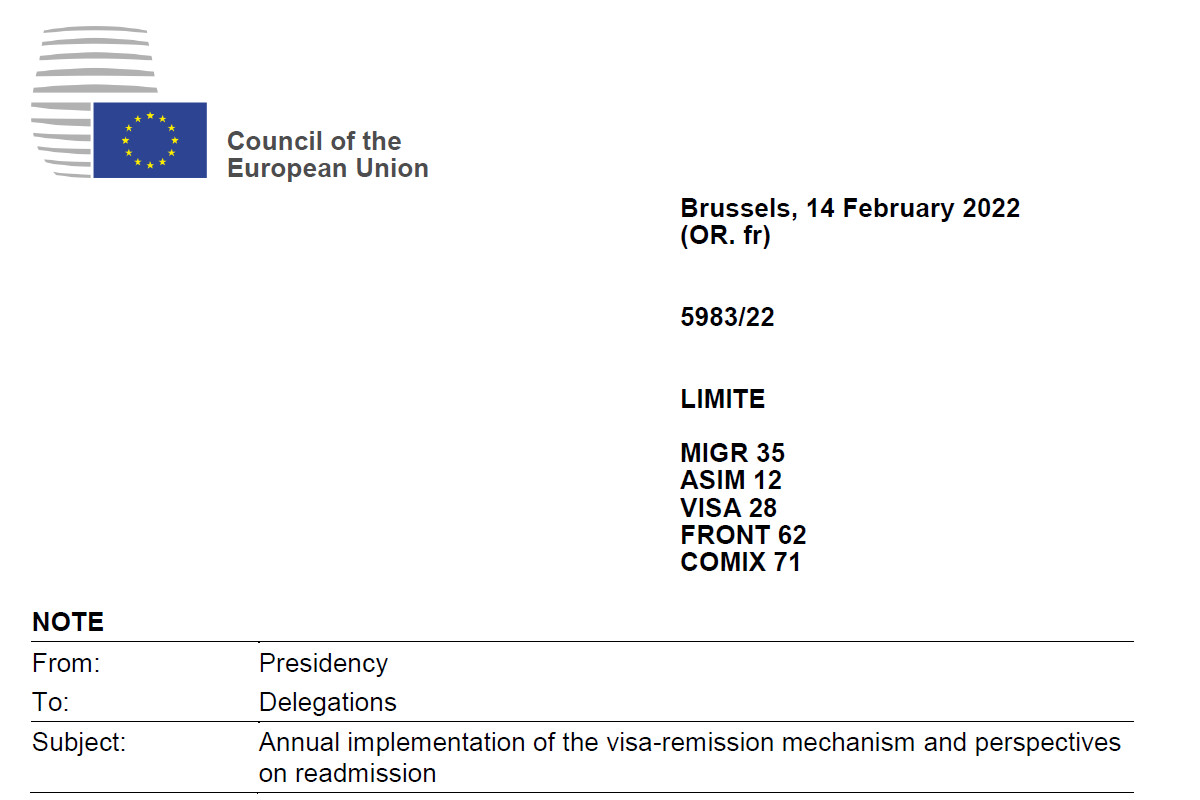 A note from the French Presidency of the Council on the annual implementation of the visa readmission mechanism discusses "the place of readmission levers in the overall management of the relationship with third countries".
09 March 2022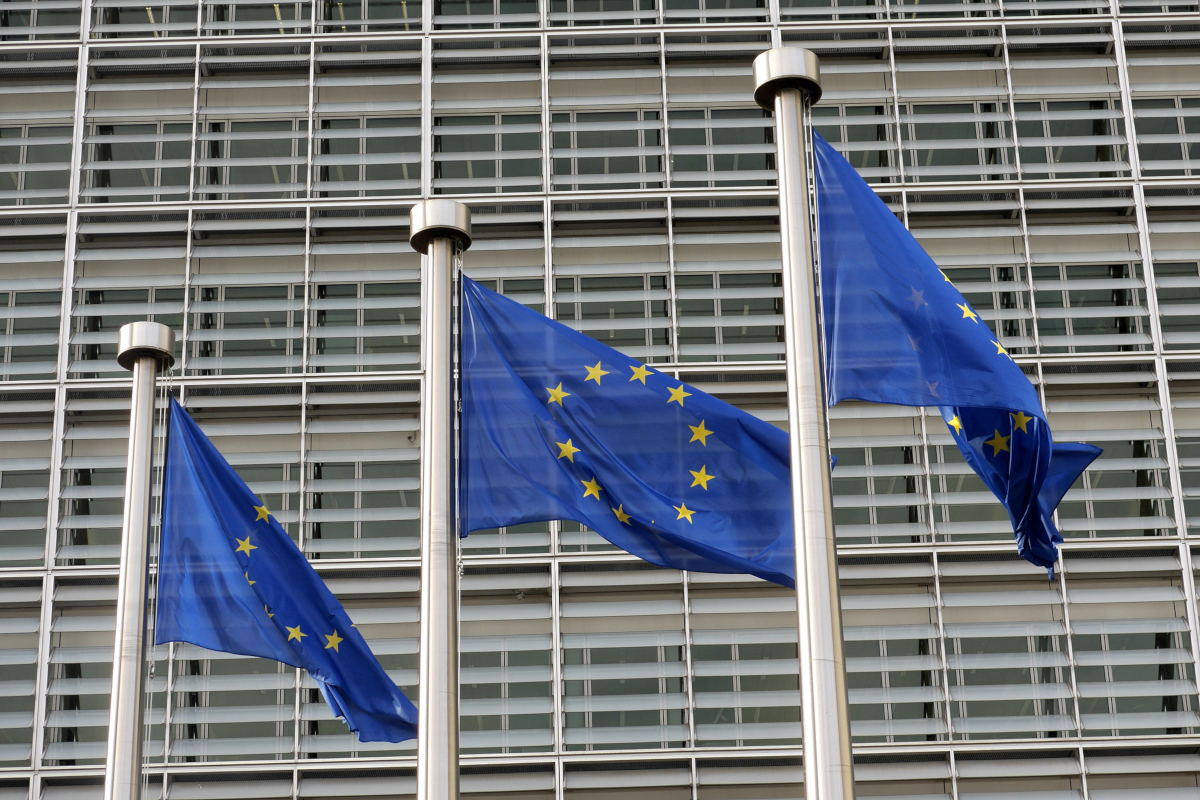 An overview of cooperation on readmission agreements and arrangements with key countries, produced by the European Commission, show that the "external dimension" promoted under the EU's Pact on Migration and Asylum treats non-cooperation with EU migration policy as worthy of sanction. Despite adopting a coercive outlook, these partnerships in which "readmission is an important component", are described as "comprehensive, tailor-made and mutually beneficial".