Home

/

News

/

2022

/

October

/

'Voluntary Solidarity Platform' for relocating refugees failing to meet targets
'Voluntary Solidarity Platform' for relocating refugees failing to meet targets
Topic
Country/Region
24 October 2022
On 22 September the European Commission hosted a meeting on the "Voluntary Solidarity Mechanism" (VSM), the latest ad-hoc system set up to relocate refugees from the EU's Mediterranean member states to other member states. It appears that the speed of transfers is not as quick as is hoped, with the conclusions noting that it is "crucial that all Member State initiate to implement the pledges," with the need for "a higher pace of transfers already ahead of the December Council meeting."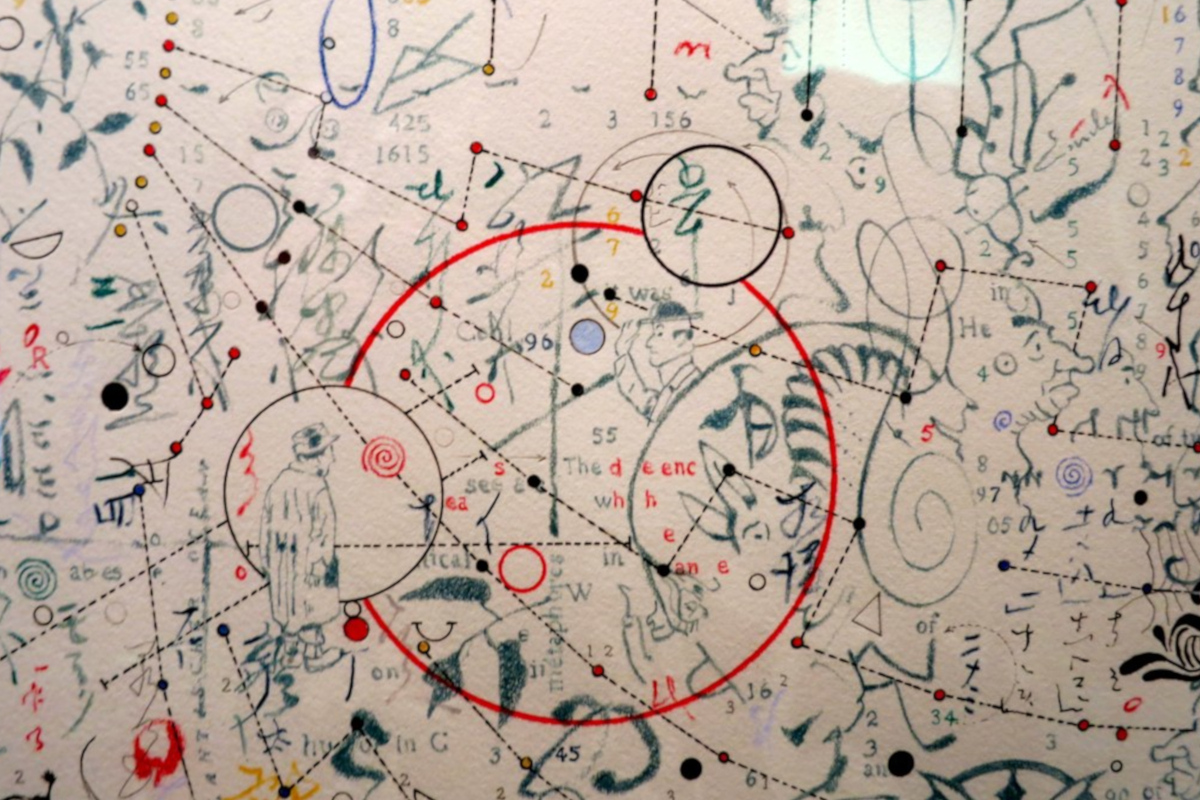 Image: Fabrice Florin, CC BY-SA 2.0
---
The Voluntary Solidarity Mechanism was approved in June and is supposed to reduce the "pressure" on southern EU states experiencing the arrival of substantial numbers of refugees.
So far, however, member states appear to be unwilling to meet the targets set. This would not be the first time a refugee relocation scheme within the EU has failed to go to plan.
As the September document on the latest scheme (pdf) notes:
"LT [Latvia] confirmed that its pledge for 20 persons would be implemented in 2023. Additional interviews on the ground are required, possibly in one longer deployment. 4 old pledges are still pending from the previous relocation exercise, and it remains to be confirmed when the recently cancelled additional interviews can be held." [emphasis added]

Spain has so far done little to nothing:
"ES reported that the Ministries of Inclusion and of Interior are discussing internally and reflecting on a possible first pool of candidates, as well as gathering respective needs to request assistance from EUAA, which would require an amendment to the Operating Plan. No timeline is available as of the start of the transfers. COM reiterated availability to provide assistance and usefulness to discuss pools ahead, also with EUAA."
France has been refusing candidates on security grounds:
"FR informed that it plans to interview about 50 candidates in its mission to Italy at the end of September. An upcoming 2 weeks mission from the 17th to 28th October to CY will allow interviewing about 100 of the 157 candidates from Afghanistan and Syria. FR confirmed that the use of remote interviews is still not possible, but considerations are being made on increasing the teams deployed to conduct interviews, so as to accelerate the exercise.
Bilateral discussions are ongoing with ES. FR is also examining how to provide relevant details bilaterally to the competent authorities of the beneficiary Member States after refusing candidates based on security reasons."
While Bulgaria is being explicitly picky:
"BG has a preference for Syrian nationals, ideally families, and thus sent a request to CY for receiving 50 candidates in October, 20 in November and 20 in December, with no additional interviews needed. A bilateral meeting is planned on 23rd September with the CY authorities."
The paper closes with:
"4. WAY FORWARD/OPERATIONAL CONCLUSIONS
COM will update the VSM monitoring table on a weekly basis, based on input by EUAA, IOM and MS. Member States are requested to keep COM informed on all developments in terms of available pledges, proposed lists of candidates, acceptances, interview missions and transfers with a view to
The workflow on the relocation of UAM candidates will be shared with partners and Member States shortly for comments.
COM will share again through the Solidarity Platform the contact list of DG HOME officials based in the respective MED5 countries, who act as contact points to facilitate the process and who need to be copied to all relevant communications related to operational activities. Participation of Member States and the other partners should include representatives in charge of carrying out the exercise at operational level. Member States are invited to share with DG HOME any updates on their operational contacts.
The Solidarity Mechanism functional mailbox also remains in place for official communications (i.e. MSs communicating availability of pledges).
Next meeting planned for 13th October (tbc). The frequency will be adjusted in the light of needs."
Documentation
Further reading
09 June 2022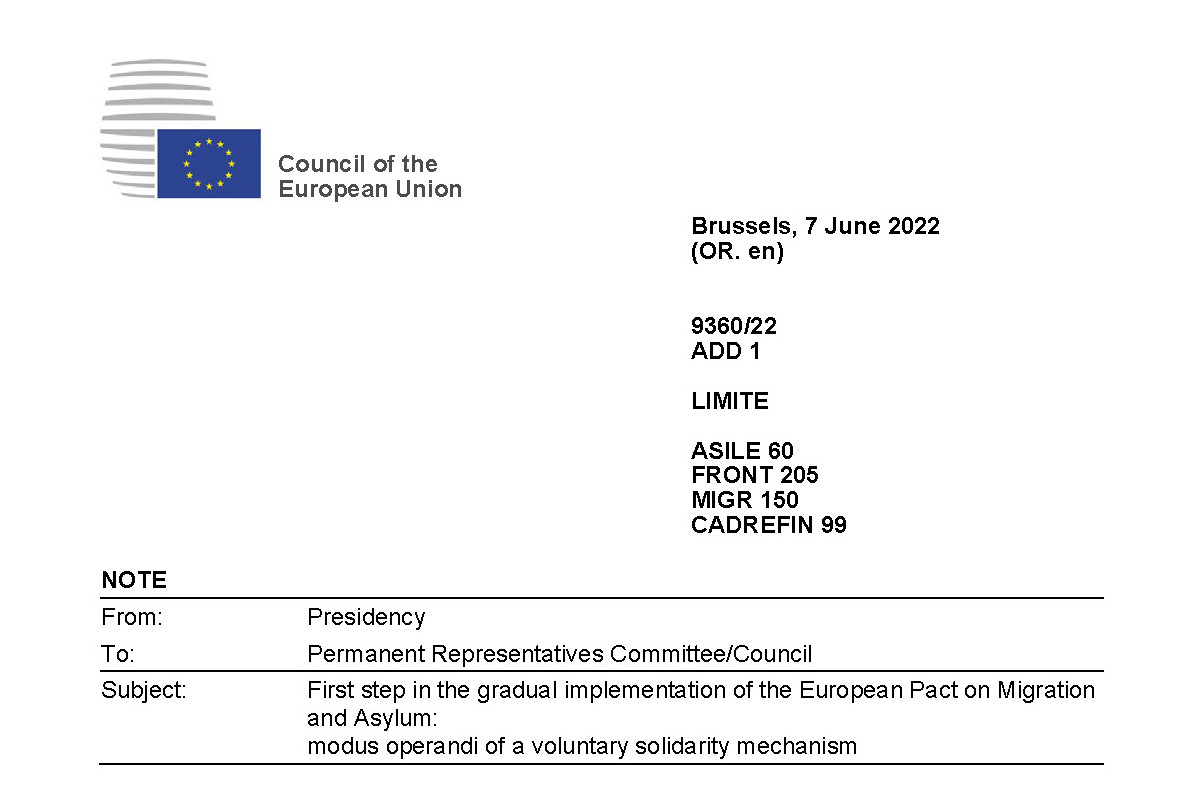 The EU's Justice and Home Affairs Council, which is meeting today and tomorrow, looks set to adopt a "voluntary, simple and predictable solidarity mechanism" designed to reduce the "pressure" on southern EU states experiencing the arrival of substantial numbers of refugees. Relocation to other member states is described as "the preferred method of solidarity", but financial support for externalised migration control, border surveillance and other repressive measures would also be a possibility.
26 May 2021
A documented circulated in the Council of the EU at the beginning of this week sets out the 'state of play' regarding the legal and policy initiatives launched as part of the Pact on Migration and Asylum. A number of legal proposals appear to be the subject of significant disagreement, holding up the adoption of other, less contentious proposals which form part of the "package".