Home

/

News

/

2022

/

July

/

EU: End game approaching for e-evidence negotiations, says French Presidency
EU: End game approaching for e-evidence negotiations, says French Presidency
Topic
Country/Region
06 July 2022
Negotiations on the EU's controversial "e-evidence" proposals may be coming to a close soon, according to a note circulated by the French Presidency of the Council on 16 June.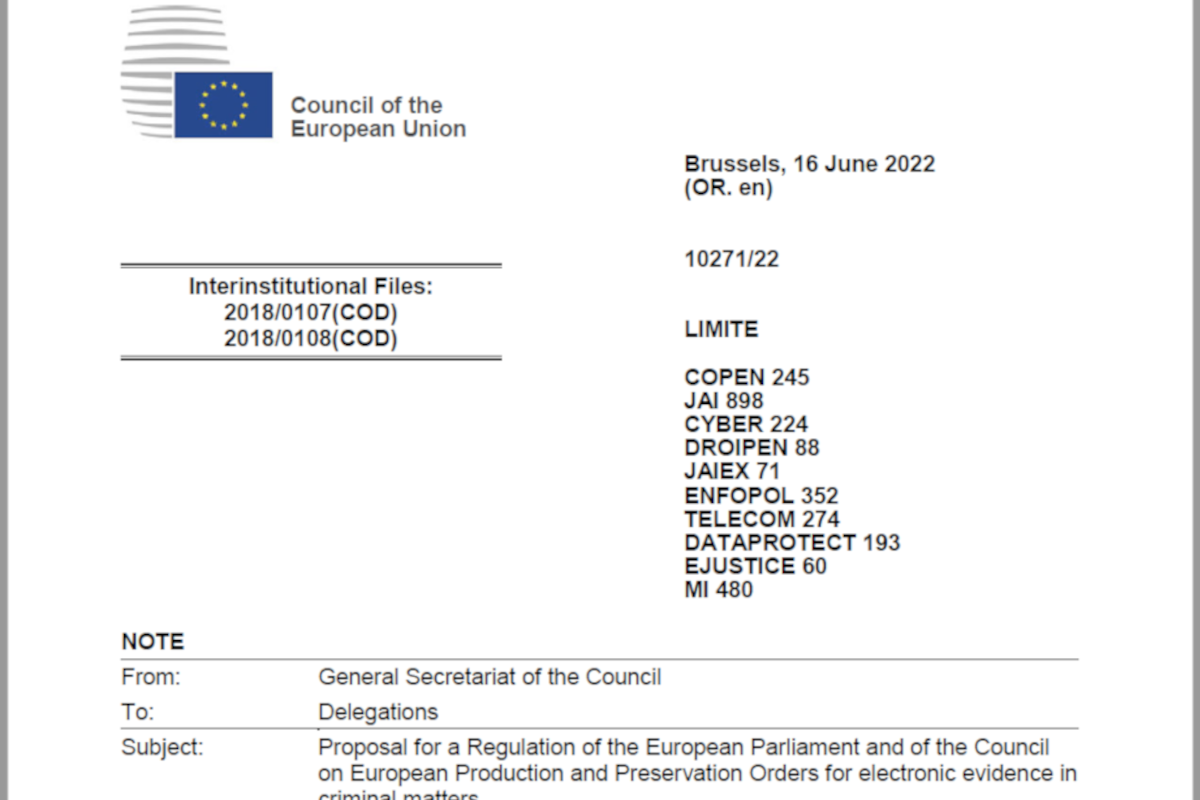 The proposals, which aim to ease cross-border requests for and exchange of electronic data for use in criminal cases, are made up of two new laws – a Regulation on European Production and Preservation Orders for electronic evidence in criminal matters, and a Directive laying down harmonised rules on the appointment of legal representatives for the purpose of gathering evidence in criminal proceedings.
[For an introduction to and critique of the e-evidence proposals, see European Law Blog.]
The note was drawn up following the sixth "political trilogue" between the Council, Parliament and Commission on 14 June, and aims to consult the member states in preparation for "the next steps in the negotiations".
According to the Presidency, "the political trilogue held on 14 June has been a turning point in these negotiations. Both legislators have confirmed their willingness to finalise soon," although the note underscores that this is all "provisional, nothing being agreed until everything is agreed."
The sixth "political trilogue" was apparently "the occasion to discuss political issues," says the note, encompassing:
the scope of the Regulation;
the conditions for issuing a Production or Preservation Order;
"the scope of the notification for productions orders on traffic data not requested for identifying the user and content data";
grounds for refusal;
the Parliament's demand for a special regime for countries undergoing the EU's 'Article 7' procedure on the rule of law; and
the "common objective of a platform to authenticate the orders and secure the transfers."
The Presidency notes that "there seem to be an opportunity to finalise the negotiations in the next weeks, if the conditions are met. The Presidency will make every possible effort in that perspective."
Two further "technical meetings" are on the cards with other "informal meetings" in parallel – all to be held, naturally, in secret.
"If sufficient progress is confirmed, the Presidency will reiterate its proposal to hold another political trilogue before the end of June with the view of taking decisive steps," says the note. "This perspective requires a constructive approach from both legislators."
Documentation
Further reading