Home

/

News

/

2021

/

October

/

EU: Artificial intelligence expert group in breach of rules of procedure
EU: Artificial intelligence expert group in breach of rules of procedure
12 October 2021
The European Commission's Expert Group on Artificial Intelligence in the Domain of Home Affairs is currently in breach of its own transparency rules, preventing public oversight of its membership.
---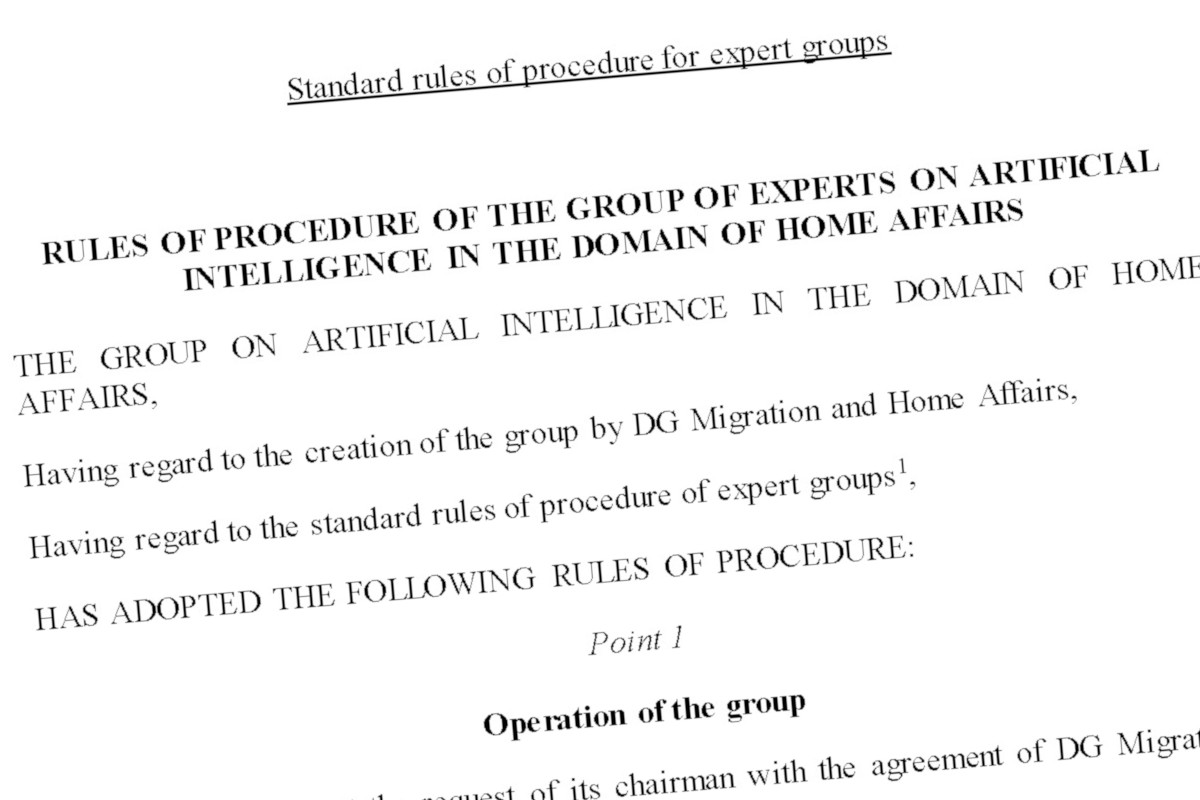 The Expert Group, which primarily consists of representatives of EU member states, was established to aid the Commission's Directorate-General for Migration and Home Affiairs (DG HOME) in preparing "legislative proposals/policy initiatives concerning Artificial Intelligence in the domain of Home Affairs," and to boost cooperation and exchanges between the Commission, EU member states and "stakeholders".
Discussions on the proposed Artificial Intelligence Act have been prominent in the group, but it has also discussed a number of other topics. However, anyone who wishes to know which authority is speaking on their behalf will have a hard time finding out - the Expert Group has failed to make public its list of members, despite being registered in the Commission's Register of Expert Groups since April 2020 and having held five meetings since then.
The group's rules of procedure (pdf) make it obligatory for the European Commission to make public the names of the entities participating in the group, specifically:
"(a) the name of Member States' authorities;
(b) the name of other public entities, including the name of third countries' authorities;
(c) the name of observers."
To date, however, the only information available on the Commission's register of expert groups are the member states – all 27 of them, so not particularly informative – and associated countries involved. The names of the public authorities themselves - for example, interior ministries or police forces - are not listed.
The rules of procedure were adopted in the first session of the AI Expert Group on 2 July 2020, although they themselves have not yet been made public by the Commission, and were only obtained by Statewatch through an access to documents request.
Additionally, agendas, minutes, participants' submissions and background documents should be published on the Register, unless that disclosure would undermine the protection of the interests set out in the EU's rules on access to documents.
The agenda and minutes of the group's five meetings so far are available. However, no background documents or submissions have been made public.
In September, Statewatch published three presentations made available by the Commission in response to an access to documents request, available here.
Documentation
Further reading