UK: Commission proposes new laws against "hateful extremism"
Topic
Country/Region
10 March 2021
A report published by the government-appoined Commission for Countering Extremism has called for new laws to criminalise the possession of terrorist material, amongst a host of other recommendations.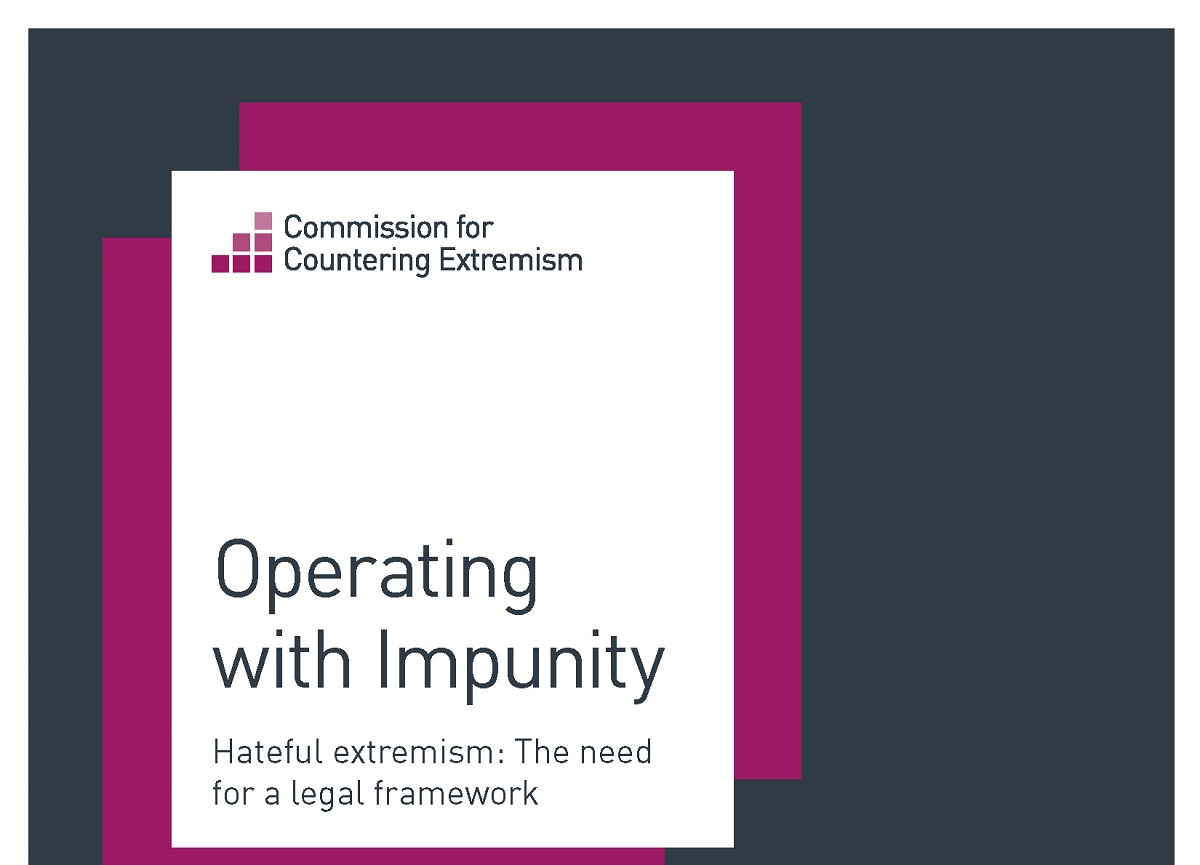 The Commission uses the following working definition of "hateful extremism":
"Activity or materials directed at an out-group who are perceived as a threat to an in-group motivated by or intending to advance a political, religious or racial supremacist ideology:
a. To create a climate conducive to hate crime, terrorism or other violence; or
b. Attempt to erode or destroy the fundamental rights and freedoms of our democratic society as protected under Article 17 of Schedule 1 to the Human Rights Act 1998 ('HRA')"
The report says that activity meeting this definition could include:
• Disseminating ideological extremist propaganda and disinformation, materials, symbols and narratives, both offline and online. This can also include glorification of terrorism and terrorists;
• Attempts to radicalise, indoctrinate and recruit others, such as young and vulnerable people to extremist ideologies; or
• Stirring up hatred or inciting, inspiring, encouraging, glorifying or justifying violence against a group of people identified as an out-group who are perceived as threat to the well-being, success or survival of an in-group.
It also makes clear that the goal of tackling "hateful extremism" goes beyond existing counter-terrorism powers:
"Counter terrorism legislation is rightly focused on the specific problem of terrorism and therefore does not and should not be expected to capture the breadth of extremist activity we define here in the report. In contrast, hateful extremism is a distinct activity in its own right outside of terrorism and hate crime and requires its own legislation to capture and prevent it."
The "primary recommendation" of the Commission is:
"...for the Government to commission work to develop a legal framework to counter hateful extremist activity to enable law enforcement, regulatory, and other statutory bodies to ensure there is a more effective response. Such a framework will facilitate a new operational infrastructure that would be embedded across institutions to ensure a robust and transparent response to hateful extremism guided by the law. We recognise constructing such a framework will be a complex but necessary piece of work and requires in-depth legal knowledge and expertise. We are open to whether such measures would require a legal definition or a suite of offences."
This legal framework could include, says the report:
"...civil, regulatory or criminal provisions and would also need to focus on i) intent; ii) evidence of serious or persistent behaviour; iii) evidence of promoting a supremacist ideology; and iv) evidence of activity that is creating a climate conducive to terrorism, hate crime or violence or activity in breach of Article 17 [of the Human Rights Act.]"
Article 17 of the Human Rights Act states:
"Nothing in this Convention may be interpreted as implying for any State, group or person any right to engage in any activity or perform any act aimed at the destruction of any of the rights and freedoms set forth herein or at their limitation to a greater extent than is provided for in the Convention."
This forms the backbone of the Commission's arguments.
Documentation
Press coverage