Home

/

News

/

2021

/

March

/

EU: Pushbacks scandal: Internal letters shed light on Frontex's fundamental rights recruitment failures
EU: Pushbacks scandal: Internal letters shed light on Frontex's fundamental rights recruitment failures
Topic
25 March 2021
As the work of the European Parliament's working group scrutinising Frontex continues, we are publishing correspondence shared with the group by Commissioner for Home Affairs Ylva Johansson. The documents shed new light on the dispute between the Commission and Frontex over the agency's controversial attempts to recruit new staff for its Fundamental Rights Office.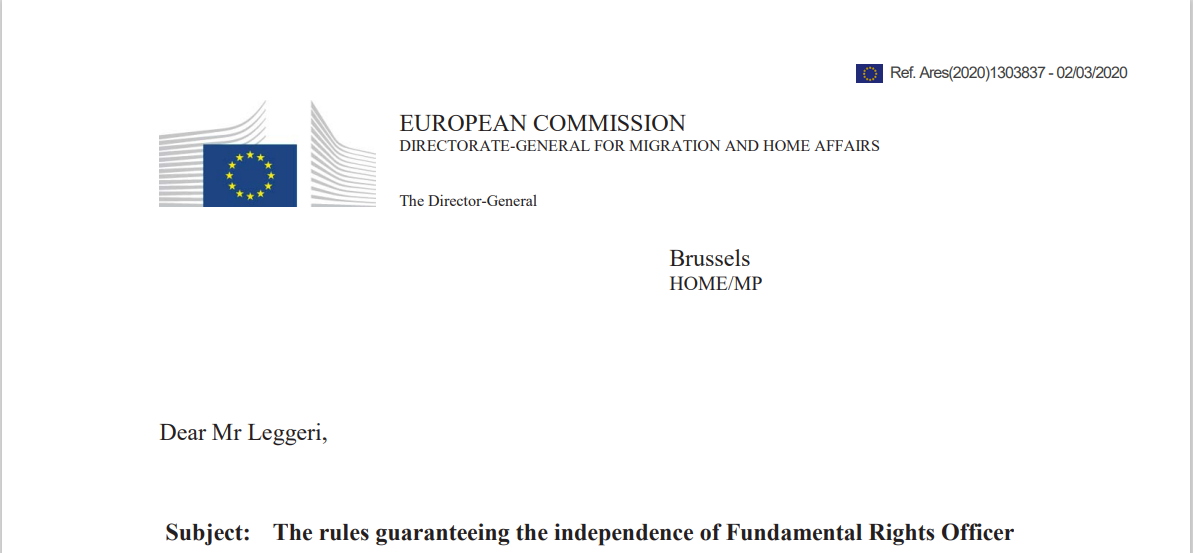 On the subject of the delayed recruitment of 40 fundamental rights monitors, the correspondence outlines that the Commission's services "have provided advice and support to the Agency to ensure that these recruitment in a timely manner. It is regrettable that this process has not yet been finalised."
Regarding the vacancy notice for the Fundamental Rights Officer post, Johansson expresses concern that, "the initial provisions proposed by the Agency would have undermined the independence of the Fundamental Rights Officer and were in contradiction with the guidance provided by the Commission on implementing measures."
The documents outline the Commission's position that:
"…the main feature of the [Fundamental Rights Officer] FRO and his/her raison d'être is his/her independence, which is mentioned several times in both Regulation No 2016/1624 and Regulation No 2019/1896 [the 2016 and 2019 Frontex regulations]. The independence of the FRO rules out premature termination of the employment contract of the current FRO with no other cause than the new definition of the post by Regulation No 2019/1896."
On the topic of Leggeri's insistence that the current FRO, Inmaculada Arnaez, should be replaced because the 2019 Regulation changes the status of her role to that of a middle manager, the documents maintain:
"Regulation No 2019/1896 did not question the recruitments made pursuant to Regulation No 2016/1624."
In fact, the publication of the vacancy notice, made more than a year before the end of term of the current FRO, "might have legal consequences because it might be seen as an attempt to discredit or weaken the current holder of the… office, and give rise to an action for damages."
The documents are emphatic that the vacancy notice must be repealed. "[T]he vacancy notice… should not have been published without the Management Board's prior consent", according to Management Board Decision 26/2016, Article 2(3).
Regarding the recruitment of the Deputy Fundamental Rights Officer:
"The Executive Director published a vacancy notice for the post of Deputy Fundamental Rights Officer (DFRO) newly introduced by Regulation 2019/1896. According to Article 109(6) of Regulation 2019/1896, the DFRO shall be appointed by the Management Board from a list of at least three candidates presented by the Fundamental Rights Officer (FRO). Article 109(6) therefore makes clear that the role of the FRO is key in the procedure for recruitment of his/her deputy. The publication of the vacancy notice for the DFRO is at odds with this provision since the FRO was not involved in it. The vacancy notice and its publication should therefore be repealed."
The agency has also asked the Commission for a legal interpretation of Regulation 656/2014, which governs activities carried out in the context of external sea border surveillance. On this topic, Johansson emphasises:
"...it is not the Commission's role to provide an authoritative interpretation of specific provisions of EU law governing Frontex maritime [activities]. This role is reserved for the Court of Justice of the European Union. It is not for the Commission to give instructions to the Executive Director as to how he should perform his duties."
Documents
16 March 2021: Letter from Ylva Johansson to Juan Fernando López Aguilar and Roberta Metsola, chairs of LIBE and Frontex Scrutiny Group, respectively
04 March 2021: Reply from Ylva Johansson to François Bellamy (in French)
02 March 2020: Reply from Monique Pariat to Fabrice Leggeri re: The rules guaranteeing the independence of Fundamental Rights Officer
04 February 2020: Final Reply from Mattias Oel to Marko Gasperlin re: Vacancy Notices – Fundamental Rights Officer and Deputy Fundamental Rights Officer
03 December 2019: Letter from Mattias Oel to Marko Gasperlin, Chairman of Frontex Management Board, re: Vacancy Notices – Fundamental Rights Officer and Deputy Fundamental Rights Officer