Home

/

News

/

2021

/

February

/

Ombudsman fails non-EU citizens in Frontex access to documents decision
Ombudsman fails non-EU citizens in Frontex access to documents decision
Topic
Country/Region
11 February 2021
Recent Statewatch complaints to the European Ombudsman have resulted in significant victories for transparency over the activities of EU justice and home affairs agencies, but one decision made by the Ombudsman approves of restrictions placed by Frontex on the right of non-EU citizens to file requests for access to documents.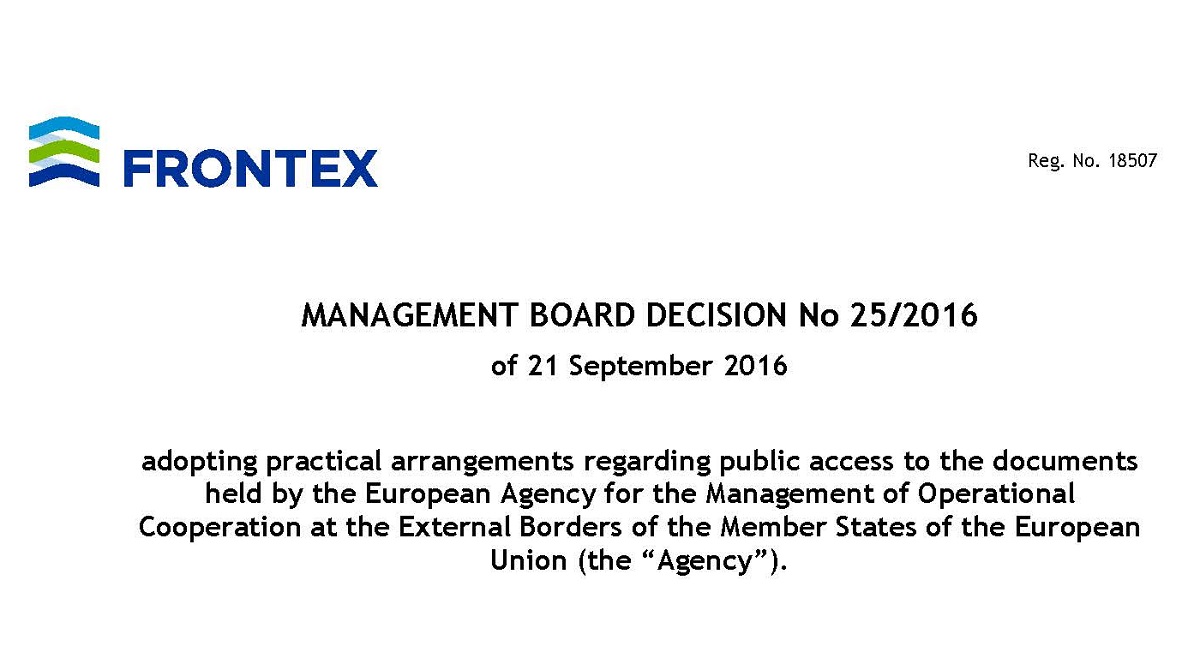 The European Ombudsman last week closed a case launched following a complaint filed by Statewatch in 2019. One outcome is that Frontex and Europol have committed to improving and updating their public registers of documents, which will facilitate democratic and public scrutiny of their work.
However, the complaint also called for Frontex to change its policy on access to documents and commit to accepting requests from non-EU citizens in non-EU countries. Frontex has refused to do so, and the Ombudsman approves.
Sticking to the very letter of its role "to achieve the highest standard of administrative practices possible for the benefit of European citizens," the Ombudsman agreed there is no maladministration in Frontex's policy of only considering requests for access to documents from non-EU citizens who do not reside in the EU on "a case-by-case basis."
The 2001 Regulation on access to documents only obliges EU institutions, agencies and bodies to consider requests for access to documents by EU citizens or residents, and they are free to accept or deny requests from citizens of other states residing outside the EU. Some have a generous approach – for example, Europol's implementing rules outline that non-EU residents "shall enjoy the right of access to Europol's documents on the same terms" as EU-residents.
Our complaint argued that Frontex should accept, as a rule and not as an exception, requests from non-EU nationals who do not reside in the EU, because:
"…it is non-EU nationals who are most significantly affected by Frontex's work, and this point extends to organisations registered in non-EU states that are concerned with the implementation and effects of EU migration and border management policies. This is particularly so given that, under the recent [November 2019] revision of its founding Regulation, Frontex will be increasing its activities in third countries."
The Ombudsman has stated: "While it is commendable that some other EU institutions have a practice of generally accepting requests for public access from non-EU countries, there is no legal obligation to do so." Additionally, it was decided that Frontex's implementing rules, which allow it to decide "on a case-by-case basis," are sufficient.
Frontex does not have a policy setting out the basis for how it determines the admissibility of such requests. Statewatch argued that this risks arbitrary, opaque decision-making. However, the Ombudsman agreed with Frontex's response that an institution "does not have to justify why it does not make use of [the] option" to extend the right of public access.
Chris Jones, Statewatch Director, said:
"Frontex has formal working arrangements with 20 non-EU states and cooperates with many others on an informal basis. The agency also has officers deployed in countries such as Albania and Montenegro, and more operations in non-EU states are in the works. It is insulting to the citizens of those states to deny them a systematic right to file access to documents requests with Frontex. The Ombudsman's acquiescence to Frontex's arguments is disappointing, to say the least."
Statewatch's 2019 complaint resulted in both Frontex and Europol promising to facilitate access to documents they have produced or received, including by maintaining a user-friendly and complete register of documents, "to enable individuals to identify documents to which they may want to request public access," in accordance with the 2001 Regulation. Frontex has adopted a "roadmap" in order to meet the Ombudsman's requirements by early 2022.
Frontex has also assured Statewatch in the past that it will develop a transparency register, or lobby register, early this year "at the latest", in order to fulfil Article 118 of its founding Regulation which states, "the Agency shall ensure there is transparency as regards lobbying by means of a transparency register and by disclosing all its meetings with third-party stakeholders."
This has not yet been produced, yet is clearly much-needed – last week, the Frontex Files investigation revealed that the border agency has held numerous meetings with weapons and surveillance lobbyists who are not on the EU's transparency register.