EU: Revised "roadmap" for implementing the 2019 Frontex Regulation
Topic
Country/Region
18 February 2021
The implementation of the 2019 Frontex Regulation has not been as swift as intended - in part due to the impact of the pandemic. However, media reports say that mismanagement and administrative failures have also played a role. The agency has produced a revised timetable for adopting its new roles, which Statewatch is publishing.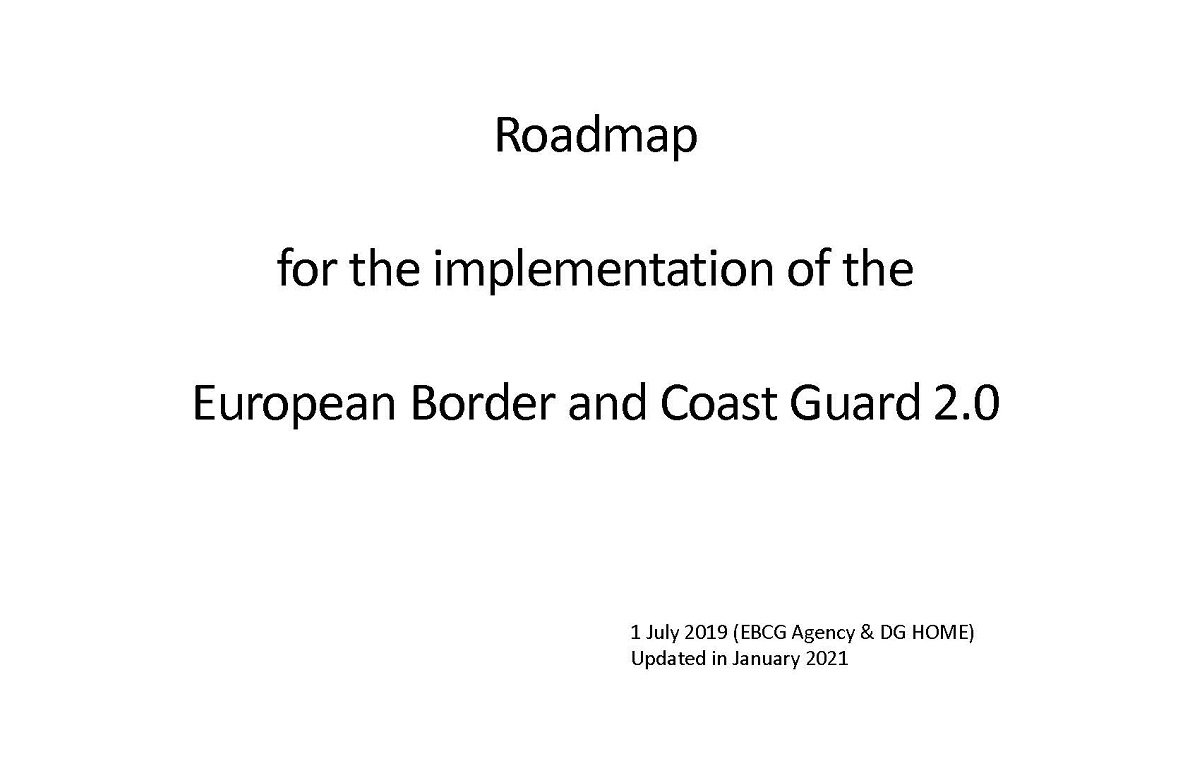 See: Frontex and European Commission Directorate-General for Migration and Home Affairs: Roadmap for the implementation of the European Border and Coast Guard 2.0 (pdf):
"The rapid and full operationalisation of the European Border and Coast Guard (EBCG) 2.0 Regulation is a top priority for the EU.
(...)
In order to ensure transparency and effective monitoring of the progress as well as the full accountability towards the EU Institutions, the Commission services together with the European Border and Coast Guard Agency have developed this Roadmap covering all the main novelties brought by the new Regulation. The Roadmap also identifies the priorities for implementation among and makes the linkages between all those novelties."
On the long-awaited appointment of Fundamental Rights Monitors, as was supposed to have happened by December 2020, the roadmap says:
"Two selection procedures were published in November 2020 (AD7 level and AST4 level – comparable to the levels of Advanced and Intermediate European Border and Coast Guard Officers). As of mid-December 2020, Frontex received more than 20 and 30 applications respectively). The publications were delayed due to long-term absence of FRO and, having regards to the specific appointment powers and independence of FRO, could have been launched only after the Management Board adopted the necessary set of legal instruments. Consequently, the first new Fundamental Rights Monitors will be able to join Frontex in March/April 2021."
The roadmap covers the following areas.
General framework

Agency's staffing
Agency's Programming document
Adoption of COM's implementing acts
New Workflows of the EBCG

Standing corps ready for deployment as of 1/1/2021

Overall strategic planning of the Corps
Other MB's implementing acts related to the standing corps
Recruitment of Agency's statutory staff
Training
Uniform/personal gear for Category 1
Financial support for the development of the European Border and Coast Guard standing corps (Article 61)
Secondments of category 2
Planning of category 3
Deployments

Launch of multiannual strategic policy cycle for European Integrated Border Management/IBM

Political steering (Stage 1)
Technical and operational EUIBM strategy (Stage2)
National strategies (Stage 3)
Evaluation by the COM/ new cycle (Stage 4)

Returns (Articles 49-54, 78)

Handover of EU Funded Return Projects
New Return Functions

Acquisition of the EBCGA's own technical capabilities (articles 64-65)
Integrated planning and EBCG capability development (Article 9)

Capability development planning
Contingency planning
Operational planning

EUROSUR and Inter Agency Cooperation (Articles 18 to 29, 31, 34, 35, 42 and 69)

Evolution of the scope of EUROSUR (Inclusion of Border Checks, Secondary Movements, Air Border Surveillance, 4th Impact level)
Situational Pictures
EUROSUR Fusion Services
Cooperation on Coast Guard Functions

Information Exchange (including data protection) (Articles 14 and 15 and Chapter IV Section 2)

Upgrade
Data protection (Chapter IV Section 2)
Communication Network and information exchange systems

Risk analysis and vulnerability assessment (Articles 30, 33 and 34)

Evolution of Risk analysis
Common integrated risk analysis Model
Vulnerability Assessment (Article 33)

Cooperation with Third Countries/ external dimension

Status Agreements
Working Arrangement (and Ops Plans ) of EBCGAwith third Countries
Bi and Multilateral Agreements of MS with Third Countries
Liaison officers of the Agency in third countries

Fundamental Rights (Article 107, 107a, 108)

Fundamental Rights Officer
Fundamental Rights Monitors

Standardization role of EBCGA (Article 16 and Article 64(5))

General
Technical standards for information exchange (Article 16)
Technical standards for deployment in the activities of the Agency (Article 64 (5))
International Standards for EU Integrated Border Management

Organization of the Agency

Administrative structure
National Contact Points (Article 13-)
See: Frontex and European Commission Directorate-General for Migration and Home Affairs: Roadmap for the implementation of the European Border and Coast Guard 2.0 (pdf)