Home

/

News

/

2021

/

February

/

EU-Afghanistan informal deportation agreement - full text of the new 'Joint Declaration'
EU-Afghanistan informal deportation agreement - full text of the new 'Joint Declaration'
Topic
Country/Region
01 February 2021
A renewed 'Joint Declaration on Migration Cooperation between Afghanistan and the EU' is heading for approval by the Council of the EU. The Declaration is an informal agreement that facilitates forced removals from EU member states to Afghanistan, a country still facing conflict, violence and instability.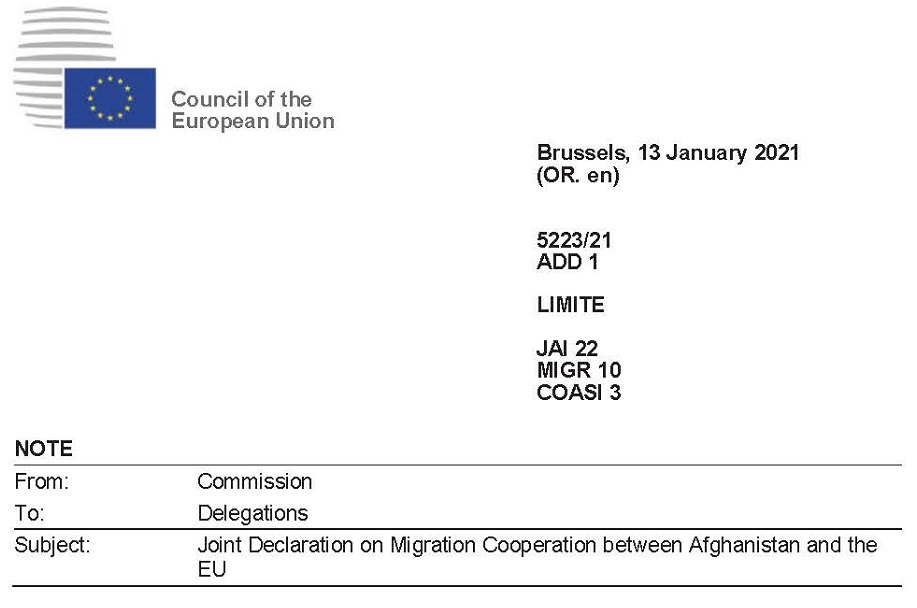 The text has been under negotiation for some time, following the formal expiry of a previous agreement in October 2020. The new Declaration lasts for an indefinite period.
See the full-text: Joint Declaration on Migration Cooperation between Afghanistan and the EU (Council document 5223/21 ADD 1, LIMITE, 13 January 2021, pdf)
And: Request for authorisation of signing/approval and use of the written procedure (Council document 5287/21, LIMITE, 22 January 2021, pdf)
On 22 January, the General Secretariat of the Council wrote to the Permanent Representatives Committee (COREPER, made up of member states' officials in Brussels) and sought its recommendation for:
the Council to authorise the signing/approval of the new Declaration; and
the Council to adopt the Declaration by written procedure.
The proposals were on the agenda of the COREPER meeting on 27 January. The Council does not yet appear to have adopted the Declaration.
Ongoing deportations to Afghanistan have been the subject of heavy criticism from human rights organisations, who have repeatedly emphasised that Afghanistan is not safe.
As highlighted in the recent Statewatch report Deportation Union, following the adoption of the previous informal agreement - the Joint Way Forward - in 2016, the number of forced returns to Afghanistan coordinated and financed by EU border agency Frontex mushroomed:
"In December 2016 a further three flights (from Sweden, Germany and Finland) departed for Kabul. A total of 53 people were deported to Afghanistan via Frontex flights in 2016. That number increased six-fold in 2017 (to 314) and grew again in 2018 (to 495)."
In its note to COREPER, the General Secretariat of the Council highlights "significant improvements" in the new Declaration, as highlighted in a previous Commission note:
"– a tighter definition of vulnerable groups, notably the family unit and seriously sick people;
– clarification that all EU Member States may participate in joint return operations by non-scheduled flights under the JDMC, even if they have concluded a bilateral agreement or arrangement with Afghanistan;
– EU escort staff and other accompanying staff do not need to carry a valid Afghan visa unless they must enter the territory of Afghanistan;
– all Afghan returnees to be readmitted upon arrival;
– indefinite duration of the Declaration."
Further reading