Home

/

News

/

2023

/

May

/

French government steps up repression after bloody battle of Sainte-Soline
French government steps up repression after bloody battle of Sainte-Soline
Topic
Country/Region
02 May 2023
In the aftermath of the heavy repression of activists protesting against the construction of industrial water storage basins in France on 25 March, two protesters are still in critical condition in hospital. Meanwhile, interior minister Gérald Darmanin announced heavy measures to be taken against the organisers of the mass demonstration in Sainte-Soline and even threatened to take steps against a renowned human rights organisation.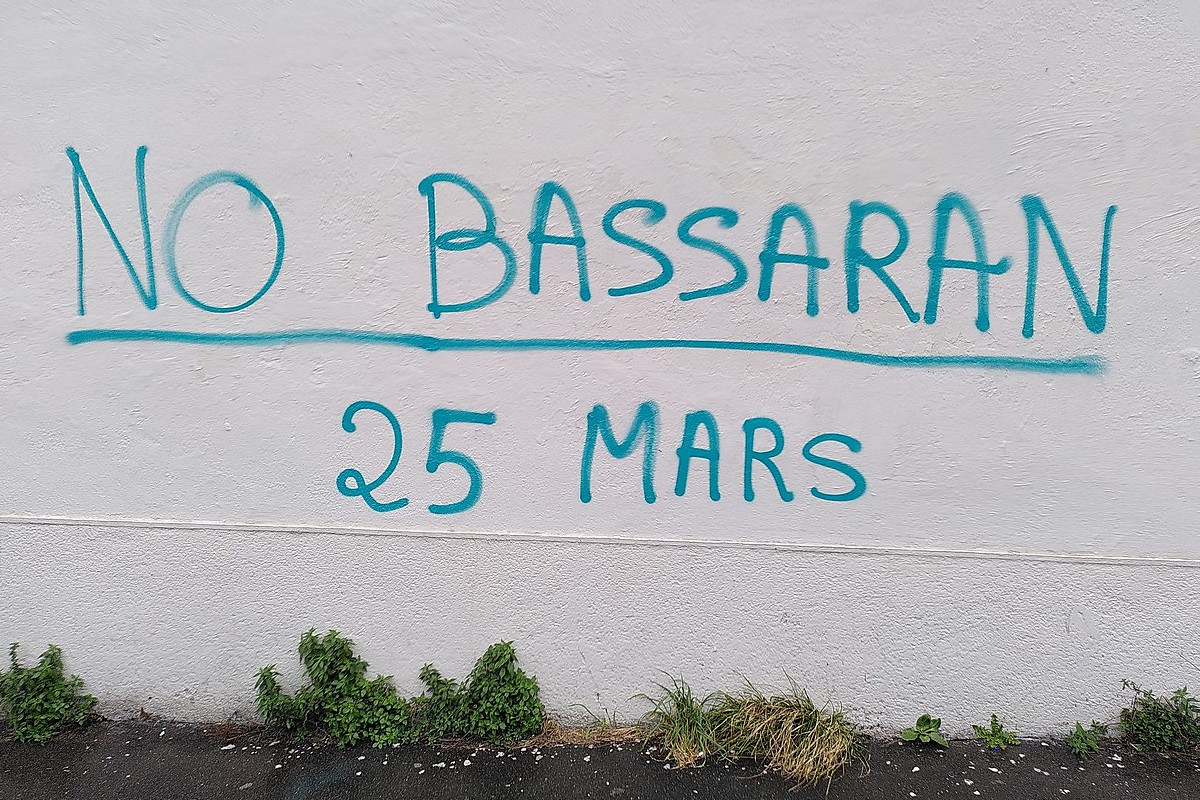 Image: Skimel,Creative Commons Attribution-Share Alike 4.0 International
A version of this article was originally published in Dutch by Global Info.
---
This new wave of repression takes place amid a resurgent battle over the Macron government's policy on pensions, which has been causing clashes across the country for months. The police crackdown on protests against the pension reforms had already sparked outrage and severe criticism by independent observers and human rights organisations. More than one hundred people complained about police violence to the National Ombudswoman and the Commission Nationale Consultative des Droits de l'Homme informed the relevant United Nations and Council of Europe mechanisms.
On March 25, an estimated 30,000 protesters marched to a large water storage project in Sainte-Soline, in mid-western France. The bassines is a project for and by large farms to cope with increasing drought. But smaller farmers (united in the farmers' union Confédération paysanne) and environmentalists are vehemently opposed to these plans because rainwater will no longer reach groundwater reservoirs, and will in fact be appropriated by agribusiness, when there are already water shortages. The Sainte-Soline bassine is one of over a hundred currently being constructed in France.
Mobilisation for the 25 March demonstration was undertaken by a coalition of organisations, including the activist network Soulèvements de la Terre (SDT, Rebellions of the Earth). Soulèvements de la Terre is an umbrella coalition encompassing a variety of local activist campaigners and has its origins in the ZAD occupation of Notre-Dame des Landes, which succeeded in stopping the plans for the extension of Nantes airport. The French secret service produced an analysis of the movement, which was leaked and can be read in French on the website Lundi.am; an overview of many local struggles under the SDT umbrella is also available online. The campaign against agribusiness water bassines is coordinated by the organisation Bassines non Merci.
The 25 March demonstration was banned by local authorities, but the activists set up a camp on the neighbouring property of a sympathising farmer. Large caravans of farmers from the Confédération paysanne, acting in solidarity with the protest, went on tractors to support the demonstration. Police attempts to stop them with roadblocks failed when the farmers drove the final stretches through fields.
Police then tried by almost military means to chase the protesters away from the bassine, using both tear gas and explosive grenades. According to observers, illegal means were used in the process, or the grenades were fired in ways that are illegal and life-threatening for protesters. Consequently, many people were injured, some of them very seriously. Two protesters are still in serious condition in hospital and it is uncertain whether they will survive.
Daily newspaper Le Monde produced a reconstruction, with video footage from several sources, to find out how one of the most seriously injured protesters, Serge Duteuil-Graziani was hit. According to the newspaper:
"Thousands of grenades, Molotov cocktails, and hundreds of injured: on March 25, 2023, in Sainte-Soline, western France, a demonstration against a "mega-bassine," or large water reserve, turned into a clash between police and protesters. At least two demonstrators, including Serge Duteuil-Graziani, a 32-year-old activist, were seriously injured. What happened?
Dozens of hours of video footage shot that day and testimonies collected by Le Monde's video investigation unit show that the demonstrator, on the front line of the clashes, was probably hit by an illegal tear gas grenade shot from one of the areas where the gendarmes were positioned. The analyzed footage also proves that Serge Duteuil-Graziani was not hit at that moment by projectiles shot by other demonstrators.
Le Monde's investigation also reveals, thanks to unpublished images by Brut journalist Camille Courcy, another illegal shot toward another demonstrator: A shot made too horizontally and carried out with the most powerful propulsion device, which hit this demonstrator in the head.)"
Human rights organisations and observers said that the police actively prevented ambulances from getting to injured protesters. For instance, it took more than an hour before Serge Duteuil-Graziani could be taken away. Meanwhile, he was kept alive by medical volunteers among the protesters, but they only had minimal resources at their disposal.
Interior minister Gérald Darmanin defended the police action in Sainte Soline and announced that he was considering banning the Soulèvements de la Terre network. Even the renowned human rights organisation LDH, which issued a critical report on the crackdown, was taken to task and threatened with the withdrawal of government funding.
LDH president, Patrick Baudouinm commented to Radio Monte Carlo:
"He has taken a very serious step. The LDH is 125 years old. The order of magnitude of the budget is 2 million euros. Subsidies are between 27 and 29% of the budget. We have only one objective, and that is the defence of rights and freedoms. So far, this has been accepted, except in a period of history I would remind Mr Darmanin of, the Vichy period. I admit to being alarmed and also very concerned about the urges of this power [slightly unclear sentence] that are real. We are going from denial of democracy to serious violation of fundamental public freedoms," denounced Patrick Baudouin, president of the Human Rights League.
Friends and Serge's parents are appealing not to give up. Moreover, Soulevements de la Terre has announced that many new local organisations will be set up in the event of a ban. An international declaration of support against the bassines project has also been published.
---
Originally published at globalinfo.nl. Author: Kees Hudig
Further reading
28 March 2023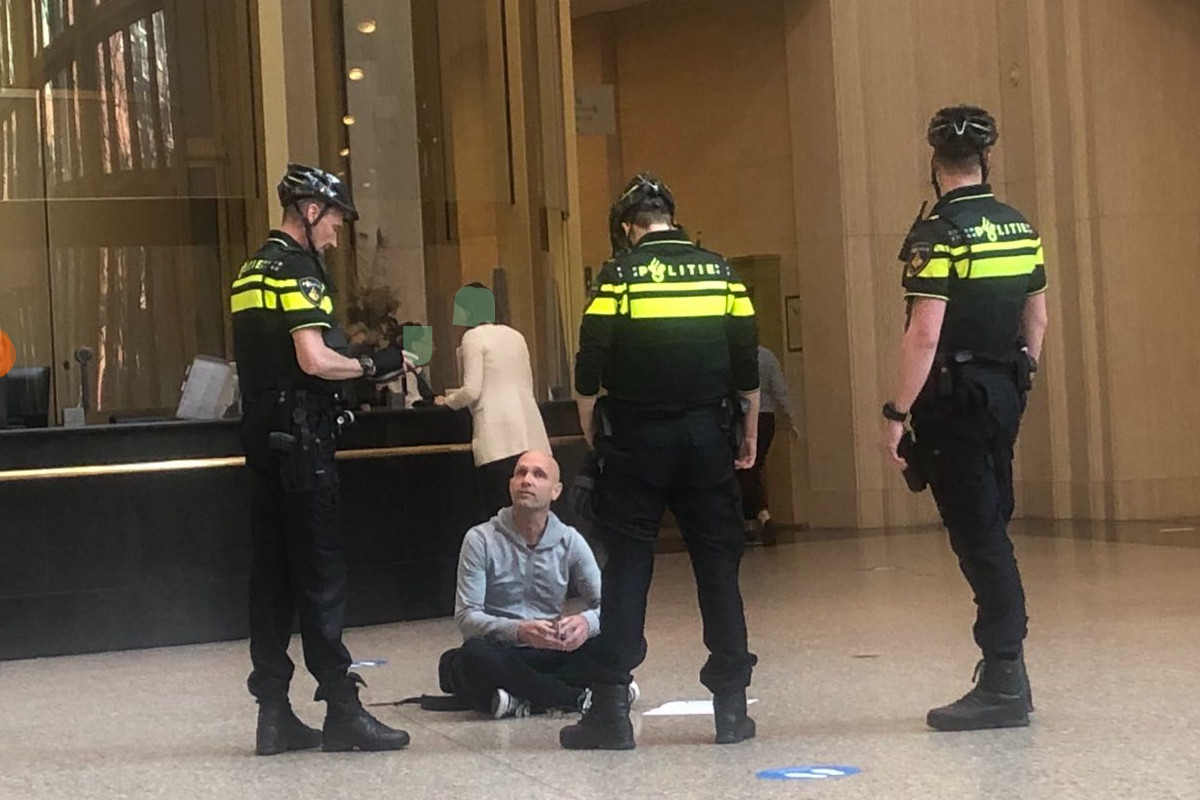 The Dutch police continue to disregard the rule of law to criminalise the pacifist activist Frank van der Linde. In recent years, his personal data has been sent to Europol, he has been labelled a terrorist, and police have suggested he be referred to a psychiatric facility. Far from an isolated case, van der Linde's story shows just how far police in Europe will go to criminalise the right to protest and stifle political dissent.
05 April 2023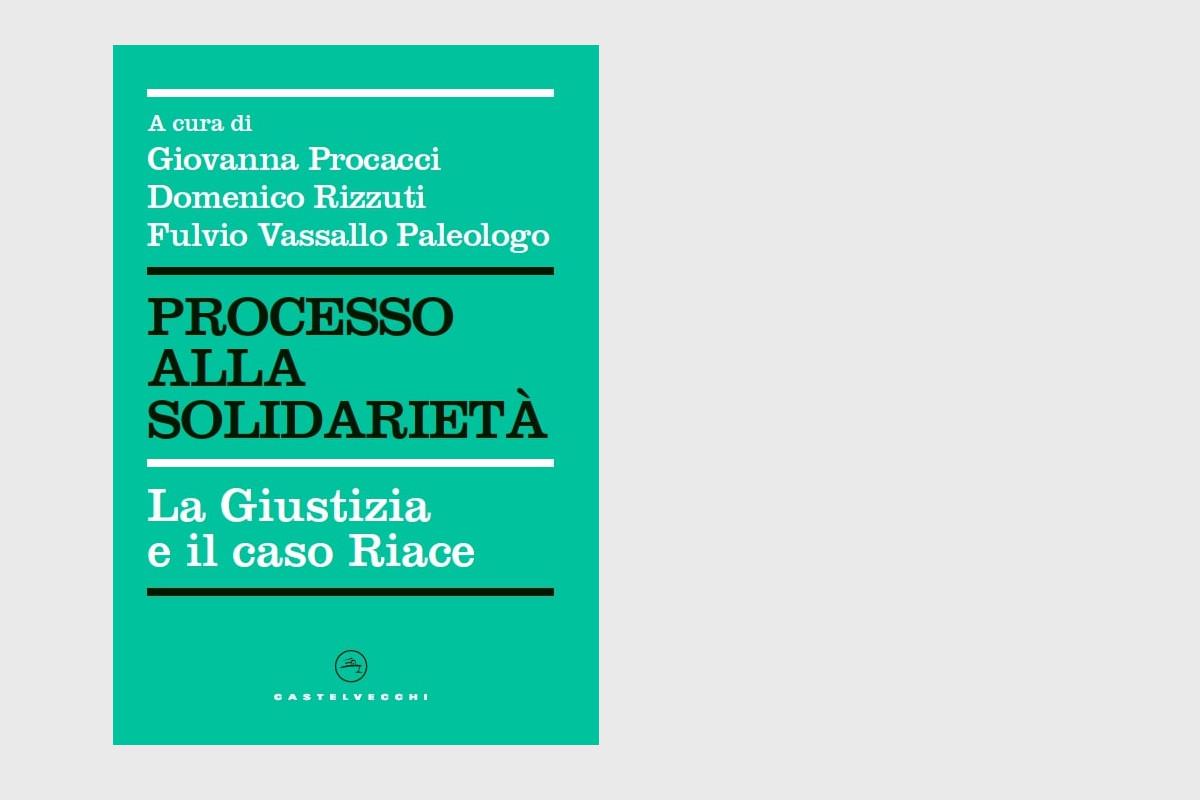 A book about the political use of judicial proceedings to curtail a virtuous example of solidarity at work in reception practices in a small southern town in Calabria, Riace, led by its former mayor, Mimmo (Domenico) Lucano. Hearings of the appeal trial in Reggio Calabria are underway, after the first trial in Locri (whose sentence is commented on in these two extracts) found several defendants guilty, imposing lengthy prison terms (over 13 years for Lucano, over 80 years in total for 18 defendants) and financial penalties. The contributions to this book focus on the trial, the sentence, the appeal and the reality of the experience of Riace, including trial monitoring reports by Giovanna Procacci.