Home

/

News

/

2022

/

May

/

European Commission: Update on state of play of external cooperation in the field of migration policy
European Commission: Update on state of play of external cooperation in the field of migration policy
Topic
Country/Region
24 May 2022
A recent European Commission document circulated to member state delegations in the Council demonstrates the scale and scope of the EU's "external migration" initiatives, which cover countries ranging from Bangladesh to Bosnia, as well as a number of multilateral initiatives. The document includes an overview of the current level of cooperation between the EU and "partner" countries and fora, as well as lists of recent meetings and events.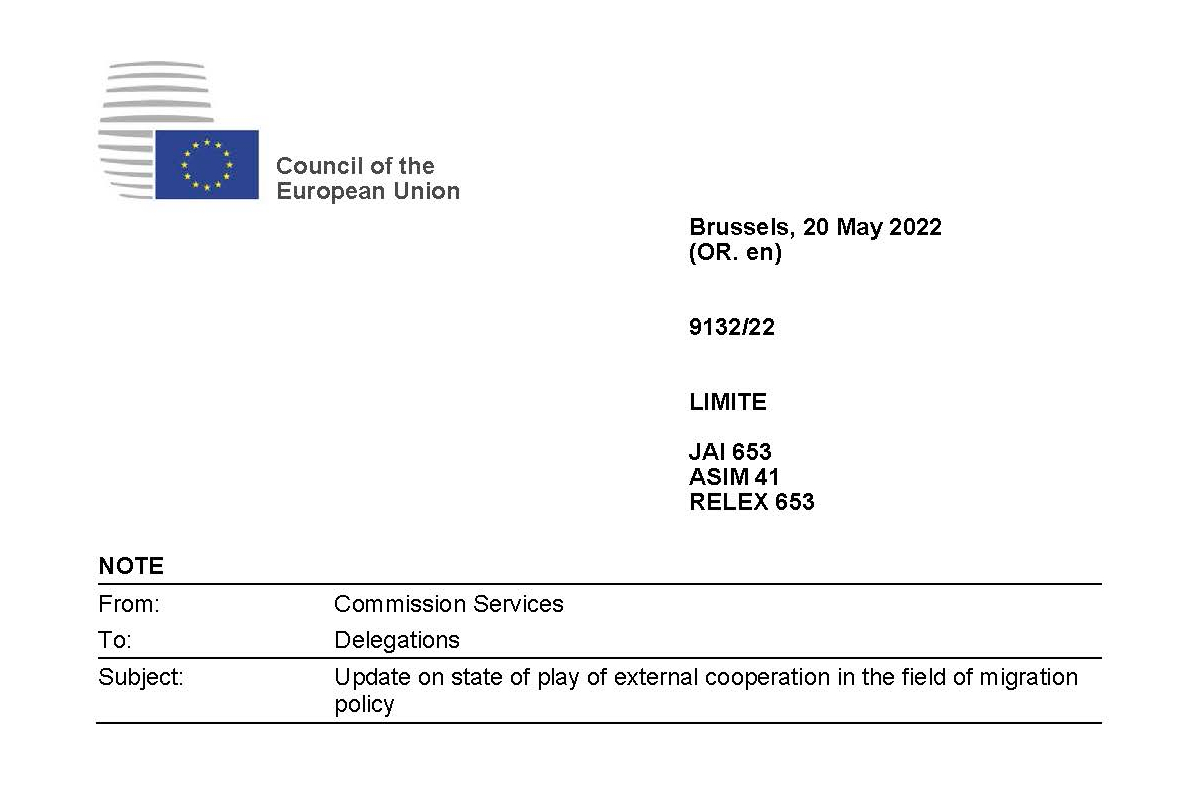 NOTE from: Commission Services to: Delegations: Update on state of play of external cooperation in the field of migration policy (Council doc. 9132/22, LIMITE, 20 May 2022, pdf)
"The European Commission adopted the New Pact on Migration and Asylum on 23 Sep-tember 2020, which contains a strong component on partnerships with third countries.
This document provides an updated overview of the main external migration dialogues and processes since 2019. The document is compiled for the information of the Working Party on the External Aspects of Asylum and Migration by the responsible European Commission and EEAS services.
This document also serves as a tool to follow-up the implementation of the European Council Conclusions (on external aspects of migration) of 16 December, 21-22 October, 24-25 June as well as the outcomes of the Jumbo Meeting of the Home Affairs and the Foreign Affairs Ministers of 15 March 2021."
The following countries are covered in the report:
Africa

Cabo Verde
Ethiopia
Mauritania
Niger
Nigeria
Senegal

Southern Mediterranean 


Morocco
Tunisia
Algeria
Egypt
Libya
Jordan
Lebanon

Western Balkans

Albania
Bosnia and Herzegovina
Kosovo
North Macedonia
Montenegro
Serbia

Turkey
Asia

China
India
Pakistan
Afghanistan
Iran
Iraq

Eastern Partnership countries

Armenia
Azerbaijan
Belarus
Georgia
Moldova
Ukraine

Russia
USA
Regional processes:
The Prague Process
The Eastern Partnership Platforms and Panel on Migration, Mobility and Integrated Border Management (IBM)
The Budapest Process
The Africa-EU Migration and Mobility Dialogue
The Rabat Process
The Khartoum Process
The OACP-EU Migration Dialogue
The Valletta Summit follow-up
The EU-CELAC Migration Dialogue
Global processes:
Global Forum for Migration and Development
United Nations
Documentation