EU: European Council, 21 October: draft conclusions
21 October 2021
Covering COVID-19, "digital", energy prices, migration, trade and external relations.
---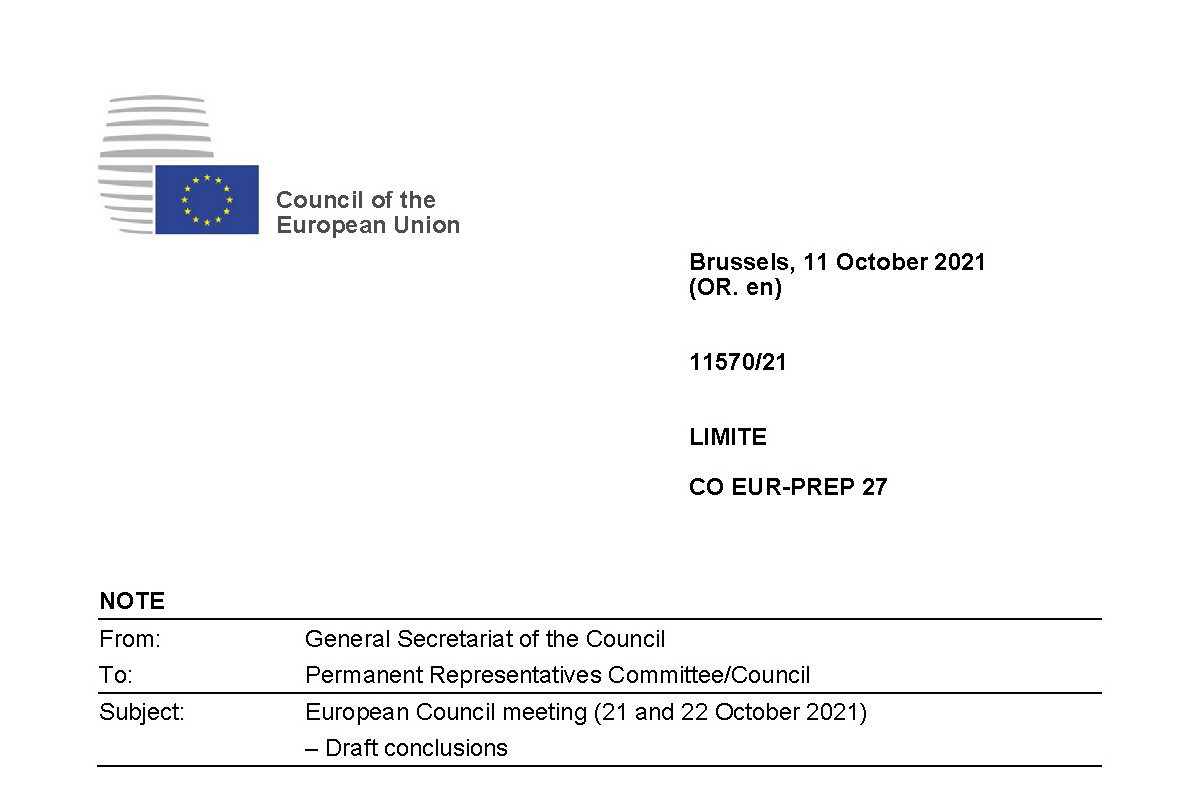 See: NOTE from: General Secretariat of the Council to: Permanent Representatives Committee/Council: European Council meeting (21 and 22 October 2021) - Draft conclusions (Council doc. 11570/21, LIMITE, 11 October 2021, pdf)
This version is dated 11 October; two subsequent versions were circulated on 15 and 18 October but remain inaccessible.
On migration, the draft says:
"IV. Migration
12. Following the European Council conclusions of 24 and 25 June 2021, eight action plans for countries of origin and transit have been presented. The Commission and the EEAS, together with Member States as appropriate, should now make those plans operational and implement them without delay. The European Council expects the action plans to be underpinned by adequate financial support and reiterates its request to the Commission to report to the Council on its intentions in this respect.
13. In this regard, the best possible use should be made of at least 10% of the NDICI financial envelope, as well as funding under other relevant instruments, for actions related to migration.
14. In line with its March 2021 statement and its June 2021 conclusions, the European Council reiterates its expectation that the financing for Syrian refugees and host communities in Turkey, Jordan, Lebanon and other parts of the region under relevant instruments will be mobilised in a timely manner.
15. The European Council condemns and rejects any attempt by third countries to instrumentalise migrants for political purposes.
16. The EU remains determined to fully control its external borders so as to prevent illegal migration and reduce secondary movements."