EU: E-evidence: latest Council "state of play" document
Topic
Country/Region
19 October 2021
A note from the Slovenian Presidency outlines some of the issues that have emerged in negotiations with the European Parliament on new rules designed to ease cross-border access to digital data for use in criminal investigations and judicial proceedings.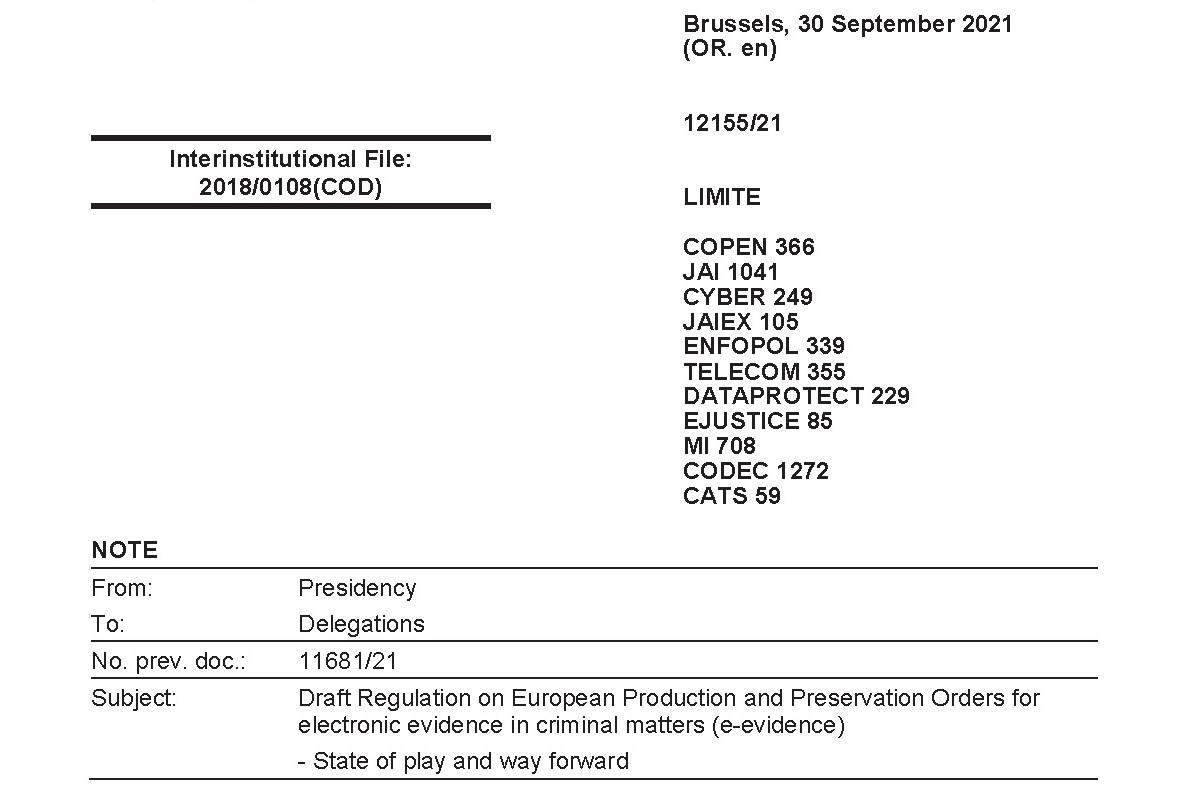 NOTE from: Presidency to: Delegations: Draft Regulation on European Production and Preservation Orders for electronic evidence in criminal matters (e-evidence) - State of play and way forward (Council doc. 12155/21, LIMITE, 30 September 2021, pdf):
"The Presidency has continued its efforts to identify possible compromises with the European Parliament for the notification block of rules in the draft Regulation. Both legislators approach the matter in a very good atmosphere of cooperation, but there are clear differences in substance. Indeed, it is the impression of the Presidency that the European Parliament has a clear willingness to make concessions on issues it a priori considers important, such as on the scope of the notification obligations, the suspensive effect of orders and the character of the grounds for refusal. As regards the so-called residence criterion, however, the Parliament continues to strongly defend its view that the residence of a person should in principle not have any effect on the notification obligation, although there seems to be some room to discuss the modalities.
A few possible approaches in the sense of a compromise were analysed and discussed at the
meeting of COPEN on 22 September. The Presidency has attempted to summarize these discussions
in a new consolidated draft approach, which will be shared with delegations in view of the meeting
of COPEN on 6 October. The Annex to the current note sets out to develop a couple of issues, with
a view to include them in the consolidated draft approach, which could be the basis of a
compromise package to agree with the Parliament. Delegations are invited to analyse these issues in
detail and to reflect on the questions at the end of the Annex."