Home

/

News

/

2021

/

November

/

EU: Climate change and migration - Council Presidency discussion paper
EU: Climate change and migration - Council Presidency discussion paper
Topic
Country/Region
11 November 2021
The Slovenian Presidency of the Council has launched a discussion on climate change and migration, calling for "a multi-sectoral approach that works across silos to address root causes and consequences – in other words, an approach that not only responds to and mitigates crises but that is also forward looking and preventative."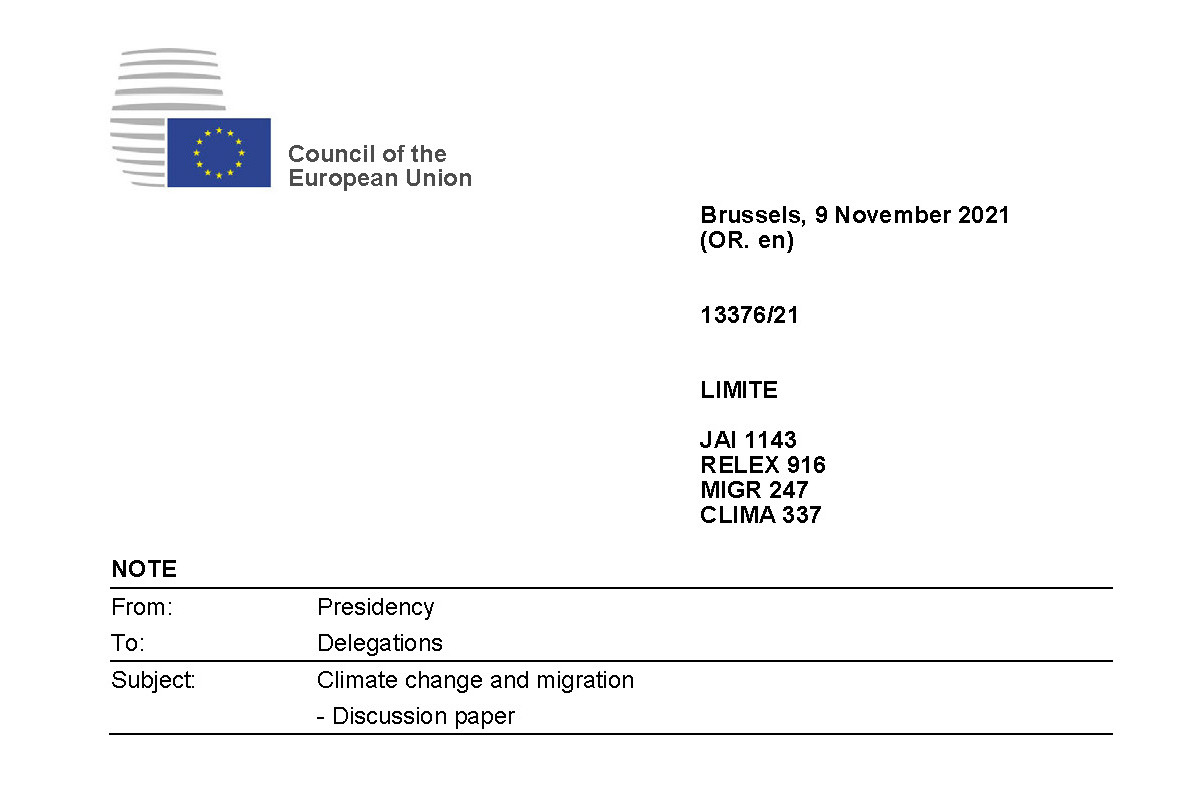 NOTE from: Presidency to: Delegations: Climate change and migration - Discussion paper (Council doc. 13376/21, LIMITE, 9 November 2021, pdf)
Examining recent developments in Poland, Greece, Croatia and the UK, the journalist Daniel Trilling recently commented in The Guardian that violent border control measures could be a taste of things to come in a world where climate change is an increasing cause of migration:
"The next few years are likely to mark a turning point in the way our governments respond to displacement. Either they work together to build a system that protects people's lives and dignity, and that can adapt to the changing realities of the 21st century, or their borders will continue to harden, at considerable human cost. If we want to avoid the latter, then now is the time to challenge the violent logic of the push-back, before it becomes written into our laws."
The Slovenian Presidency's paper does not directly advocate for toughening up the EU's borders in response to migration propelled by climate change - although it does note approvingly that the measures announced in the new Pact on Migration and Asylum, many of which seek to restrict rights and toughen up repressive measures, should "address migration not in isolation but together with other policies, including climate change."
The paper notes:
"Given the variety of contexts, environmental change can exacerbate migratory aspirations, resulting in different forms of migration: more or less voluntary, temporary or longterm, internal or cross-border. Whether in combination with other factors (lack of security, conflicts and persecutions) or independently, climate change will shape the flow of migration from sub-Saharan Africa to Europe, including irregular arrivals."
Foreign policy is likely to play a significant role in the EU's response, the paper says:
"The external dimension of the EU's development policy and humanitarian assistance and food aid is poised to play a particularly important role given the disproportionate impact of environmental change on other parts of the world.
The EU could strengthen various forms of assistance to countries particularly affected by climate change, to answer the needs for local adaptation measures, including humanitarian assistance and food aid as well as development aid to anticipate, respond to and protect against natural disasters and climate change."
Member states are asked to guiding questions:
"1. What are the main challenges that the Member States see in connection with migration policy making and climate change?
2. Could Member States share examples of their initiatives/ projects aimed at addressing the climate change – migration nexus?"