Home

/

News

/

2021

/

March

/

Libya: Interceptions of people fleeing by sea increase as EU border mission seeks two-year extension
Libya: Interceptions of people fleeing by sea increase as EU border mission seeks two-year extension
Topic
Country/Region
02 March 2021
The EU Border Assistance Mission in Libya (EUBAM Libya) wants to continue its support for the Libyan coast guard agencies that intercepted almost 3,000 more people at sea in 2020 than in 2019, according to a document obtained by Statewatch.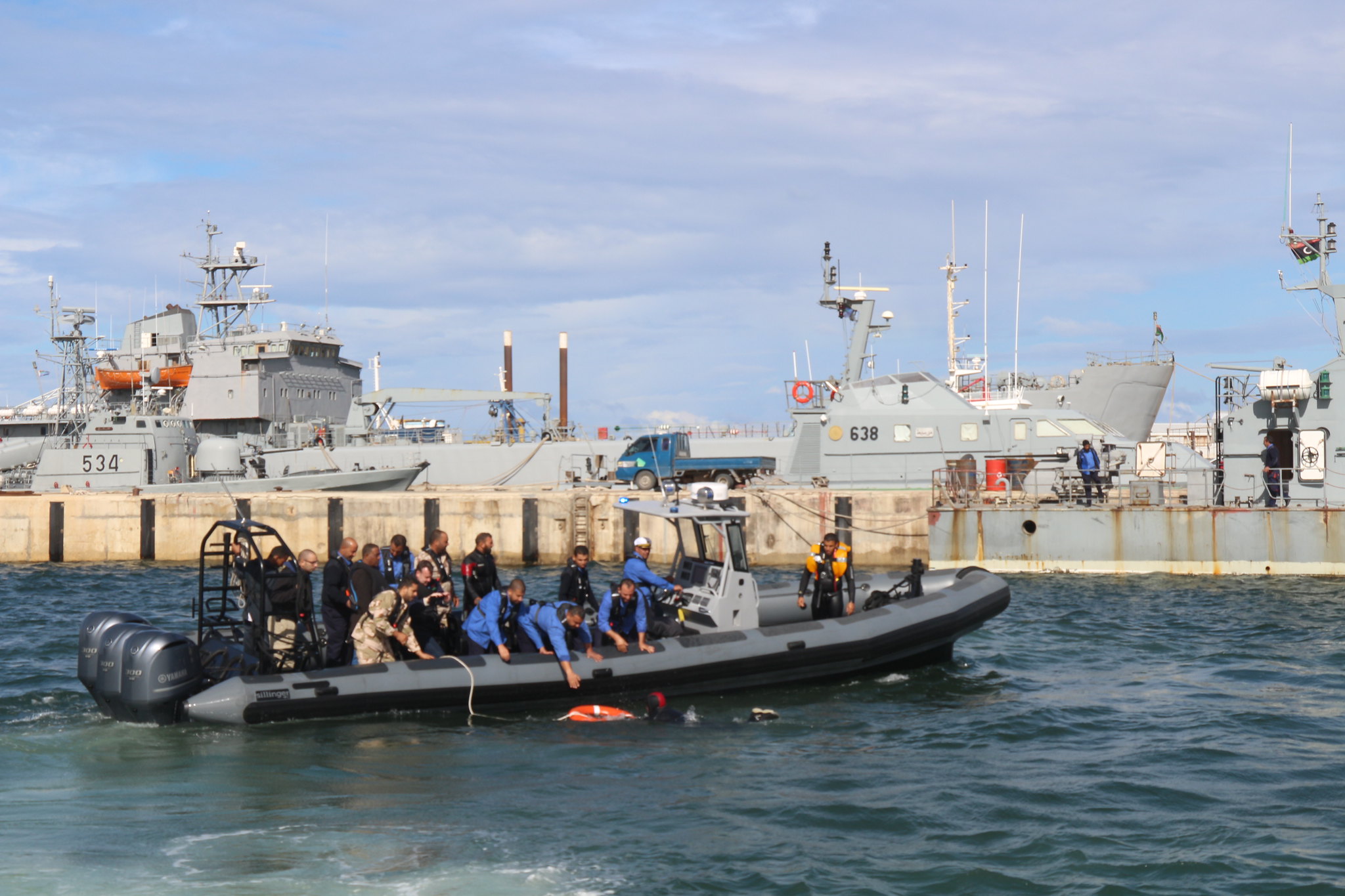 See: Working document of the European External Action Service: EUBAM Libya Strategic Review 2021 (EEAS(2021) 174, Limited, 19 February 2021, pdf)
The 'EUBAM Libya Strategic Review 2021', sent from the European External Action Service to the Council of the EU on 19 February, argues for a two-year extension to the mission's mandate, which would have an estimated price tag of 67-70 million.
This would allow it to continue to work on its key objective of rebuilding state security institutions in Libya - "in particular in the areas of border management, law enforcement and criminal justice" - and to take on a new objective of supporting the UN's activities in the country.
One aspect of the mission's work has been to increase the capabilities of Libya's two coast guard bodies, the Libyan Coastguard & Navy (under the defence ministry) and the General Administration for Coastal Security (GACS, under the interior ministry).
The report says that the GACS took up an increasing role in "search and rescue operations" towards the end of 2020, contributing to an increase in the number of people prevented from fleeing Libya towards Europe.
"In 2020, 11,891 people were intercepted/rescued in different locations along the Libyan coast, compared to 9,225 rescued in total during 2019," says the report, suggesting that part of this increase may be down to a project undertaken by EUBAM Libya, the Italian interior ministry and Frontex:
"The Mission, together with the Italian MoI and Frontex, initiated a joint Pilot Project with the purpose of increasing GACS [General Administration for Coastal Security] operational capacity to conduct Search and Rescue (SAR) operations, including training sessions on human rights obligations as border officers and conduct SAR operations in-line with a rights-based and do-no-harm approach."
Whether or not the Libyan coastal authorities are working "in-line with a rights-based and do-no-harm approach", there can be no question that the human rights situation in Libya is catastrophic. In the words of the report itself:
"Gross violations and abuses of human rights and international humanitarian law, including summary executions, enforced disappearances and torture, continue to be committed throughout Libya with almost total impunity. Attacks against civilians and civilian infrastructure have been committed on a wide scale since the conflict broke-out, all in blatant violation of international humanitarian law. Since April 2019, the rights of civil society activists and human rights defenders were clearly further curbed, with the right to freedom of association and speech drastically targeted. Linked to this has been the extensive use of fake media campaigns to advance military aims since the outburst of fighting in April 2019. On 9 November 2020, gunmen killed Hanan Al Barassi, a female activist, the last in a series of murders of activists. In December, the GNA [the Government of National Accord, the government recognised by the EU and the UN, amongst others] started implementing Decree 286 (signed in 2019) which severely restrict the freedom of CSOs to deal with foreign donors and receive funds." (emphasis added)

The situation for migrants and refugees - the vast majority of those attempting to escape by sea - remains utterly dire:
"OHCHR reports confirm that migrants and refugees continue to be systematically subject to arbitrary detention and torture in official and unofficial places of detention. Sexual violence, abduction for ransom, extortion, forced labour and unlawful killings are reported to be widespread. According to the UN, perpetrators of violations include government officials, members of armed groups, smugglers, traffickers and members of criminal gangs. This situation applies not only to migrants detention centres but concerns as well 'formal' prisons under the MoJ and 'informal' prisons under militia control. Only one official detention centre, the Tariq al-Sikkah centre, employ female guards." (emphasis added)
Meanwhile, whilst EUBAM Libya is working with Italy to enhance Libya's ability to stop people fleeing this situation, the Italian authorities are also cracking down on organisations that rescue people in the Mediterranean - rather than intercept them for return to Libya.
See: Working document of the European External Action Service: EUBAM Libya Strategic Review 2021 (EEAS(2021) 174, Limited, 19 February 2021, pdf)
Image: EUBAM Libya, CC BY-NC-ND 2.0