Home

/

News

/

2021

/

July

/

Ireland: New report highlights devastating effects of delays in the asylum process
Ireland: New report highlights devastating effects of delays in the asylum process
Topic
Country/Region
13 July 2021
A new report from the Irish Refugee Council examines the human cost of delays in Ireland's asylum procedure, where thousands of individuals have been waiting for longer than a year - and in many cases longer than two years - for an outcome to their request for international protection.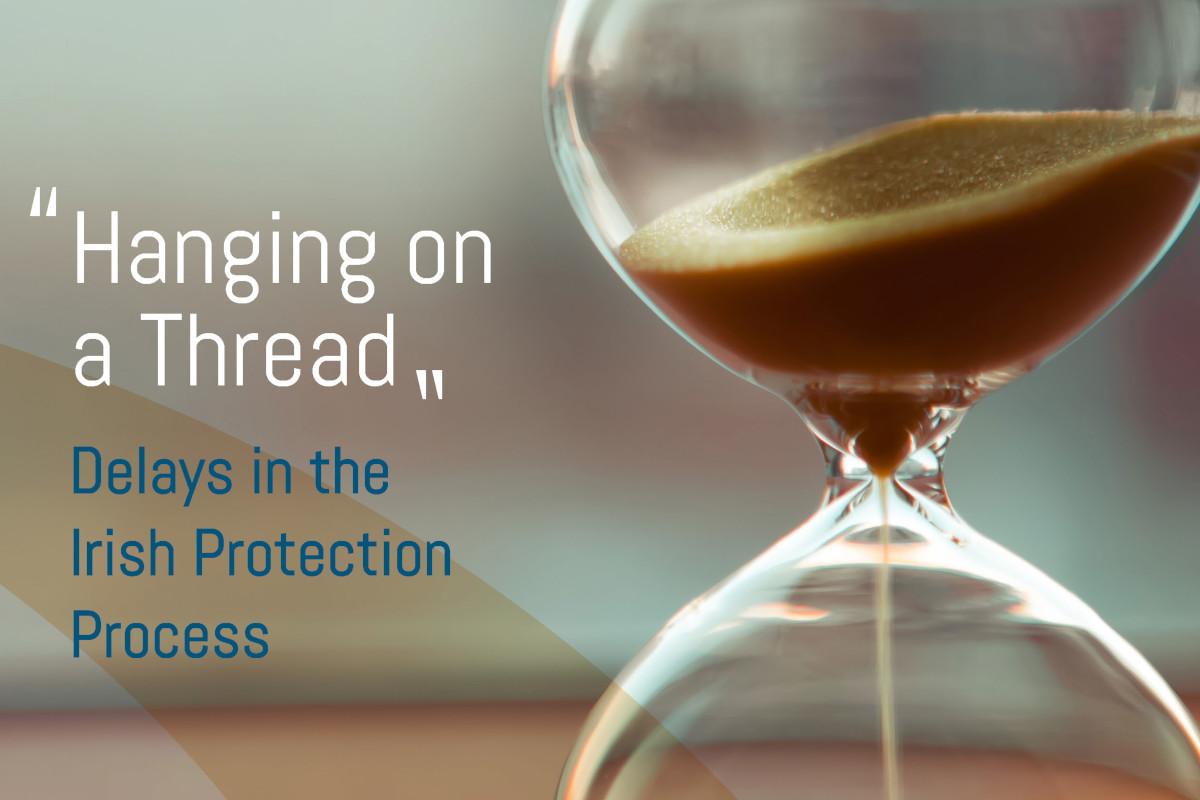 See: "Hanging on a Thread": Delays in the Irish Protection Process (link to pdf)
The text below is a press release published by the Irish Refugee Council on 7 July 2021.
---
Irish Refugee Council report highlights damage of delays in the protection process, call for system reset
A new report from the Irish Refugee Council ("Hanging on a Thread" Delays in the Irish Protection Process) highlights the extent of delays and their impact on people waiting in the system. The report includes testimonials from people experiencing delays who express feelings of stress, depression, suicidal ideation and damage to family life.
Marking the launch of the report, staff members of the Irish Refugee Council and people in the system themselves met on this morning outside of the  Dáil (at the Convention Centre). Politicians were invited to receive a copy of the report.  Participants held up placards based on the statements of respondents to the survey and held clocks to demonstrate the time waited.
Copies of the photos are available  here.
Nick Henderson, CEO of the Irish Refugee Council, stated:
"This report makes clear that delays cause direct harm to people. Feelings of stress, frustration, wasting of skills, damage to families and even suicidal ideation were all evident in the responses to the survey we conducted. Delays also undermine the integrity of the Irish protection process itself. All stakeholders should be deeply concerned."
"A perfect storm of a pre-pandemic backlog combined with Covid-19 induced closures has increased delays. Projected processing times, as of March 2021, were 1 year 10 months for non-prioritised applications and approximately 5,130 individuals were awaiting a first instance decision on their application"
"The system is in drastic need of a reset. In addition to the devasting testimony contained in the report, it offers recommendations and a roadmap out of this situation. Needless to say, this issue is also critical to the Government's stated aim of ending Direct Provision. Creating a new accommodation system with 7,000 people in it is much harder than with 3,500 people."
Statements from people who completed the survey include:
"We don't know what is our future. We are basically hanging on a thread."
"It has taken a toll on my mental health, I also suffer from a chronic illness and it's not easy being stuck in this room. I haven't even been called for the first interview, so I'm just living like a zombie."
"We are living in limbo not knowing our fate. We would love to come out of the system and be part of a regular community and not live in a camp with strict rules and regulations."
"It's been very depressing not knowing my fate and my son is growing and basically doesn't have friends to play with."
"I got divorced, my wife divorced me because she can't wait me more."
"I have not seen my children in two years the youngest I left her at two, she will  be five. I have lost the bond with my children and it has greatly affected them mentally. I am also on mental health medication after suffering trauma which is  my reason for being here."
-----------------------------------------------------------------------------------------------------------------
For comment:  Nick Henderson, 0858585559
Report available here
At the end of March 2021, there were 5,130 cases pending at the IPO and 596 cases pending in the Ministerial Decisions Unit
The median processing time for all cases processed to completion in the IPO in Q1 2021 was and 16.1 months for prioritised cases 
At the end of March 2021, there were 2,646 individuals waiting between 12 and 24 months for a first instance decision to be issued in their case and 1,345 individuals waiting over 24 months
The Report of the Advisory Group on the Provision of Support including Accommodation to Persons in the International Protection Process, chaired by Catherine Day and published in October 2020 stated: "A one-off case processing approach should be set up to reduce the current backlog of cases. A simplified, case by case procedure should apply to anyone who has been more than two years in the system by the end of 2020. After security vetting, this cohort should be given leave to remain for 5 years without prejudice to their application for protection." This recommendation was not adopted by the Government's White Paper, published in February 2021.