Home

/

News

/

2021

/

January

/

EU: Frontex, EASO and Europol: Presentations on migration and asylum trends in 2020/21
EU: Frontex, EASO and Europol: Presentations on migration and asylum trends in 2020/21
Topic
Country/Region
15 January 2021
Statewatch is publishing three slideshows presented at a meeting of the Council of the EU's JHA Counsellors working party on 11 January. Produced by the EU agencies Frontex, the European Asylum Support Office (EASO) and Europol, they give the agencies' impression of migration, asylum and migrant smuggling trends in 2020, and what may come in the year ahead.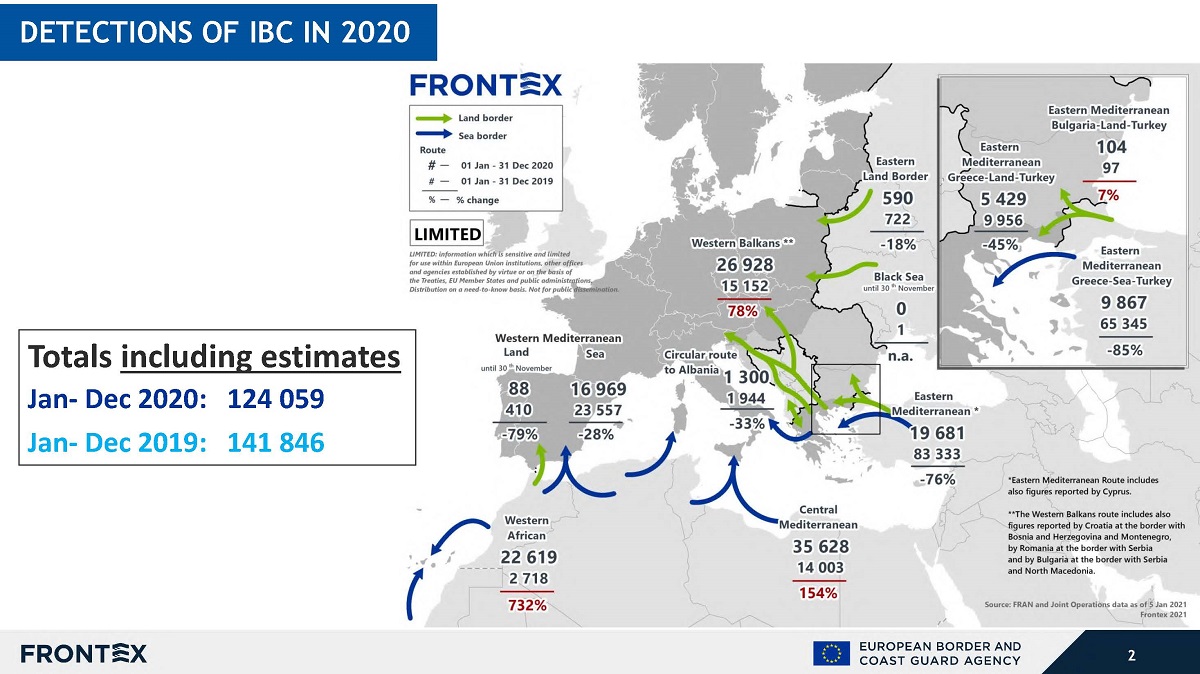 Frontex: Overview of trends in 2020 and emerging trends in 2021 (pdf)
The presentation notes that there were some 124,000 detections of irregular border crossings in 2020, down from almost 142,000 in 2021. However, Frontex has previously been criticised for inflating its figures by 'double-counting', so there is no guarantee of the accuracy of these figures.
One slide makes clear the extent to which migration from West Africa to the Canary Islands has increased over the last year, with a sharp increase in the number of arrivals and an unacceptable situation for people arriving.
For 2021, Frontex foresees that border management will be "highly dependent on the development of the pandemic and that "Quick recovery in Europe will be pull factor."
EASO: Preliminary analysis of the asylum situation in the EU+ in 2020 and emerging trends (pdf)
EASO's presentation makes clear the effect the virus had on asylum applications, with a sharp drop in April and May when travel bans were in place. Since then, the number of applications has risen again, but is much lower than in 2019.
There are currently almost 411,000 first instance cases pending; in most of those cases, applicants have been waiting for more than six months for a decision. The presentation also includes a "forecast" of the number of asylum applications in 2021, depending on different potential pandemic scenarios.
Europol: The main trends in migrant smuggling (pdf)
Europol's presentation gives an overview of migrant smuggling in the Western Balkans, the English Channel and to the Canary Islands. It notes that in one operation assisted by the agency ('Operational Action Hydra'), drones were deployed by the police forces involved.