EU: Compendium of bilateral agreements on police cooperation
Topic
Country/Region
25 January 2021
A document recently published by the Council of the EU outlines the complex web of bilateral agreements that govern cross-border police cooperation between EU member states, which may be replaced - in part of in whole - by a proposal due later this year for a 'Police Cooperation Code.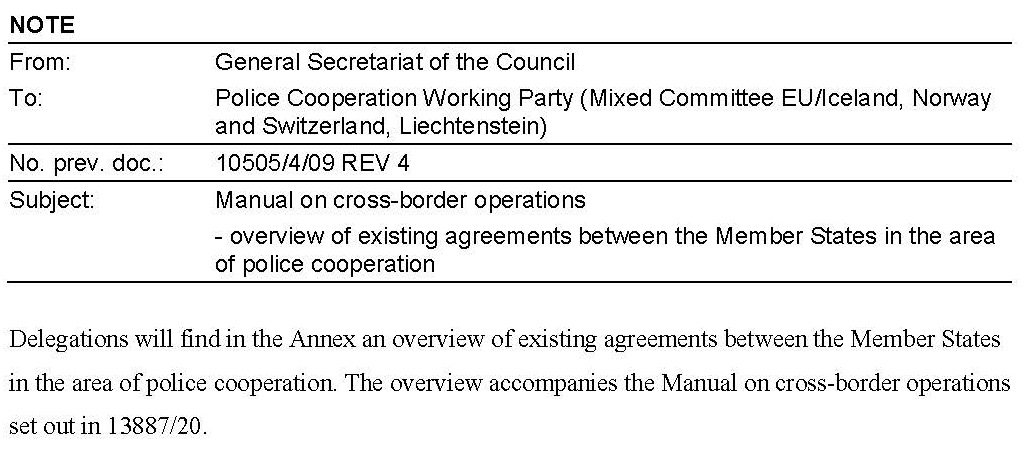 See: NOTE from: General Secretariat of the Council to: Police Cooperation Working Party: Manual on cross-border operations - overview of existing agreements between the Member States in the area of police cooperation (13887/20 ADD 1, 16 December 2020, pdf)
And: Manual on cross-border operations (13887/20, 16 December 2020, pdf)
The Code would simplify and 'streamline' these bilateral agreements. The European Commission has said it may also:
"...turn some of the most advanced types of police cooperation included in recent bilateral cooperation agreements between Member States into EU law, including the creation of a comprehensive list of investigative tools for effectively fighting serious and organised crime."
This could include "cross-border surveillances without prior authorisation in case of urgency," the "Covert gathering of information onto the neighbouring country's territory," or the "Right to stop and detain a suspect in the neighbouring country's territory, including through means of coercion, physical force or the necessary use of firearms," amongst other things.
Background