Germany: opposition to ongoing deportations to Afghanistan
11 February 2021
96 organizations and initiatives in Germany have condemned the government's ongoing deportations to Afghanistan, a country still at war and in the midst of dealing with the coronavirus pandemic.
---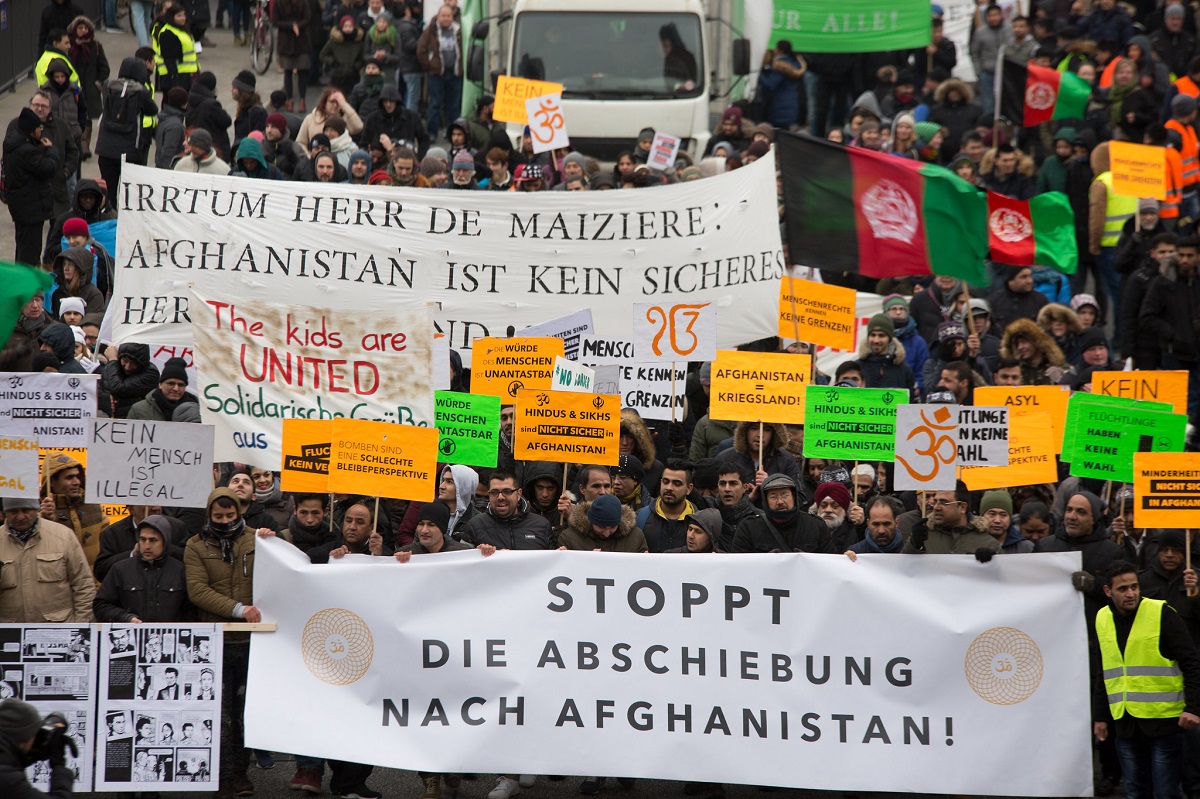 Press release published by Flüchtlingsrat Berlin on 9 February 2020. Translation by Statewatch.
Having restarted its monthly deportations to Afghanistan in December last year, Germany will continue with them in 2021. Deportations to a country which in 2020 was classified for the second time in a row by the Institute for Economics & Peace in its Global Peace Index 2020 as the most dangerous country in the world. [1]
On 31 January, the Federal Foreign Office designated Afghanistan as an area with a particularly high risk of infection and, as a consequence, tightened its travel and security warnings even further, as Afghanistan is particularly hard hit by COVID-19 and the health system cannot withstand the strain. [2]
In September 2020 the Higher Administrative Court of Bremen [3] and in December 2020 the Administrative Court of Baden-Württemberg [4] also determined that even healthy, single men without a social network in Afghanistan may not be deported there. The courts ruled that due to the worsening economic situation caused by the pandemic, they would not be able to cover their most elementary needs foreseeably.
Regardless of this, Germany is planning the next deportation flight to Afghanistan on 9 February, in which experience has shown that many federal states will participate again. While in Germany on the one hand every life is fought for, on the other hand people are deported to a COVID-19 high-risk and war zone and the life-threatening situation there is knowingly accepted.
The collective charter on 9 February would be the first deportation flight from Germany since the informal "Joint Declaration on Migration Cooperation", [5] which the European Union and Afghanistan signed in January this year and which is to apply for an indefinite period. According to this, up to 500 refugees can be deported from the EU to Afghanistan every month.
Among those affected by the deportation on 9 February are likely to be 22-year-old Hasib from Kempten/Allgäu, who went to school there, worked, loves football, wanted to start an apprenticeship and is now in custody for deportation in Ingelheim, [6] and the 20-year-old H. from North Rhine-Westphalia, who was born in Iran, came to Germany at the age of nine, has never been to Afghanistan and has no relatives there. [7] To name just two cases.
The protection of human life during a global pandemic of unique proportions cannot stop at national borders and depend on residence status or nationality. We call on the federal government to immediately stop any deportations to Afghanistan and to protect human lives!
Signed
We'll Come United Berlin Brandenburg
Jugendliche ohne Grenzen
Migrant Support Network e.V.
Afghan Refugees Movement
Aktionsbündnis Antirassismus
No Border Assembly
Karawane München
YAAR e.V.
Hazara Zentrum Berlin
World Hazara Council – Germany e.V.
Zaki – Bildung und Kultur e.V.
Afghanisches Kommunikations- und Kulturzentrum e.V.
Verein iranischer Flüchtlinge in Berlin e.V.
Afghanischer Aufschrei Düsseldorf
Links*Kanax
moveGLOBAL e.V.- Berliner Verband migrantischer-diasporischer Organisationen in der Einen Welt
CISPM (coalition international des sanspapiers et migrants) Mannheim
Initiativ Oury Jalloh Mannheim
Migrantifa NRW
PRO ASYL
borderline-europe
SEEBRÜCKE
IPPNW Deutschland
medico international
Ärzte der Welt e.V
Verein demokratischer Ärztinnen und Ärzte vdää
Republikanischer Anwältinnen- und Anwälteverein RAV
Flüchtlingsrat Baden-Württemberg
Bayerischer Flüchtlingsrat
Flüchtlingsrat Berlin
Flüchtlingsrat Bremen
Flüchtlingsrat Brandenburg
Flüchtlingsrat Hamburg
Flüchtlingsrat RLP
Flüchtlingsrat Sachsen-Anhalt
Flüchtlingsrat Schleswig-Holstein
Flüchtlingsrat Thüringen
Hessischer Flüchtlingsrat
Münchner Flüchtlingsrat
Sächsischer Flüchtlingsrat
KuB – Kontakt- und Beratungsstelle für Flüchtlinge und Migrant_innen e.V
BBZ – Beratungs- und Betreuungszentrum für junge Geflüchtete und Migrant*innen
Afghanisch-Deutscher Kulturverein Flensburg
BZSL e.V.
Migrationsrat Berlin e.V.
lifeline Vormundschaftsverein im Flüchtlingsrat Schleswig-Holstein e.V.
AWO Kreisverband Berlin-Mitte e.V.
BNS BerlinerNetzwerk für besonders schutzbedürftige geflüchtete Menschen
Evangelischer Kirchenkreis Teltow-Zehlendorf
Diakonisches Werk Steglitz und Teltow-Zehlendorf
Asyl in der Kirche Berlin-Brandenburg e.V.
Weltweit – die Freiwilligengruppe von Asyl in der Kirche Berlin-Brandenburg e.V.
XENION Psychosoziale Hilfen für politisch Verfolgte e.V.
Zentrale Bildungs- und Beratungsstelle für Migrant*innen e.V. (ZBBS)
Flüchtlingsbeauftragte des Ev.Luth. Kirchenkreises Lübeck-Lauenburg
Flüchtlingsbeauftragte des ev. Kirchenkreises Schleswig-Flensburg
AfghanistanNotSafe KölnBonn
Protest LEJ Leipzig
Leipziger Initiativkreis: Menschen.Würdig
Bon Courage e.V.
Wedding hilft
Sprungbrett Zukunft Berlin e.V.
Place4Refugees e.V.
Kölner Netzwerk "kein mensch ist illegal"
Lübecker Flüchtlingsforum e.V.
Seebrücke Lübeck
Seebrücke Berlin
Seebrücke Flensburg
Seebrücke Bochum
Seebrücke Kiel
AG Bleiben, Köln
Seebrücke Potsdam
Mosaik Köln Mülheim e.V.
Diakoniewerk Simeon FB SozInt
Lupine Mentoring e.V.
Vernetzung gegen Abschiebung Hessen/M
Humanistische Union OV Lübeck
WeGe ins Leben e.V.
MediNetz Bielefeld
Multikulturelle Zentrum Trier e.V.
Initiative – Abschiebestopp Thüringen
MOVE e.V.
e.V.
AK Politik Köln
die AG Bleiben Köln
Mosaik Köln Mülheim e.V.
Pallottinische Gemeinschaft St. Christophorus unterschreiben
Fremde brauchen Freunde e.V., Nordfriesland
Helferkreis Mohammad Zaki Kulmbach
MeG betreutes Wohnen
Die Flüchtlingslotsen im Amt Hürup
Barnim für alle
Bürger*innenasyl Barnim
OMAS gegen Rechts Lübeck
Bundesfachverband unbegleitete minderjährige Flüchtlinge e.V.
Initiativausschuss für Migrationspolitik in Rheinland-Pfalz
[1] https://www.economicsandpeace.org/wp-content/uploads/2020/08/GPI_2020_web.pdf
[2] https://www.auswaertiges-amt.de/de/ReiseUndSicherheit/afghanistansicherheit/204692
[3] https://www.oberverwaltungsgericht.bremen.de/entscheidungen/detail.php?gsid=bremen72.c.20994.de&asl=bremen72.c.11265.de
[4] https://verwaltungsgerichtshof-baden-wuerttemberg.justiz-bw.de/pb/,Lde/8969988/?LISTPAGE=1213200
[5] https://www.statewatch.org/media/1801/eu-council-joint-declaration-afghanistan-5223-21-add1.pdf
[6] https://www.ulla-jelpke.de/2021/02/12784/
[7] https://www.facebook.com/nedajeafghan/posts/2398011833655737
Image: Rasande Tyskar, CC BY-NC 2.0