Home

/

News

/

2021

/

February

/

Frontex: Management Board pushes back against secrecy proposals in preliminary report
Frontex: Management Board pushes back against secrecy proposals in preliminary report
Topic
Country/Region
04 February 2021
Statewatch is publishing the preliminary report of the working group set up by the agency's Management Board following allegations of involvement in pushbacks from Turkey to Greece. Amongst other things, the report indicates that Frontex has proposed labelling Serious Incident Reports as EU Classified Information, which would reduce transparency and, in turn, accountability.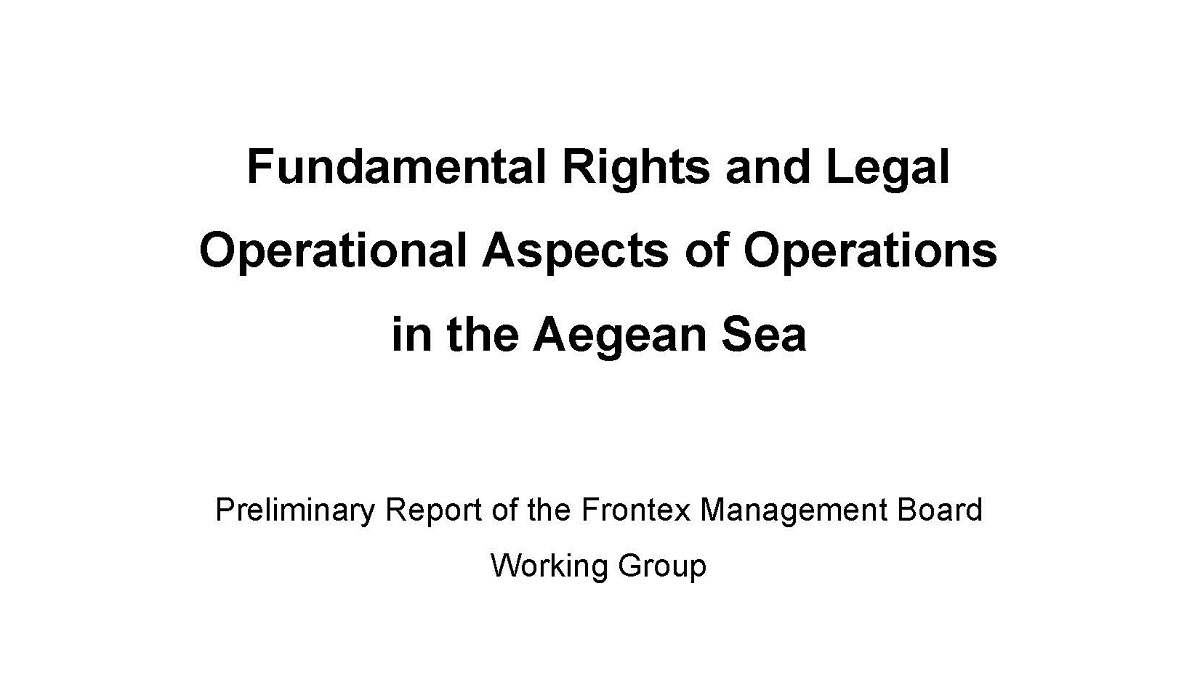 The report discusses Frontex's plans to update the Serious Incident Reports (SIR) mechanism, full details of which it did not share with the working group despite a request for the information.
As part of these updates Frontex intends to classify all SIRs as RESTRIENT UE/EU RESTRICTED (the lowest level of EU Classified Information, EUCI), and all SIRs would be handled by the Frontex Situation Centre.
The working group finds this proposal inappropriate and, in fact, contrary to Frontex's founding legislation:
"Serious Incidents regarding alleged violation of Fundamental Rights should not be reported to Frontex Situation Centre but should be directly reported to the Fundamental Rights Officer, for follow-up in accordance with his or her competences, as set out in Article 109 (2) (b) of the EBCG Regulation"
On the classification of SIRs, the Working Group states:
"There should be no-blanket classification of Serious Incident Report as RESTREINT UE/EU RESTREINT… A too restricted classification regime reduces transparency".
SIRs are not systematically made public, but formal requests for them can be filed by individuals and organisations; the introduction of blanket classification may may hinder access.
Murky waters
The report provides an appraisal of 13 serious incidents in the Aegean in which possible pushbacks occurred, allegedly with Frontex knowledge or involvement. The report explores whether incidents took place in Greek or Turkish territorial waters, outlining misinformation on this point.
In one incident, "there has been a communication between the Danish helicopter and the Hellenic Coast Guard (International Coordination Centre Coordinator), in which the Coordinator asked to change the reported coordinates of the incident, in order to indicate that the incident took place outside Greek Territorial Waters".
In another, "several of the migrants told the Frontex Team Member on the scene that upon entering Greek waters on Monday 9th November, they were met by the Hellenic Coast Guard who sailed around them creating large waves making the boat rock from side to side".
Incidents still under review by the group took place on 18-19 April, 28 April, 5 August, 30 October, 9 November 2020.
Culture change
Recommendations include setting up a "compliance centre" to ensure an inclusive whistleblowing system for team members, ideally to be located within the Fundamental Rights Office. "The same can be applied for reporting other incidents than alleged violation of Fundamental Rights like bribery, illegal activities and corruption."
The working group points out that there should be a function for employees and team members to submit confidential reports without being identified by the agency or team members, and highlights the need for a culture change within the agency, "in order to create awareness and sensitivity of possible misconduct."
Screening mechanism
The working group is keen to propose improvements to Frontex's procedures for dealing with misconduct and allegations of fundamental rights breaches. However, the report also approvingly cites the European Court of Human Rights judgment in the case N.D. and N.T. v Spain, which gave a green light to the Spanish practice of "hot returns" - summary deportations without an individual assessment of an individual's situation.
In this regard, the working group says the situation in the Aegean - where "not every detected attempt of illegal border crossing... even at sea... can automatically considered an asylum case" - "underline[s] the necessity for an establishment of a pre-screening mechanisms for asylum seekers," as proposed in October by the European Commission.
This would involve detention at the borders, accelerated decision-making and swifter deportations for those deemed to have an inadmissible asylum claim.
The report also notes:
Five incidents "have not been yet fully clarified, partly due to unclear data provided by Frontex… Based on the -partwise- unclear data provided by Frontex it is common understanding of the Working Group that these incidents shall be subject for further review."
"The Working Group has identified a lack of monitoring in the reporting system of Frontex. In fact, there is no mechanism installed in Frontex which would have the purpose of identifying problems in the reporting practice (i.e. reports that are incomplete or not conclusive, frequent (need for) re-classification of reports, inconsistencies in the follow-up given to the reports, etc). For this reason, it is crucial to install such a monitoring system at least in two stages..."
Further reading