Home

/

News

/

2021

/

December

/

UK: "Quasi-detention" of asylum seekers must be replaced with "decent, safe acommodation," say MPs
UK: "Quasi-detention" of asylum seekers must be replaced with "decent, safe acommodation," say MPs
Topic
Country/Region
10 December 2021
The All-Party Parliamentary Group on Immigration Detention has released a report condeming the government's use of an abandoned barracks in Kent to house asylum seekers, and demanding that plans to extend the use of such sites of "quasi-detention" be halted. The report says people seeking asylum should be "housed in decent, safe accommodation in the community that supports their well-being and recovery from trauma, facilitates their engagement with the asylum process, and allows them to build links with their community."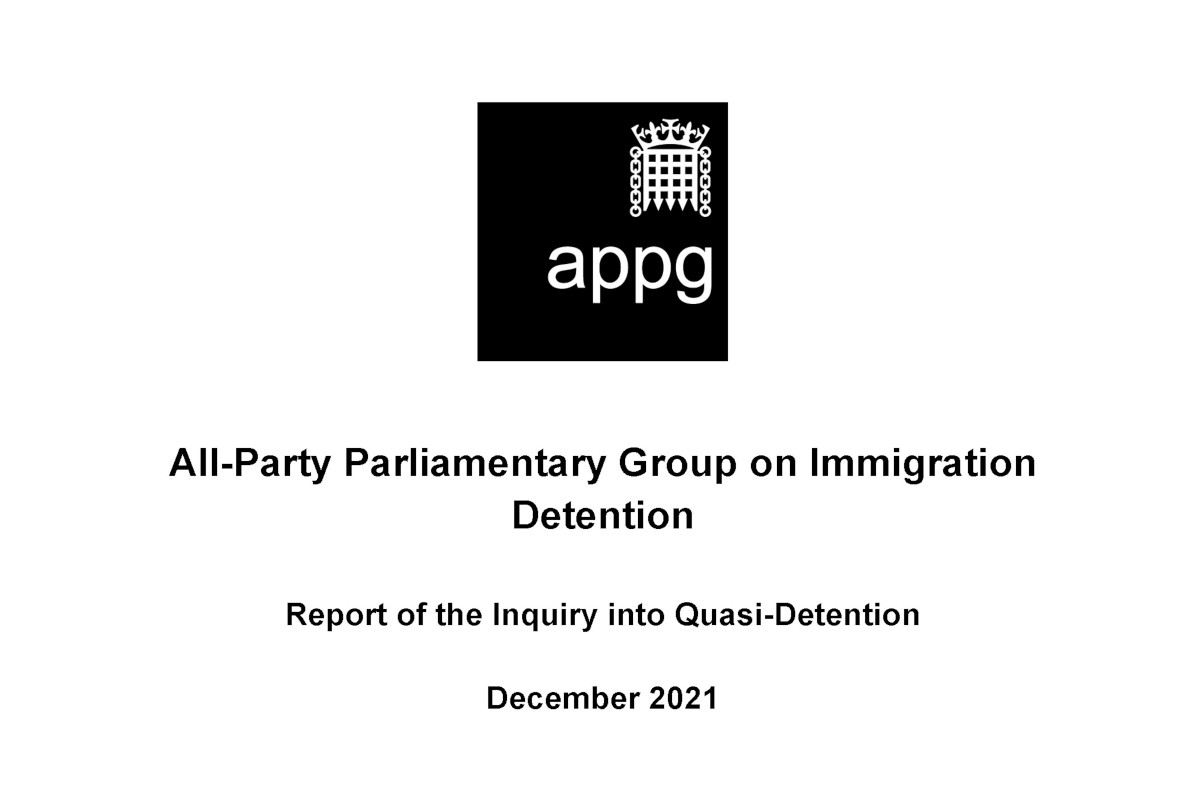 The text below is a press release originally published by the APPG on Immigration Detention on 9 December 2021. Full report: Report of the Inquiry into Quasi-Detention (pdf)
Cross-party call by parliamentarians to end dehumanising quasi-detention of people seeking asylum
9 December 2021
In the wake of the Channel crossing tragedy, where 27 people lost their lives trying to reach the UK, a cross-party group of parliamentarians has today published a report calling on the government to end its use of Napier Barracks in Kent to accommodate people seeking asylum.  The report also recommends the scrapping of government plans for more large-scale accommodation based on Napier as a pilot.
The quasi-detention sites examined in the report replicate many of the features found in detained settings – including visible security measures, surveillance, shared living quarters, lack of privacy, poor access to healthcare, legal advice and means of communication, and isolation from the wider community.
The report is the result of an inquiry by the APPG on Immigration Detention into the use of the sites. Led by a panel of 10 parliamentarians from both government and opposition parties, the APPG Inquiry gathered written and oral evidence from over 30 participants – including people accommodated at the sites and charities working directly with them, medical and legal experts, and on-site contractors.
The report explains how features of the sites – including their prison-like conditions – make them "fundamentally unsuitable" as asylum accommodation. For survivors of torture, trafficking or other serious forms of violence – as many asylum-seekers are – such conditions can cause them to relive past abuses and be highly re-traumatising.
The report also documents serious operational failings by the Home Office and its contractors in their running of the sites. It details how people accommodated at the sites have been subjected to "appalling treatment and conditions" which has left them feeling "dehumanised, exhausted and suffering a profound deterioration in their mental health, in some cases to the point of attempting suicide".
In August this year, the government extended its use of Napier Barracks until 2025 without consultation. The High Court has now granted permission for a judicial review challenging this decision. The government has also confirmed that Napier may act as a pilot for the new asylum accommodation centres proposed in the Nationality and Borders Bill currently making its way through Parliament.
In its report, the APPG Inquiry Panel makes clear its opposition to these centres. It urges the government instead to ensure that people seeking asylum are housed in decent, safe accommodation in the community that supports their well-being and recovery from trauma, facilitates their engagement with the asylum process, and allows them to build links with their community.
In March this year, the Independent Chief Inspector of Borders and Immigration & Her Majesty's Inspectorate of Prisons (HMIP) found two of the sites, Napier Barracks and Penally Camp, to be "impoverished, run-down and unsuitable for long-term accommodation".[1] Similarly, in a high-profile case the High Court ruled in June that Napier Barracks failed to meet minimum standards of accommodation for asylum seekers, and that for a period residents were unlawfully detained there under purported Covid rules.[2]
Evidence submitted to the APPG Inquiry demonstrated that few improvements had been made by the Home Office since these serious concerns were raised.
Alison Thewliss, MP for Glasgow Central and Chair of the APPG on Immigration Detention, commented:
"The report makes for sober reading. It has highlighted the myriad ways in which the Home Office is comprehensively failing some of the most vulnerable people in society. Those forced to stay in quasi-detention accommodation have included children, people who have survived torture or trafficking, and other at-risk groups. Our worst fears have been confirmed that this type of accommodation is not only inappropriate, but downright harmful.
"The Home Office have presided over a litany of failures- not only are the sites themselves unsuitable, but their running and mismanagement of Napier Barracks and other large scale accommodation units has actively contributed to poor mental and physical health outcomes for residents, with barely existent safeguarding. 
"The accounts of witnesses were heart-breaking and painted a picture of misery and a disregard for medical and legal rights. It is even more worrying that the Home Office themselves described this situation as a 'pilot project', suggesting this is the beginning of a new approach. Plans for 'offshoring' in the Nationalities and Borders Bill being debated this week certainly imply that there is worse to come, and we should not stand for it.
"The Home Office must listen to experts and survivors of this disastrous scheme and put a stop to quasi-detention once and for all." 
Notes
For media enquiries, please contact Elspeth Macdonald on contact@appgdetention.org.uk / 07784 034660.
Former residents at Napier and Penally have kindly offered to be interviewed. Please contact Elspeth Macdonald (contact details above) if this is of interest.
The All-Party Parliamentary Group (APPG) on Immigration Detention comprises over 40 parliamentarians from across all main political parties who share concerns about the use of immigration detention in the UK. More information about the group, including its full membership list, is available at detention.org.uk.
More information about the inquiry, including links to the written and oral evidence collected, are available at https://appgdetention.org.uk/inquiry-into-quasi-detention/.
The inquiry panel members were:
Alison Thewliss MP (SNP) – APPG chair
Paul Blomfield MP (Labour)
Wendy Chamberlain MP (Liberal Democrat)
Mary Foy MP (Labour)
Richard Fuller MP (Conservative)
Helen Hayes MP (Labour)
Anne McLaughlin MP (SNP)
Bell Ribeiro-Addy MP (Labour)
Lord Roberts of Llandudno (Liberal Democrat)
Baroness Lister of Burtersett (Labour)
[1] See: https://www.gov.uk/government/news/an-inspection-of-the-use-of-contingency-asylum-accommodation-key-findings-from-site-visits-to-penally-camp-and-napier-barracks
[2] See: R (NB & Ors) v Secretary of State for the Home Department [2021] EWHC 1489 (Admin)