Home

/

News

/

2021

/

December

/

EU: Tracking the Pact: Presidency wants JHA Council to find "sustainable solutions" on legal proposals
EU: Tracking the Pact: Presidency wants JHA Council to find "sustainable solutions" on legal proposals
Topic
Country/Region
09 December 2021
A working paper circulated on 7 December by the Slovenian Presidency of the Council looks at the state of play of discussions on the legal proposals that are part of the EU's Pact on Migration and Asylum. It calls on national ministers in the Justice and Home Affairs Council - meeting tomorrow - to find ways to move forward with negotiations.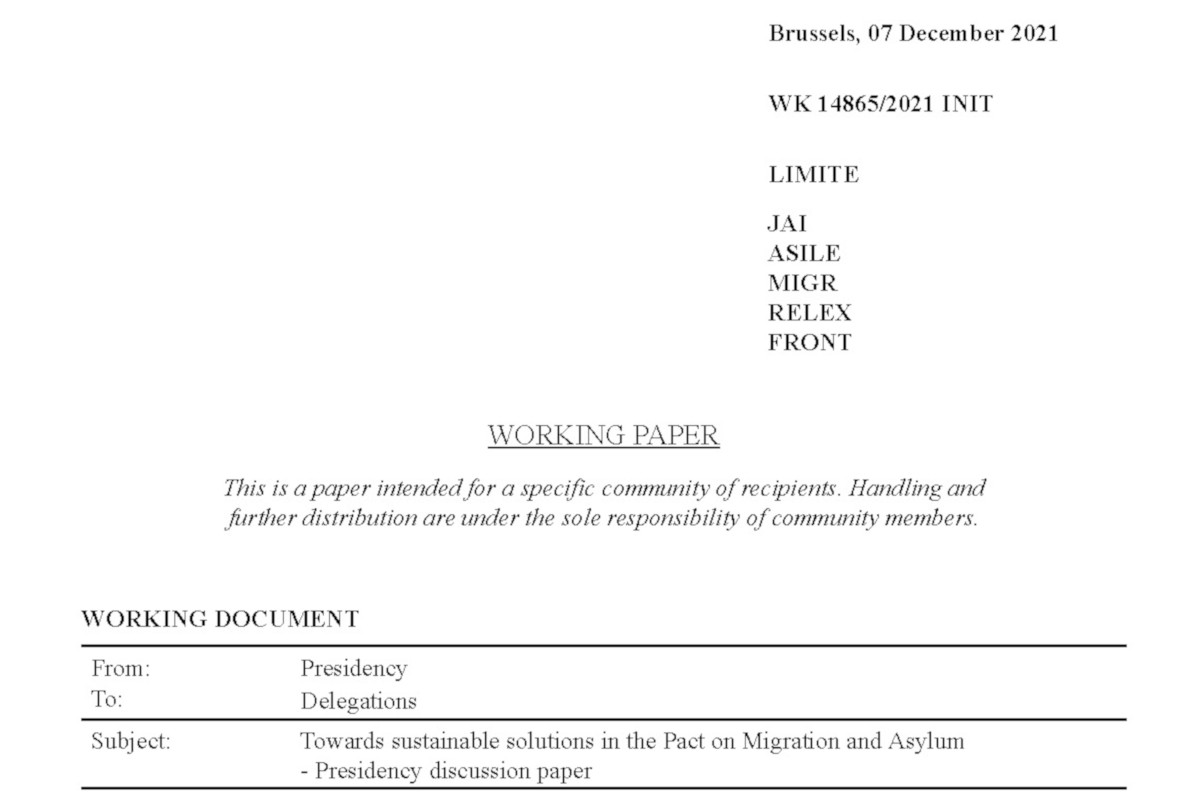 See: Towards sustainable solutions in the Pact on Migration and Asylum - Presidency discussion paper (WK 14865/21 INIT, LIMITE, 7 December 2021, pdf)
The paper notes:
"The Slovenian Presidency has continued the work of the German and Portuguese Presidencies at technical and strategical level on the Asylum and Migration Management Regulation, the Asylum Procedures Regulation and the EURODAC Regulation, as well as the Screening Regulation. While the text of the EURODAC Regulation is ready for a decision at political level, it is not clear whether much further progress can be achieved on the other proposals at expert level without political guidance. Until now, it has not been possible to obtain sufficient political support to allow the Council to proceed to the next phase in the legislative process. Nevertheless, the Presidency notes that some progress was made at a political level during the Portuguese Presidency in terms of providing an understanding of the principle of solidarity as 'compulsory and flexible'. In addition, following the September SCIFA and October Council meeting, it was concluded that further work was needed on the Screening Regulation proposal due to its links with other proposals in the Pact."
The Commission and Council have also been making use of "simulations" to explore the implications of the Pact, the paper says:
"Several simulations were prepared in order to gain a better understanding of the framework of the proposed new Pact on Migration and Asylum regarding responsibility and solidarity. At two SCIFA meetings during the Portuguese Presidency, the Commission presented simulations of the proposed migration management framework, along with numerical simulations of the mandatory border procedure and the mandatory solidarity mechanism. A simulation was also done on the use of the mandatory border procedure, with calculations on the possible number of relocations. Secondary movements were not taken into account, as they are expected to decrease considerably following the application of the mandatory border procedure and new responsibility rules under the Asylum and Migration Management Regulation..."
The paper invites ministers to work out ways to make progress:
"Following the work that has been done so far, the Presidency invites ministers to evaluate the progress made in gaining a better understanding of the responsibility and solidarity framework within the new Pact on Migration and Asylum, taking into account presented simulations, policy discussions and overall progress in negotiations on legislative acts. The Presidency also invites ministers to share their views on possible further steps that could be taken in order to move closer to reaching an agreement on the Pact on Migration and Asylum or elements thereof as soon as possible."