Home

/

News

/

2021

/

December

/

UK: Police monitoring, suspect communities, racism and policing reform – learning from the past to inform the present
UK: Police monitoring, suspect communities, racism and policing reform – learning from the past to inform the present
Topic
Country/Region
06 December 2021
Statewatch Library & Archive goes online after event in Bristol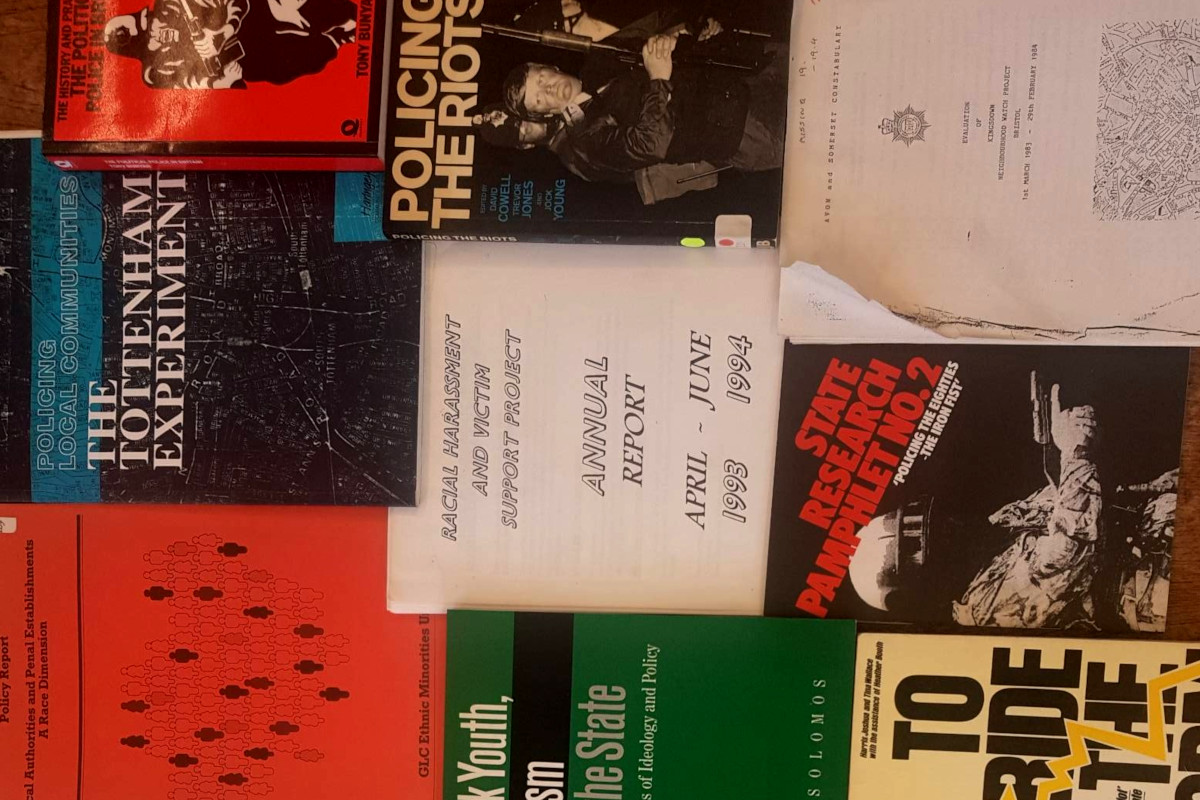 On 24 November 2021, Statewatch hosted an event in Bristol on the history of police monitoring and policing tactics used against "suspect communities" and protesters, with support from the Economic and Social Research Council's Festival of Social Sciences, hosted by the University of Bristol (UoB) School for Policy Studies.
In line with our objective to learn from the past to inform the present, the event provided an opportunity to explore some of the materials contained in the Library & Archive on the issues of policing, racism and public order – pamphlets, official documents, campaign materials, books and more. In conjunction with MayDay Rooms, many of the materials used at the event have been digitized and are available to view online.
The event began with a series of talks. Ann Singleton (Co-Chair of the Statewatch Board of Trustees and Reader in Migration Policy, University of Bristol) gave a talk on behalf of Tony Bunyan (Statewatch Director Emeritus), who was unable to attend. She outlined different phases in the evolution of public order and security strategies linked to policing communities, and how different targets for forceful policing followed one another.
She highlighted links between Statewatch and Bristol universities (the University of Bristol and the University of the West of England) and efforts to build bridges between investigative journalism, academia and activism, explaining the value of official documentation and original resources. Ann explained that state monitoring activity was linked to liberation struggles and the end of the British Empire that signalled a shift in global power. She also observed that (as a Wilton Park think tank report noted in 1996) capitalism can work with democracy but it does not need it, and how the "balancing" of freedom with security after 11 September 2001 contributed to the erosion of freedoms up to a point where it has practically ended liberal democracy.
Nadine Finch (Statewatch trustee and Honorary Senior Policy Fellow, University of Bristol) took us on a journey across struggles at the grassroots, political (such as through the Greater London Council's police monitoring initiatives) and judicial levels, pointing to materials from the archive selection and focusing specifically on when the Irish community was deemed "suspect". Hysteria over muggings (blamed on Black youths) and repression of striking miners and activist women (as at Greenham Common) under Thatcher spread the use of unconventional tactics that returned to the imperial heartland in antiterrorist efforts, inspired by Frank Kitson's 'counter-insurgency' techniques.
In the new millennium, strategies to fight terrorism have contributed to Islamophobia, and Muslims became a new "suspect community". Finch highlighted that (supposedly) non-lethal weapons are far from harmless, and that other tactics, from stop-and-search to strip-searching, can be highly oppressive if deployed against specific groups identified as "enemy" or for punitive purposes. 
Linking the archive to the present and to Bristol, we heard from John Pegram of Bristol Copwatch, a local police monitoring community group and Hannah Vickers of the reader-owned cooperative newspaper, The Bristol Cable.
John outlined the origins of the police (and the Metropolitan Police) and of police monitoring activities by local communities, using examples such as the Newham Monitoring Group and self-organisation by local communities against police brutality after riots such as those in the 1980s in Broadwater Farm (Tottenham) and Brixton in London, St. Paul's in Bristol and elsewhere. John noted that the police received criticism since it began operating (for reasons of cost, loss of freedom, invasion of privacy and scope for corruption) and questioned its nature as a "service" due to its use to suppress popular protests and serve entrenched interests. The importance of accountability, community control and an emphasis on people's rights as well as justice, were raised as important aspects.
Hannah told us of the challenges for local independent media outlets to cover protests and the importance of local coverage that follows through on stories, beyond initial headlines. In recent times, Bristol has been the setting for mobilisations linked to the Black Lives Matter movement (including the toppling of Edward Colston's statue) and Kill the Bill protests against extra powers for the police through the Police Bill, restrictions to the right to protest and new proposed offences that are liable to harm Gypsy, Roma and Traveller communities, among others. The Cable's reporting of heavy-handed policing and a disproportionate response was key to alerting national media that the issue was not simply about the police being "under siege", but also about their conduct, in Bristol like at the vigil in London after the killing of Sarah Everard. Summing up, in relation to the Police Bill, Hannah noted that it is problematic for the police to act as both "lawmaker and law enforcer". 
You can browse the materials used at this event online here and browse the Library & Archive catalogue here.