Home

/

News

/

2021

/

April

/

Senegal: Biometric population database will facilitate deportations, restricted EU document confirms
Senegal: Biometric population database will facilitate deportations, restricted EU document confirms
Topic
Country/Region
14 April 2021
The completion of a national biometric population database in Senegal would facilitate the forced removal of more Senegalese citizens from the EU by allowing for a "consolidated" identification procedure, according to a restricted European Commission document obtained by Statewatch.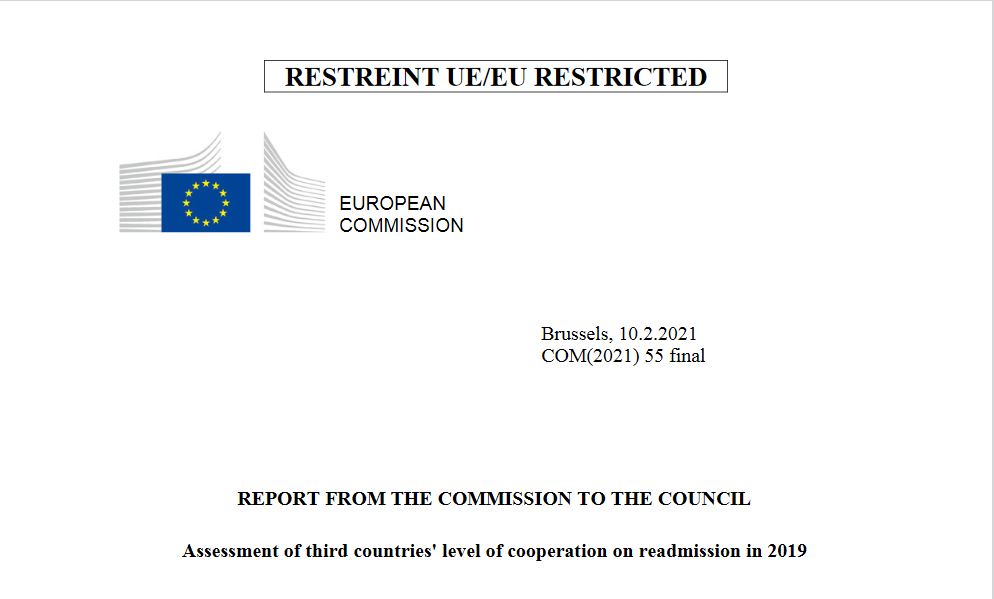 Cooperation on readmission
The document, an assessment of 39 different countries' level of cooperation with EU return and readmission procedures, sets out obstacles faced by member states' authorities when trying to remove individuals who have been handed a deportation order by national authorities.
Senegal ranks 16th amongst those countries, says the document, with 8,010 Senegalese nationals ordered to leave EU territory in 2019. Eight member states represent half of those removal orders and report "satisfactory results" when seeking assistance from Senegalese authorities in confirming the identity of would-be deportees.
However, for the remaining eight member states that engaged with Senegal on "readmission matters" in 2019, identification practices are "average or poor". To remedy this, the Commission says that there needs to be "consistency and predictability" for all member states:
"Identification processes could be expedited, by performing interviews as requested by all Member States, but concluding identification without interviews for well documented cases, and by availing itself of remote means of identification (videoconference), and be followed through swiftly with issuing travel documents. A consolidated procedure at EU level, potentially supported by a RCMS [Return Case Management System], in particular when the biometric data base will be completed, could support consistent practices." (emphasis added)
A biometric population database
Senegal is one of a number of African states that is currently setting up a biometric population database, and these efforts are largely funded by the controversial 'EU Trust Fund for Stability and Addressing Root Causes of Irregular Migration and Displaced Persons in Africa', which has diverted vast quantities of development and humanitarian funding to serve the objectives of migration control.
As Privacy International (PI) have noted:
"…the Fund is being used to bankroll the development of mass-scale biometric identity systems across the African continent and is awarding lucrative contracts to well-connected European security companies in the process."
According to documents obtained by PI, the official aim of the EU-funded project in Senegal is "to respect individuals' rights by facilitating the recognition of their identity through a biometric identity system."
However, it is unclear why a centralised database is needed to ensure recognition of individual identity, say PI, who argue that "the aspiration of EU authorities is that they will be able to access these identification systems in the future to accelerate the deportation process from the European continent."
Joining the dots
This aspiration is confirmed by the Commission's report. However, the completion of a national biometric identity system is the first step in a process that would also involve a Return Case Management System (RCMS).
RCMSs are electronic registers that allow EU member states to submit an application for the removal of an individual to the relevant non-EU state, and which facilitate the comparison of biometric and other data held by authorities in the EU with that held by the intended state of destination, in order to confirm an individual's identity and ease the acquisition of travel documents.
The Commission's report refers positively to existing RCMSs in Armenia, Bangladesh, Pakistan and Sri Lanka; one is under construction in Azerbaijan through a €700,000 EU-funded project; and the report suggests that removals to Ethiopia and Morocco may benefit from an RCMS.
In the case of Sri Lanka, the report notes that 14 member states are connected and they have experienced "a significant improvement in cooperation," with the system making it possible for EU member states "to print travel documents directly out of the system upon positive identification, without involving Sri Lankan Embassies/consulates."
An International Organization for Migration job advert sets out how a revamped system is intended to function in Bangladesh, [reference pdf] where the EU has provided €4.8 million for a project that will also involve "a substantial capacity building component to allow relevant authorities to access and use the existing identity records for identification," according to the restricted Commission report.
Sanctions and leverage
The Commission's report was produced as part of a process to evaluate whether visa restrictions should be placed on countries that do not cooperate with readmission procedures.
Following a discussion of the report, the Council is now considering how to proceed, with the Portuguese Presidency proposing that it be allowed to establish a list of the countries that should be pressured by the Commission to improve cooperation.
Documentation
Full report and accompany documents: here
Further reading