Home

/

News

/

2021

/

April

/

EU: Tracking the Pact: North Africa a key focus for new "comprehensive" migration deals
EU: Tracking the Pact: North Africa a key focus for new "comprehensive" migration deals
Topic
Country/Region
19 April 2021
Two documents obtained by Statewatch outline the thinking of the Portuguese Council Presidency and the Spanish authorities on how to step up cooperation on migration (in particular on "border management") with Morocco and other states in the region.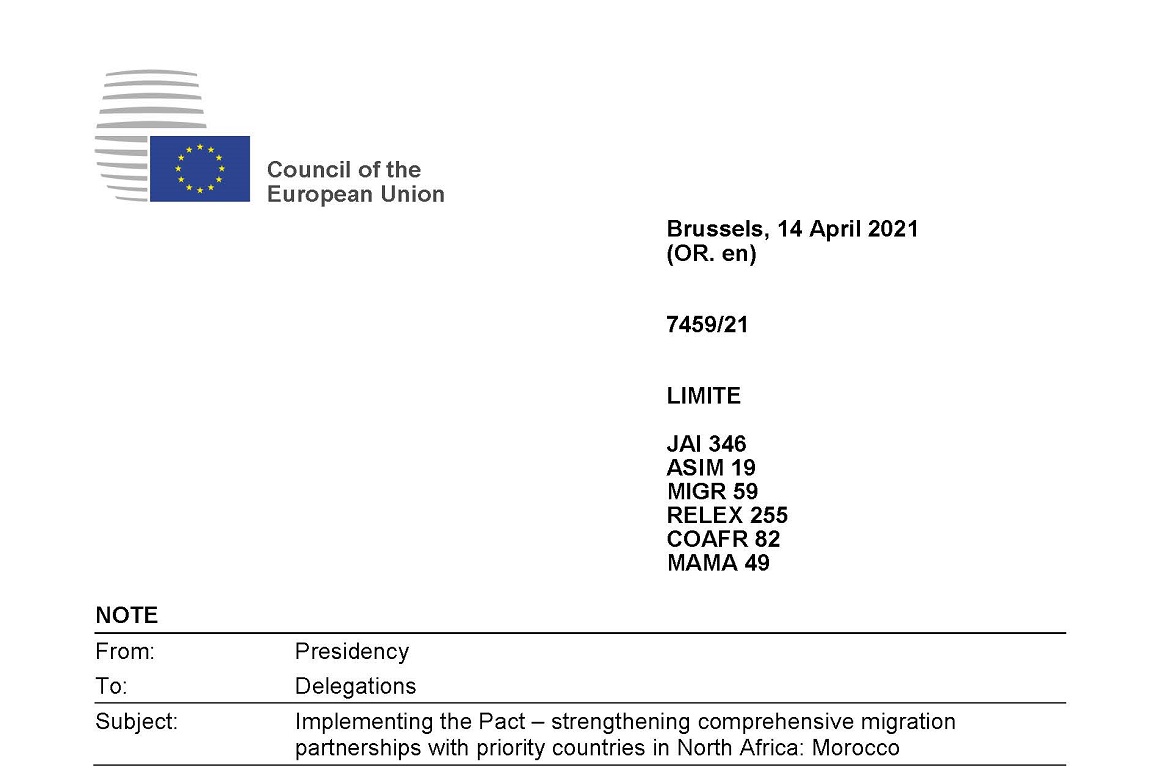 NOTE from: Presidency: Implementing the Pact – strengthening comprehensive migration partnerships with priority countries in North Africa: Morocco (7459/21, LIMITE, 14 April 2021, pdf, emphasis added)
This document follows a previous assessment of Tunisia. It notes:
"At bilateral level, Morocco is engaged in close cooperation with some Member States, including Spain and France, with a focus on border management and combating trafficking in human beings: Morocco regularly coordinates patrols with Spain's Guardia Civil, and France supports Morocco's migration policy in the Souss-Massa and Oriental regions. Member States' cooperation on border management is, in turn, supported by the EU, via Frontex, whose cooperation with Morocco is quite unique in the region...
A joint programming exercise on a proposed Team Europe Initiative on migration is ongoing, aiming at addressing the common objectives related to migration management."
"Morocco-EU irregular migration trends are likely to continue in the near term. The socioeconomic challenges exacerbated by COVID-19 in countries of origin and Morocco, as well as conflicts in neighbouring regions, are unlikely to be offset by border and law enforcement actions. The announcement of the new Pact led to the re-emergence of certain Moroccan sensitivities such as: how to respond to Morocco seeking an enhanced relationship with the EU with a special status vis-à-vis other countries in the region; and how to achieve improved cooperation on readmission/returns, while maintaining good cooperation on border management.
(...)
If, on the one hand, it is necessary to continue to build common ground on border security, on the other hand, limiting it to EU-led capacity building alone may not be sufficient to capture Morocco's interest and engagement in cooperation. Lessons can be learned from Member States with longstanding cooperation successes.
The EU needs to strengthen the following aspects: cooperation on the prevention of irregular departures and the fight against migrant smugglers; information exchange with Morocco, including through EU agencies; funding of actions on the ground; information campaigns on the risks of irregular migration / legal alternatives; and operational and judicial cooperation in the fight against trafficking in human beings between Morocco and the Member States, as well as with EU agencies, including Europol, Frontex, CEPOL, Eurojust and EASO. A further pressing issue is the need to relaunch the negotiations on readmission and visa facilitation, taking into account Morocco's expectations on mobility. Conversely, Member States want to have rapid and effective procedures for identification and return in a spirit of cooperation with Morocco."
The Presidency notes that Morocco may be a useful point of departure for getting other African states on board with EU migration policy:
"Morocco is a leader in migration governance in Africa, so it could be fruitful to build up an EU-Morocco partnership on engaging cooperation with other African countries upstream along migration routes."
---
Non paper from the Spanish delegation "Spanish Proposal for a Toolbox for Comprehensive Migration Approach in the Maghreb, Sahel and West African Countries" (WK 1925/2021 INIT, LIMITE, 11 February 2021, pdf, emphasis added):
"Spain considers that facing this challenge [irregular migration to Europe] must be a priority in the programming of the next multiannual financial framework, with a Team Europe approach, as a means to collectively implement the EU external dimension of the Commission Proposal for a new Pact on Migration and Asylum, the Comprehensive Strategy with Africa, the post-Cotonou framework and the NDICI.
(...)
A Team Europe approach on Migration would allow the EU and its Member States to work together in order to achieve bigger, better and more tangible results, to the benefit of all. The proposed approach should be:
a) A multi-country approach for Maghreb, Sahel and West African countries of origin and transit in the Western Mediterranean and Atlantic routes.
b) A comprehensive approach that addresses four main axes:
i) Support for development programmes in economic, environment, climate, security and human rights areas; promotion of youth education, integration and reception of migrants in countries of transit and destination and of returnees in countries of origin, and good practices in orderly migration in general.
ii) Capacity building and operational support for migration management on the ground through locally based liaison officers, joint investigation teams, information exchange, training opportunities in order to build operational level confidence and trust, as well as direct funding.
iii) Promotion of security and stability for development to prevent human displacement.
iv) Enhanced policy dialogue with migratory partners, including through bilateral dialogue and partnerships as well as in the framework of the updated Rabat Process, backed with the aforementioned and other specific regional actions.
c) A comprehensive and partnership friendly approach that involves all relevant stakeholders and enhances ownership on the ground.
d) A result-oriented approach guided by the following principles for action: sustainability, complementarity, coherence, "europeaness", comprehensiveness, win-win approach and transformative impact.
In order to assure the best effectiveness possible, these actions should be channelled through a combined use of instruments in accordance to the external action of the EU, including development cooperation, humanitarian aid, operational cooperation on the ground, direct budgetary support, financial cooperation and political dialogue."
Further reading