Home

/

News

/

2021

/

April

/

EU: Tracking the Pact: Council Legal Service identifies problems with asylum and migration proposals
EU: Tracking the Pact: Council Legal Service identifies problems with asylum and migration proposals
Topic
Country/Region
08 April 2021
The Council Legal Service has been busy assessing measures proposed as part of the EU's Pact on Migration and Asylum and has identified a number of issues that need to be resolved if EU law is to be respected, according to a document obtained by Statewatch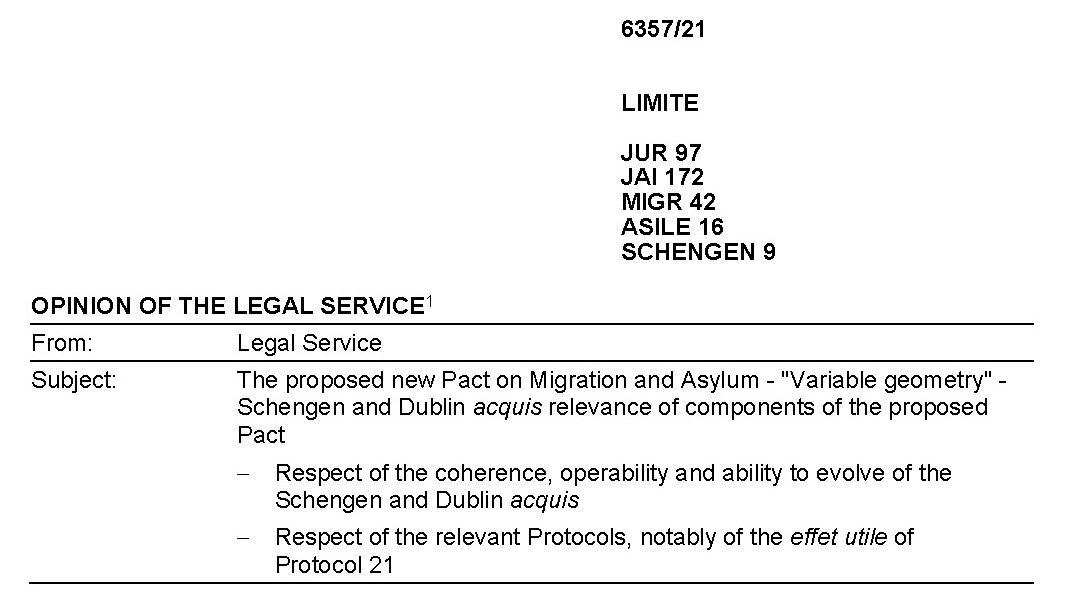 The Legal Service's opinion, which was circulated in the Council on 19 February, examines the proposed Regulations on asylum and migration management, asylum procedure and situations of crisis and force majeure, but is not concerned with their substantive aspects - some of which, such as "border screening" and "return sponsorship", are highly controversial for their potential impact on fundamental rights.
Rather, the opinion looks at how the Commission's proposals mingle together a number of different legal bases in what it calls "hybrid acts" - covering the Schengen rules, the Dublin rules and treaty provisions - in ways that cause a number of problems for the EU legal order.
The opinion, which the Legal Service itself notes is "lengthy", concludes that:
"...the proposed new Pact on Migration and Asylum, insofar as it contains hybrid acts, should be adjusted so as to comply with the coherence of the Schengen and Dublin acquis, respectively, and to be made consistent with the relevant Protocols annexed to the Treaties. The Legal Service therefore advises that the components and provisions of the proposals identified in this opinion be correctly classified as development, respectively, of the Schengen acquis and the Dublin acquis and that they be included in Schengen and Dublin relevant instruments, as appropriate." (emphasis added)

Particular problems arise with the attempt to establish a "return border procedure" (allowing for the swift expulsion of persons deemed to have no right to enter or stay in the EU through an assessment at the border), to set up an "asylum border procedure" (allowing the assessment of asylum applications at the border whilst people are detained) and the proposed "solidarity measures" (for example, relocation and "return sponsorship").
While this is likely to complicate negotiations, which the Commission has urged be completed swiftly, it does not appear that this threatens the proposals in question in any fundamental way - the Legal Service offers a number of options that would allow the member states to ensure that they fit the EU legal order.
As the opinion states:
"It is underlined from the outset that the purpose of this opinion is only to address variable geometry questions raised by the above-mentioned proposals, in order to ensure the coherence of the relevant acquis and the conformity with the relevant Protocols. This opinion seeks to provide an overall answer to these questions, taking into account (and keeping as much as possible) the architecture and the underlying logic of the Pact as presented by the Commission."
See: Opinion of the Legal Service: The proposed new Pact on Migration and Asylum - "Variable geometry" - Schengen and Dublin acquis relevance of components of the proposed Pact (19 February 2021, LIMITE, 6357/21, pdf)
Contents of the document:
I. INTRODUCTION 3
II. LEGAL BACKGROUND AND CONTEXT OF THE PROPOSALS 5
1) The Schengen acquis 5
2) The Dublin acquis and its close link with the Schengen area 10
III. LEGAL ANALYSIS 15
1) The amended APR Proposal: Schengen relevance of certain of its components 15
a) The Union law provisions on return as part of the Schengen acquis 15
b) The return border procedure as a development of the Schengen acquis 17
c) Consequences as regards the proposed return border procedure 19
d) Consequences as regards the proposed asylum border procedure 20
2) The AMMR Proposal: Dublin relevance 22
a) Hybrid nature of the AMMR Proposal 22
b) Legal concerns on the AMMR Proposal as a hybrid act 24
c) Dublin relevance of the different components of the AMMR Proposal 26
d) The specific case of Part IV of the AMMR, on Solidarity 28
e) Intermediate conclusion as regards the Dublin relevance of the AMMR Proposal 35
3) The possible option of "schengenising" the Dublin acquis by classifying the AMMR Proposal as Schengen acquis 36
4) Schengen and Dublin relevance of certain components of the proposed Crisis Regulation 39
IV. CONCLUSION 39