Home

/

News

/

2021

/

April

/

EU: Joint EEAS–Commission Services Reflection Paper on the use of military assets and capabilities in support of civilian authorities in the context of the COVID-19 pandemic
EU: Joint EEAS–Commission Services Reflection Paper on the use of military assets and capabilities in support of civilian authorities in the context of the COVID-19 pandemic
Topic
Country/Region
07 April 2021
A paper produced by the European External Action Service and the European Commission, circulated to military officials in the Council of the EU and member states, examines how military forces have been used to support civilian authorities during the pandemic and sets out a number of options for increased coordination in the future.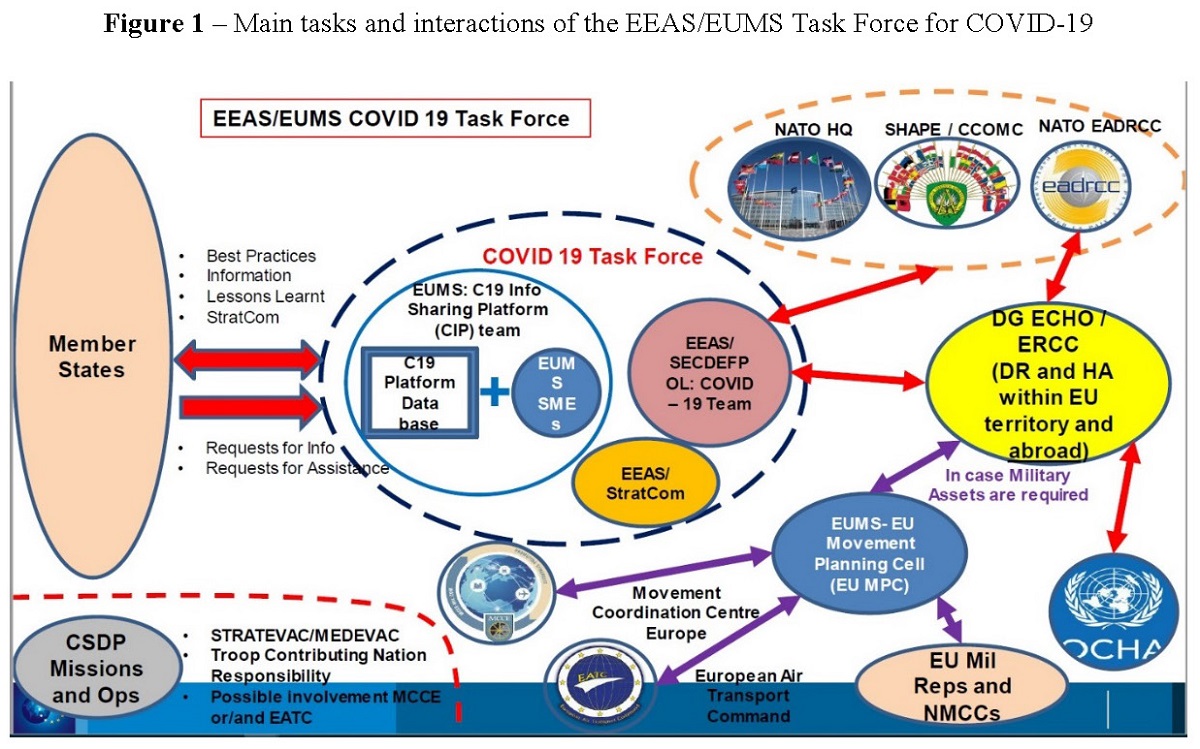 The paper, marked LIMITED, is intended for distribution to PMG (the Politico-Military Group, a Council working party), EUMC (the EU Military Committee), ProCiv (the Council's Working Party on Civil Protection) and EU member states' delegations.
See: Joint EEAS – Commission Services Reflection Paper on the use of military assets and capabilities in support of civilian authorities in the context of the COVID-19 pandemic (EEAS (2021) 324, LIMITED, 25 March 2021, pdf):
"This paper focuses on the importance of military support/assistance to civilian authorities, both at home and abroad, including civil-military cooperation and coordination, also in the field of humanitarian assistance, as highlighted during the pandemic, taking into account that Armed Forces are not first responder in such situations... It aims to cover 1) the use of military assets and capabilities in support of civilian authorities nationally and/or bilaterally in particular within the European Union, as well as 2) in the framework of the Union Civil Protection Mechanism (UCPM) and in the field of humanitarian assistance."
Increased military coordination
The paper calls for increased military coordination:
"There is a need to further explore how to ensure best that such interactions with external defence/military actors are carried out in case of related or similar future crisis situations by involving the EEAS and relevant Commission services from the EU side. More mil-to-mil contacts through the EUMS might also be encouraged (e.g. through direct liaison to NATO's Comprehensive Crisis and Operations Management Centre (CCOMC) at SHAPE and Allied Command Transformation (ACT) in the field of lessons identified / learned)."
Propaganda and disinformation
It notes with concern that during the pandemic, "propaganda and disinformation" have sought to make "the EU, the MS and NATO... appear weak, in disarray and incapable of acting united":
"Throughout the pandemic, MS have reported an increase in hybrid threats, such as cyber-attacks and disinformation. MS assessed that EU efforts to counter propaganda and disinformation (including those aimed at making the EU, the MS and NATO to appear weak, in disarray and incapable of acting united), as well as cyber-attacks by adversaries, should be reinforced. They also pointed out the need to deter, prevent and respond to cyber operations and attempted cyber-attacks, as well as for better situational awareness and crisis response capabilities."
In response:
"...there is a need to enhance the EU ability to address the challenges of stemming from disinformation, cyber-attacks and secure communications in times of crisis, which has in the meantime also been raised in the context of respective processes. Coherence of messages and cooperation between EU institutions, as well as between EU and NATO, are critically important in the context of communication to prevent and respond to hybrid threats, with StratCom in need to be prepared to respond swiftly and in a targeted way."
Military assistance with medical stockpiling and transport
"While avoiding duplication and reinforcing existing medical stockpiling and transport mechanisms remains paramount to streamline an efficient response, the possible use of military assets and capabilities in support of civilian authorities as "last resort", including in health emergencies within the Union, could be further explored, in close coordination with the Commission."
The paper sets out a number of conclusions and recommendations, under two headings:
Military support/assistance to civilian authorities: what possible role for the EEAS/EUMS in case of related or similar disruptive events?
June 2020 Council conclusions on the use of military assets and capabilities in support of the UCPM as well as for HA purposes: possible future related actions
Two annexes are attached to the paper:
Annex 1 – Mapping of EU legal and procedural framework on the use of military assets and capabilities in support of disaster relief / humanitarian assistance (DR/HA) and other relevant related documents
Annex 2 - Military assets that could potentially be used in support of the EU's civil protection authorities
See: Joint EEAS – Commission Services Reflection Paper on the use of military assets and capabilities in support of civilian authorities in the context of the COVID-19 pandemic (EEAS (2021) 324, LIMITED, 25 March 2021, pdf)