Ukraine war sparks revision of EU crime priorities
Topic
Country/Region
22 March 2022
The French Presidency of the Council is calling for national authorities to increase information-sharing with EU agencies Europol and Frontex "in order to anticipate developments and prepare for and implement a swift and coordinated operational response" to the activities of "criminal networks and individuals" seeking to take advantage of the war in Ukraine.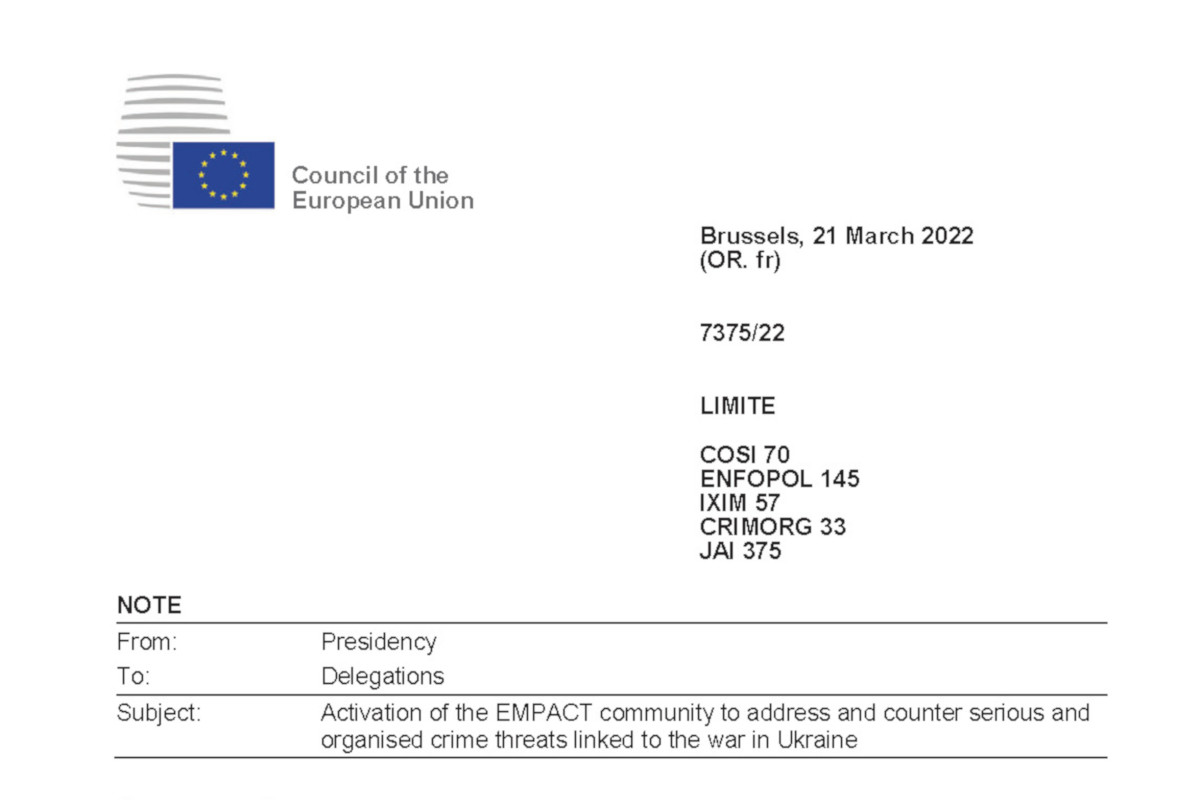 The proposal (pdf) concerns the European Multidisciplinary Platform Against Criminal Threats (EMPACT), an EU coordination mechanism for joint police operations, and covers three areas: intelligence assessment and monitoring; operational response; and external dimension.
The Presidency considers the following EMPACT crime areas to be relevant:
Cyber-attacks
Trafficking in human beings
Child sexual exploitation
Trafficking of firearms and explosives
On-line fraud
Drugs, cigarette smuggling and illicit cigarette production
Migrant smuggling
Organised property crime
Criminal finances, money laundering and asset recovery
With regard to intelligence, Europol is called upon to engage with national authorities to assess "any changes in criminal activities in their respective crime areas following the Russian invasion of Ukraine," and to work with Frontex to ensure there are no overlaps between different activities, such as "joint Task Force, deployment of specialised officers in hotspots, joint teams with local authorities and awareness sessions for border guards".
National authorities responsible for leading different EMPACT actions ("Drivers") should also "actively monitor the situation" and provide regular assessments, and all member states participating in a particular EMPACT activity should "share available information and criminal intelligence with Europol and other partners (such as Frontex, Eurojust) wherever relevant."
Europol and Frontex will then be responsible for cross-checking and analysing that information, and turning it into "analytical products, e.g. operational intelligence notifications, threat assessments," to be shared "with all relevant partners".
With regard to operational response, Drivers should assess existing Operational Action Plans and inform Europol if planned actions could address threats emerging from the war; if there is a need for a new "emergency" operational action; if they wish to organise "emergency Joint Action Days," which are generally coordinated pan-European (or beyond) police operations; and if there is other support that EU institutions and agencies could provide.
Any changes to plans could be approved by the COSI Support Group (a sub-group of the Council's internal security committee) "through an accelerated procedure".
Finally, the note says that cooperation of all authorities at the external borders is "prerequisite for the efficient fight against cross-border crime. Frontex plays a crucial role in this area. The agency is invited to inform the drivers about the situation, the measures taken and the possible support in this regard."
EU institutions and agencies are also invited to give support to EU member state authorities "to facilitate their work with relevant neighbouring third countries (in particular Eastern Partnership countries and Western Balkan)."
Documentation
Further reading