Home

/

News

/

2022

/

January

/

EU: Artificial Intelligence Act: Council Presidency compromise on high-risk systems
EU: Artificial Intelligence Act: Council Presidency compromise on high-risk systems
Topic
Country/Region
28 January 2022
Negotiations on the EU's proposed Artificial Intelligence Act are pressing ahead. On 13 January, the French Presidency of the Council circulated its proposed compromise on the sections of the proposal dealing with high-risk AI systems. We are making it publicly available here.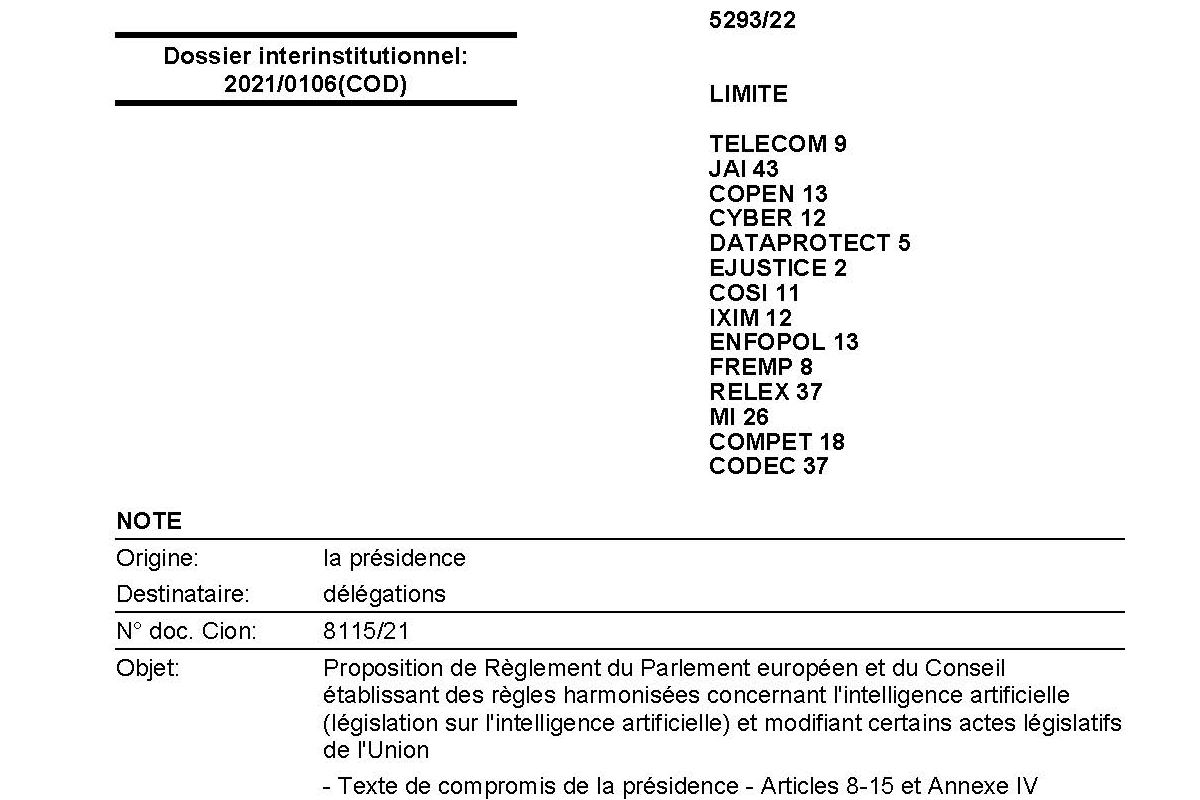 NOTE Origine: la présidence Destinataire: délégations: Proposition de Règlement du Parlement européen et du Conseil établissant des règles harmonisées concernant l'intelligence artificielle (législation sur l'intelligence artificielle) et modifiant certains actes législatifs de l'Union - Texte de compromis de la présidence - Articles 8-15 et Annexe IV (Council doc. 5293/22, LIMITE, 13 January 2022, pdf):
"3. La Présidence Française a repris le travail de rédaction là où la Présidence Slovène s'était arrêtée, et elle a rédigé la partie suivante de la première proposition de compromis, couvrant les articles 8 à 15 et l'annexe IV, qui figure en annexe du présent document.
4. La présidence Française invite les délégations à discuter des modifications proposées aux articles 8 à 15 et à l'annexe IV lors de la réunion du WP TELECOM le 18 janvier 2022.
5. Les modifications du document par rapport à la proposition de la Commission sont soulignées, les ajouts sont marqués en gras, les suppressions sont barrées."