Home

/

News

/

2021

/

July

/

Europol on anarchism: more information is needed on an "increasing and evolving" threat
Europol on anarchism: more information is needed on an "increasing and evolving" threat
Topic
Country/Region
27 July 2021
Europol has called for authorities to gather more information on "violent left-wing extremism and anarchism" due to an "increasing and evolving" threat, at the same time noting that "no organisation or group can be considered to pose an imminent threat".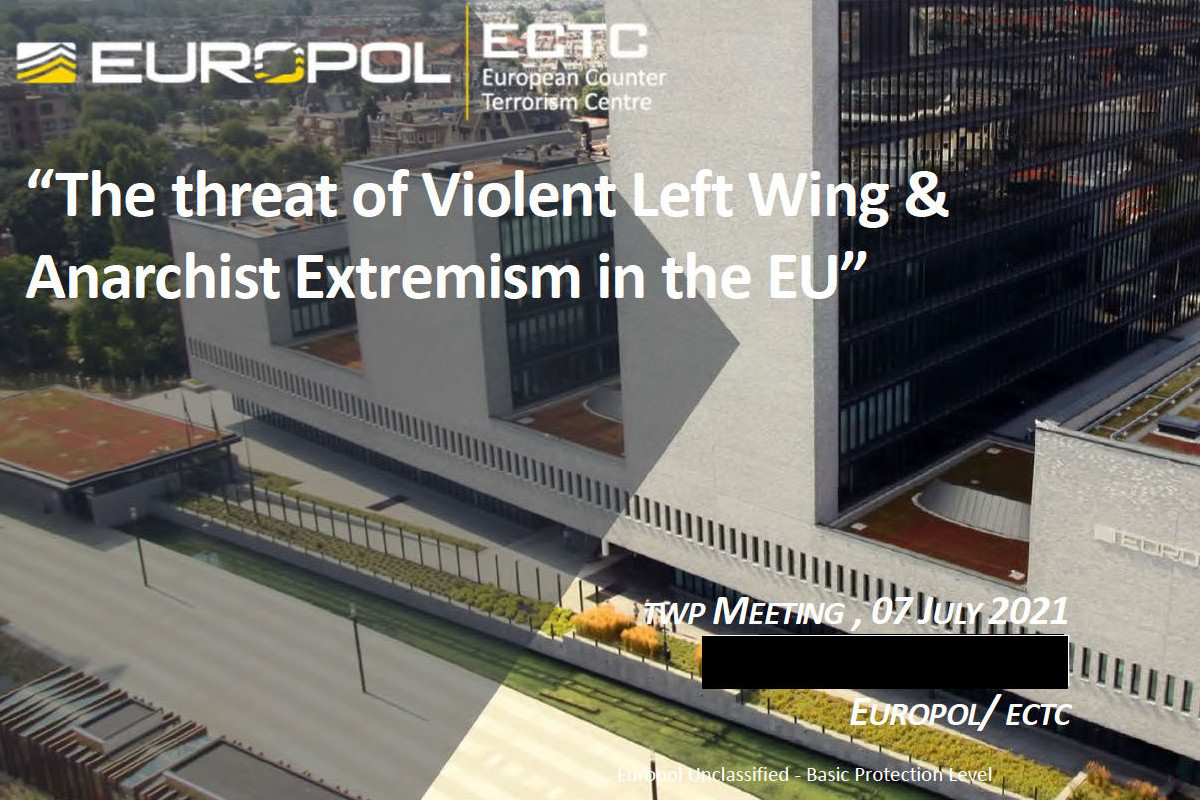 Nevertheless, the presentation notes that:
"the threat stemming from a heterogeneous violent left-wing and anarchist extremism scene at EU level is still considered to be low but increasing, due to the fact that more Member States are being exposed to this kind of violence."
It goes on to conclude that the "threat deriving from Violent Left Wing & Anarchist Extremism at EU level can be described as increasing and evolving," but there is a need for more information-gathering: "For a holistic approach, contribution from other key stakeholders is required."
The presentation was given during a meeting of the Terrorism Working Party on 7 July that discussed whether the EU should launch a specific initiative to counter "violent left-wing and anarchist extremism and terrorism."
Alongside Europol, there were presentations from Italy, Greece, Germany, the European Commission, the EU Intelligence Centre (INTCEN) and the EU Counter-Terrorism Coordinator.
It is currently unknown what decisions were made at the meeting - if any - on next steps or further action.
The Europol presentation lists a number of activities that the agency considers to be associated with "violent left-wing and anarchist extremism" (VLWAE): forming "unstructured groups" to take part in protests, engaging in "small-scale attacks against public and private property" and participating in "rallies and protests during which they attempt violent acts."
The "actors" that make up the VLWAE scene are groups, lone actors (by whom attacks "should be considered uncommon, however they cannot be excluded") and returning "foreign fighters" who have joined Kurdish militias in Rojava.
The presentation also includes an ideology - namely, insurrectionary anarchism - amongst the list of actors.
It goes on to look at the "manifestation of the threat," which comes in the form of:
"Arson attacks or in some cases arson campaigns" using unsophisticated "improvised incendiary devices";
"Unsophisticated rudimentary improvised explosive devices (IEDS)";
"Blunt weapons or even bodily force during clashes with the police or RWE [right-wing extremist] group members or sympathisers";
"Vandalism in the form of destruction of property or graffiti."
There is further consideration of the targets of VLWAE actors, a brief discussion of financing (on which there is "no specific information"), and the use of the internet. It should be noted that the Counter-Terrorism Coordinator, in a background paper, proposed that Europol could start seeking the removal of material from the internet, if a decision were made to take "specific action" on "violent left-wing and anarchist extremism."
The presentation closes by asking: "Is violent extremism an antechamber to terrorism, in the sense that it provides fertile ground for radicalisation and recruitment?"
It is likely that authorities answering that question in the affirmative may then put further attention on entirely legitimate, peaceful forms of peaceful activity, in order to find the "antechamber" to violent extremism.
See: Europol: European Counter-Terrorism Centre: "The threat of Violent Left-Wing and Anarchist Extremism in the EU" (7 July 2021, pdf)