Home

/

News

/

2021

/

February

/

EU: Pandemic propels adoption of "secure and interoperable" cross-border communications tools for police
EU: Pandemic propels adoption of "secure and interoperable" cross-border communications tools for police
24 February 2021
A document circulated by the German Presidency of the Council of the EU at the end of 2020 outlines efforts to adopt "secure and interoperable communications solutions" for cross-border police communication and cooperation, which seems likely to be a lasting change provoked by the COVID-19 pandemic. However, commercially-available technologies are deemed inadequate.
---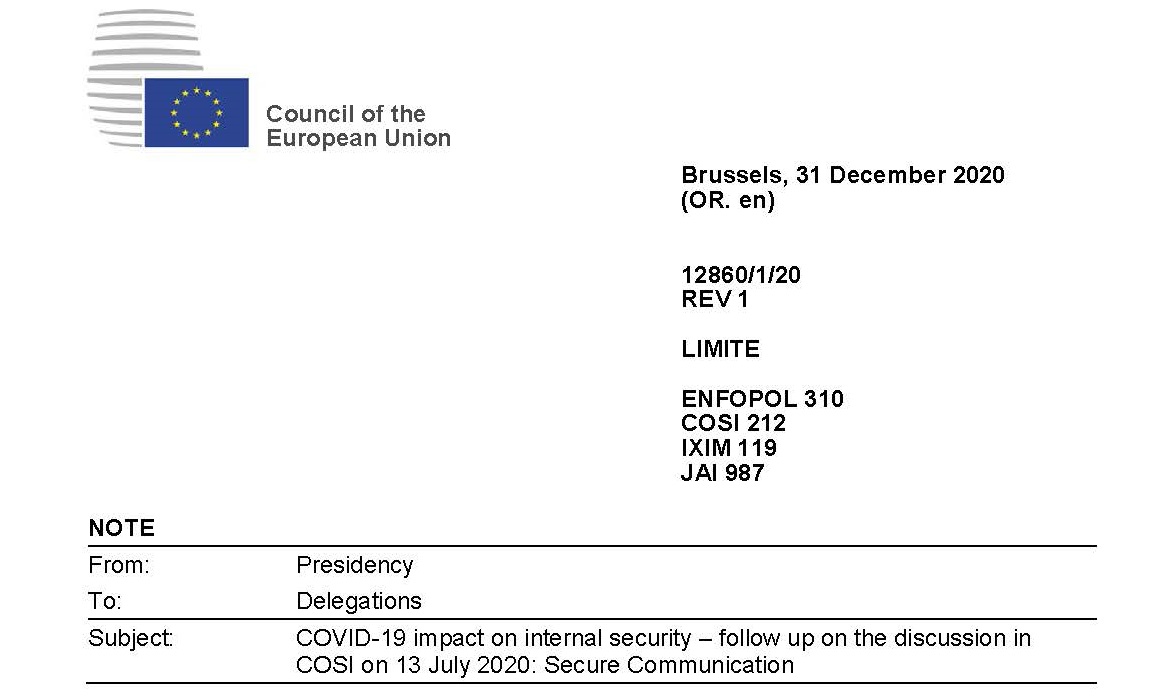 NOTE from: Presidency to: Delegations: COVID-19 impact on internal security - follow-up on the discussion in COSI on 13 July 2020: Secure Communication (12860/1/20 REV 1, LIMITE, 31 December 2020, pdf, emphasis added):
"There was broad agreement that upholding internal security in the EU requires strong cooperation based on reliable and secure communication, as an alternative to physical meetings. COSI suggested that Europol (by making use of the Europol Innovation Lab) could map available solutions. As a first step, the Law Enforcement Working Party (LEWP) and the Working Party on JHA Information Exchange (IXIM) were asked to discuss the parameters for improving secure communications between law enforcement authorities in the EU, focusing on end-users and also on the actors involved in the development and governance of relevant tools.
(...)
With the aim to map available solutions, Europol and the German Federal Criminal Police Office (Bundeskriminalamt), with the support by a number of Member States, founded a core group on secure communication. The group's first meeting took place on 16 September 2020 where experiences were exchanged in relation to the short-term communication solutions found to overcome some of the restrictions to physical operational meetings due to the impact of COVID-19. Furthermore, the group discussed the requirements for secure communications as identified by LEWP and IXIM, the challenges of interconnecting existing national solutions. The group prepared an overview of existing tools for secure communication to address short term needs.
Furthermore, the group also prepared a Draft Roadmap regarding the Extension of Secure Communications for EU Law Enforcement in the short-, medium- and long term containing proposals for the way forward.
The roadmap, already welcomed by the Member States during the LEWP videoconference on 9 November 2020, aims at three objectives: Enabling the rapid fulfilment of operational needs of law enforcement officers, identifying the areas where there is a need for common standards and conditions for secure law enforcement communication and defining them, as well as setting a joint direction for the development and implementation of business-oriented, secure and interoperable communication solutions.
(...)
However, currently communication mostly still relies on commercial tools, often not suitable for communication and information exchange on sensitive issues. Therefore, in the opinion of the Presidency it remains urgent to achieve further progress in establishing secure communication solutions for EU law enforcement."