Home

/

News

/

2021

/

December

/

EU: Tracking the Pact: Member states against a search and rescue "solidarity mechanism"
EU: Tracking the Pact: Member states against a search and rescue "solidarity mechanism"
Topic
Country/Region
16 December 2021
The vast majority of member states are opposed to a separate "solidarity mechanism" for people rescued at sea under the proposed Asylum and Migration Management Regulation. The proposal foresees this solidarity consisting of relocation or "capacity building". Some states would like to be able to offer "solidarity" in other ways - for example, Austria proposes support for externalisation measures as an alternative option to relocation of people rescued at sea.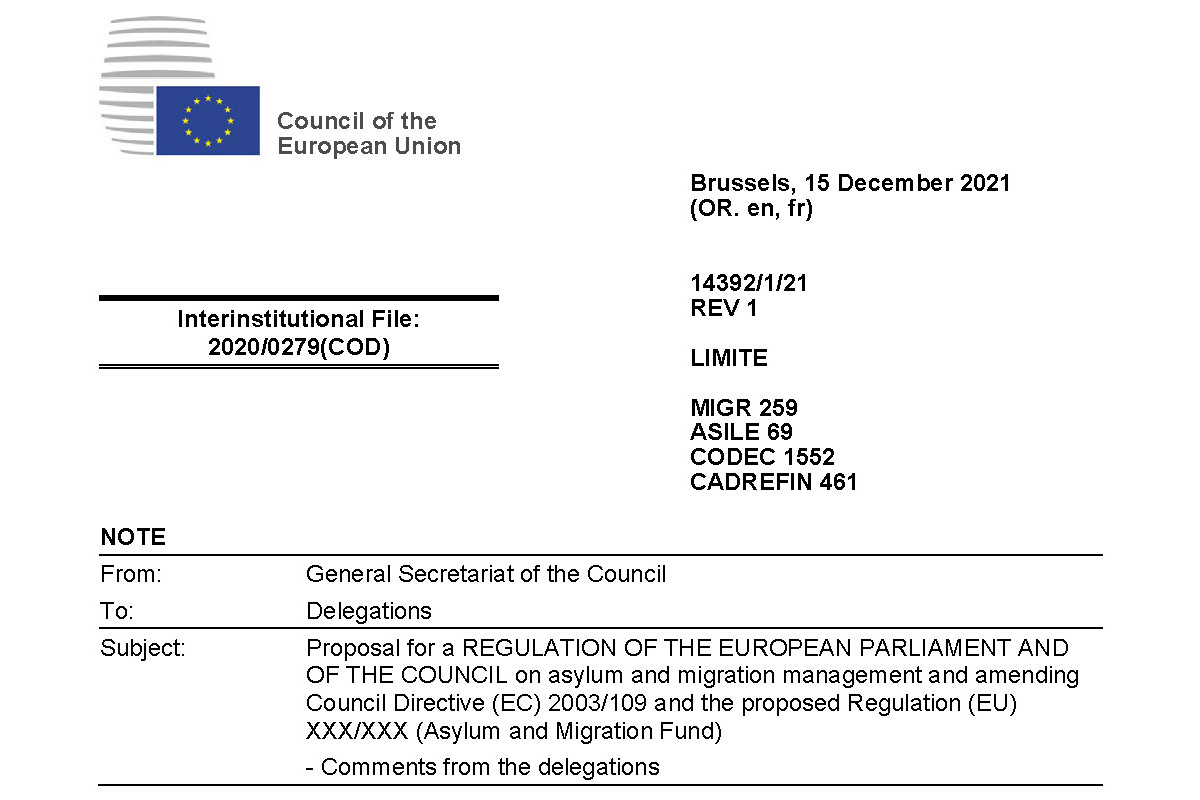 See: NOTE from: General Secretariat of the Council to: Delegations: Proposal for a REGULATION OF THE EUROPEAN PARLIAMENT AND OF THE COUNCIL on asylum and migration management and amending Council Directive (EC) 2003/109 and the proposed Regulation (EU) XXX/XXX (Asylum and Migration Fund) - Comments from the delegations - covering Articles 45-60, 6(4) and certain definitions on search and rescue and "solidarity" (Council doc. 14392/1/21 REV 1, LIMITE, 15 December 2021, pdf)
And a document on: Articles 3-7 and 61-75 (Council doc. 15030/21, LIMITE, 15 December 2021, pdf)
It is evident that the proposed search and rescue (SAR) solidarity mechanism has little support. Austria, the Czech Republic, Estonia, Hungary, Ireland, Lithuania, the Netherlands, Poland and Slovakia are all outright opposed. A number of states argue that such a mechanism would be a "pull factor".
Austria also notes:
"AT welcomes that capacity building measures are part of solidarity contributions. However, there is a strong need for a more flexible approach. New and innovative solidarity contributions should be introduced, for example in the external dimension.
Therefore, Austria also welcomes the possible solidarity contributions as listed in footnote 1. However, these solidarity contributions should me mentioned in the text and not only in the respective footnote.
Furthermore, as mentioned above, there should be additional solidarity contributions such as "protection sponsorships" and the deduction of secondary migration movements. We refer to our comprehensive concept papers and previous information shared on these new and innovative concepts and stand ready to go into more details should there be further questions."