Home

/

Analyses

/

2022

/

The Melilla border deaths represent a new phase in the bloody story of Fortress Europe
The Melilla border deaths represent a new phase in the bloody story of Fortress Europe
Topic
Country/Region
14 September 2022
On 24 June dozens of people died after attempting to cross the heavily-fortified border from Morocco into the Spanish enclave of Melilla. A report by the Nador branch of the Association Marocain des Droits Humains (AMDH), summarised and built upon here, examines the build-up to and immediate aftermath of the deadly incident. The report documents multiple human rights violations and also reveals a significant shift: from EU authorities undertaking pushbacks and leaving people to their fate in situations in which they may come to harm, to EU authorities undertaking pushbacks with the explicit knowledge that they would be beaten and treated in an inhumane and degrading manner by their non-EU 'partners'.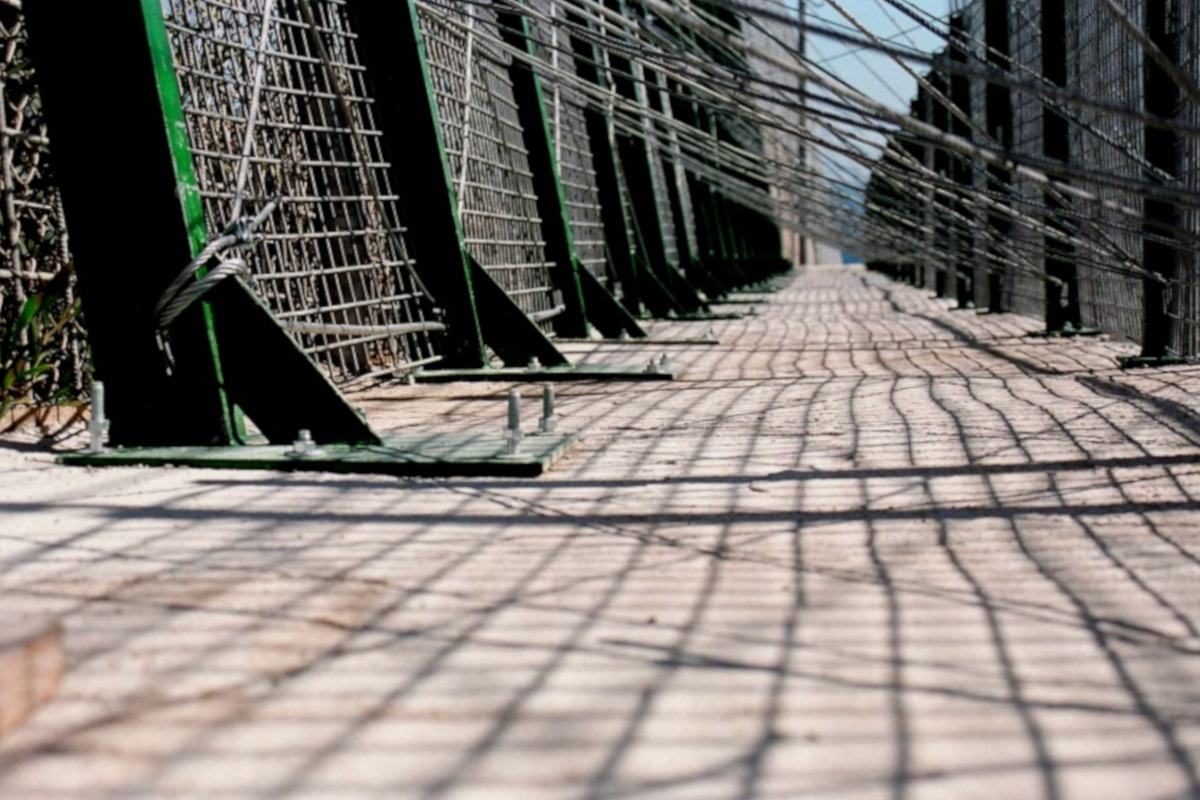 Context
Locally, there had been a decrease in the kinds of operation that have exemplified Morocco's role as the EU's "gendarme", insofar as attacks against migrant camps and shelters are concerned. In 2020 there were 43, in 2021 there were 37, and none in 2022 until March. In previous years, such interventions reached peaks of 311 and 340 in 2014 and 2018, respectively. There was also an increase in attempted border crossings at the fences in 2021, involving 1,050 people.
This situation of few attacks and several attempted border crossings persisted while Spanish-Moroccan relations were 'frozen', but this changed in late March 2022, when the two countries signed a new security cooperation agreement and diplomatic relations thawed. Improved relations were followed by frequent attacks against makeshift shelters and camps in forests, and attempted border crossings decreased in April and May. In just 84 days there were 31 attacks, a figure that is not far off the total number of all attacks carried out in 2020 and 2021, and there were no collective crossing attempts at the border. The evidence suggests, then, that when Morocco plays its border guard role on the EU's behalf, both the scale and seriousness of rights violations increase.
Situation in camps before 24 June
The daily activities and movement of around 1,500 migrants gathered on heights in the camps of the Lakhmis Akdim and Bekoya woodlands were monitored by drones and deployed officers at the start of June, when there were daily attacks to move them on. Unlike previous periods when only auxiliary forces were on the ground to carry out these attacks, the gendarmerie, mobile police units and agents under the supervision of the governor of Nador, and gendarmerie and auxiliary force commanders were also involved. Raids consisted of the pursuit and arrest of migrants, destruction of camps, and goods being confiscated and sometimes burned, including food reserves.
The most violent recorded attacks were from 7 to 15 April, on 23 May, from 17 to 20 June and on 23 June. Earlier attacks did not feature clashes between security personnel and migrants, who would leave to return after the situation had calmed down. This changed on 23 May, when clashes happened during raids, as migrants reacted by throwing stones and security forces fired teargas. Dozens of injured people were recorded on both sides, and there were arrests among asylum seekers, some of whom were removed to other cities. Injured agents would go to Nador hospital, whereas injured migrants would stay in the woods, fearing arrest. This was the only period when migrants reacted to the destruction of shelters and food, and a tightening siege.
The camps were relatively far from Melilla (around 20 km in the cases of Lakhmis Akdim, Afrah and Bekoya), but harassment intensified as traders were discouraged from selling goods to migrants and water sources were cut off, like at the spring in Bekoya. These tactics followed the normalisation of Moroccan-Spanish relations, resulting in people moving to the southern side of Mount Gourougou where, again, they were attacked for five days to stop them settling in a site that is six kilometres away from Melilla. The most forceful attack was on 23 June. After a 24-hour removal warning had been issued, hundreds of gendarmes, police officers, members of auxiliary forces and interior ministry personnel arrived in the morning, leading to clashes and injuries on both sides, amidst an excessive use of teargas to clear the area. The clashes ended in the evening and migrants retreated to another mountain.
A fire in Izenoudene camp
A couple of hours after the attack on 23 June in Gourougou (near Izenoudene), a fire began that was finally put out on the evening of 25 June, leading people to move higher up the mountain after failing to put the fire out with their scant means for doing so. Witnesses reported an excessive use of teargas in the clashes on Gourougou, amid unconfirmed suspicion that this may have caused the fire. The migrants descended from the mountain, heading for the Barrio Chino border post on the morning of 24 June. The previous attacks and the attempt to block hundreds of people from accessing food are described as "unprecedented" in the AMDH report. It was following this that around 1,500 migrants carrying sticks and stones descended towards the Melilla border fence.
The people involved
The people involved were from war zones in Sudan, South Sudan and Chad (that is to say, in a situation comparable to Ukrainians), who were obstructed from submitting applications for international protection, a long-documented problem in Melilla and Spain's other African enclave, Ceuta.[1] They were mostly asylum seekers who had been in Morocco for months, if not years, often passing through Algeria and Libya. They used different routes to enter Morocco (near Tiouli or Doghmaniya), often passing through Oujda to contact UNHCR and submit asylum requests. Police reports disagree with testimonies by claiming that all the 65 people who face charges passed through the Algerian town of Maghnia, which is further north. In small groups, they then headed towards the forests near Nador. Some of these people had taken part in border crossing attempts in March, when hundreds of them managed to enter Melilla without great problems; they struggled to understand the Moroccan authorities' behaviour, which did not just aim to stop them reaching the barriers, but also to chase them from their camps.
24 June 2022
Along an hour-long route to the border, Moroccan authorities did not intervene to stop or disperse the 1,500 people heading for the border. The AMDH report asks why this may have been, noting a change in strategy compared to attacks to which they were subjected when they were further away, in the camps. A violent attack at the border fence ensued, when the migrants had relinquished rocks and sticks, that led to a heavy balance in terms of dead and injured people, arrests and removals, despite the migrants seeking to cross the border fence rather than clashing with Moroccan security forces.
When the group reached the Barrio Chino border fence, they began climbing the fence and tried to open the gate. Moroccan security forces took up their positions and soon attacked, throwing rocks and firing teargas, as the first victims fell, either due to breathing difficulties or from being struck by rocks, before there were any direct physical clashes. Previously ordered efforts to climb the fence became more frenzied due to fear, lack of visibility and people falling off the fence, leading to the count of deaths and injured people worsening. After trying to stop entry to Melilla through an excessive use of teargas against a group that was surrounded, a frontal attack was unleashed at around 10:30. The report notes a lack of emergency service interventions (including ambulances) as evidence that authorities' efforts were solely directed at repression, to stop people advancing towards Melilla.
The most brutal phase then began, involving cruel, inhuman and degrading treatment, physical violence (truncheon blows, kicks and stone throwing) by hundreds of Moroccan agents against asylum seekers, some of whom were on the ground, breathless, injured, some of whom had fainted while others were handcuffed. Some of these violent acts targeted people climbing the fence, causing them to fall, before they were apprehended and taken to a confined space where they were piled onto each other, and some of them were struck despite barely being able to move. People arrested at or beyond the border fence continued to be dumped violently in that space, without concern for their injuries, broken limbs or state of health.
While injured and agonising people pleaded for help, others continued being piled onto them and violence continued, sometimes on handcuffed people with their stomachs on the floor. In this phase AMDH identified the first five victims who had died, based on concordant witness statements. They were Kussay Ismail Abdelkader, Mohannad Maamoun Aissa, Abderrahim Abdellatif Ali (Hanine), and Abdelaaziz Yaakoub (Anwar). Authorities could have increased the space in which people were held, or placed them in adjacent spaces and organised for ambulances to tend to their assistance, but they chose not to, throwing them onto each other, which gave rise to what AMDH call an "apocalyptic scene".
Video recordings prove the cruel, inhuman and degrading treatment meted out by Moroccan security forces against people who were injured, in distress or dead, thrown onto each other without assistance being provided, surrounded by public officers. Some bodies were motionless when they were dumped to the ground and officers were taking them back across the border fence. The use of teargas and rubber bullets by the Spanish police and Guardia Civil while migrants were on the Moroccan side of the fence is evident from the footage. This contributed to some victims falling due to suffocation, and showed a degree of coordination between the two countries' security forces. The inhuman treatment lasted for two hours without any official intervening to bring the violence to a halt.
Four ambulances that were on site since the early morning were only activated at 11:30 and, instead of dealing with the seriously injured, they began their work as instructed by removing dead bodies and taking them to hospital. More ambulances arrived later and transferred many of the injured to hospital, with an important delay, in an operation that lasted until around 21:00. Assistance was not provided on site to the injured people, despite availability of further ambulances and medical staff, also on the Spanish side. This non-assistance demonstrates that cooperation is exclusively focused on security at the expense of all other considerations – even saving lives.
Nine buses to remove people were brought into use before ambulances or other means of assistance, showing that despite a heavy count of dead and injured people, the aim was to arrest and remove as many asylum seekers as possible. After 16:00, around 500 people, including many who were injured, were made to board buses taking them to different regions in Morocco, and the people (often injured and exhausted) just released in these areas without any provision of nourishment or medical assistance. Several people were taken by peers or by Moroccan citizens to be attended to at hospitals in Marrakech, Agadir, Beni Mellal, Casablanca and Rabat. Witness statements and photographic evidence allows AMDH Nador to confirm that at least one person died during these transfers, a Sudanese man from Darfur named Abdenacer Mohamed Ahmed, who was made to board a bus despite being seriously injured. He died on the night of 24 June.
This outcome could have been avoided through pre-emptive actions that halted the arrival of people at the border fence in the first place. As it was, it seemed like an attempt to show the Spanish authorities that Moroccan security forces would intervene firmly to stop migration flows. When Spanish-Moroccan relations were frozen in March, a large-scale border crossing attempt involved more people (some 2,500), yet there were no deaths and 900 people managed to enter Melilla. Following the restoration of diplomatic relations (and operational cooperation) there were many dead (official figure: 23 people) and injured in a smaller attempt (around 1,500 people), with 133 people entering Melilla.
Key issues and developments
The report notes that cooperation between Spain and Morocco resumed on 14 March, resulting in an intensification of violence against people on the move, in terms of raids against their camps and security forces' behaviour during attempts to enter Melilla in early March and June.
Secondly, after witnessing the scale of the tragedy, AMDH warned that Moroccan authorities may try to hurriedly bury the bodies without identifying them or conducting autopsies. They went to Sidi Halem cemetery in Nador and noticed that 21 tombs were being dug, as confirmed by cemetery staff. Images were published on the website of the Nador section of AMDH, the national and international media appeared on the scene, and the operation was stopped after 16 tombs had been prepared. It was not a routine tomb preparation, as the Pacha of Nador oversaw operations and, even after the burials were suspended, security forces guarded the site, preventing journalists' access.
A surprise visit by AMDH Nador to the morgue in Hassani hospital, where doors had been left open to release some of the smell, allowed observers to note 15 corpses on the floor with what looked like injuries to their heads, faces, chests and feet. The bodies were on the floor in disregard for human dignity, whereas others would have been in the refrigerators. Controls in the morgue were strengthened and access was denied to AMDH Nador representatives carrying photographs of migrants who had disappeared, to check if they were among the deceased.
Growing violence against migrant camps was accompanied by a new state discourse to criminalise asylum seekers by accusing them of membership of organised trafficking networks. AMDH Nador describes the claim used since 14 March as "entirely flawed", adding that the land crossing into Spanish enclaves has always been a free migration route used by the poorest, who cannot afford sea crossings, out of their personal choice. As migrants (mainly from Sudan, South Sudan and Chad) descended towards the border fence, Senegalese, Guineans and citizens of Burkina Faso joined them, none of whom were forced to do so.
The report recalls that migration by sea in Nador has been a paid-for service controlled by smugglers since 2017, just after the completion of a blade-topped fourth border fence that sought to make the frontier impenetrable. Militarisation of the border led to a rise in sea crossings, as AMDH Nador annual reports have documented since 2017, with an apogee in 2017-2018 and 2019 in Nador and Laayoune, and in Tarfaya and Dakhla from 2020.
This rise aided Morocco and Spain, because border fence crossings only resulted in 2,000 or 3,000 irregular entrants per year, whereas the number rose three-fold when sea crossings grew in prominence. Morocco was thus able to apply pressure when it deemed it useful, while Spain sought to attract heftier EU funding by posing as a country at risk of being invaded, as some politicians took electoral advantage of this narrative. Morocco too is to benefit materially and financially. In July the EU signed a new "operational partnership" with Morocco on migration control, and in August, committed €500 million to the country for migration purposes between 2021 and 2027.
Hot returns and a catalogue of abuses
In a context of violence by Spanish and Moroccan officers, some of whom crossed into Spanish territory during the incident, AMDH Nador estimates that around 100 asylum seekers underwent "devoluciones en caliente" (pushbacks) through a gate in the border fence. It cannot be confirmed whether any of them were among those who died, either before or after they were retrieved by the Moroccan security forces.
The report calls on Melillan authorities to release footage from the CCTV surveillance cameras and a helicopter that was active, to clarify matters. However, this was not a case in which returns or pushbacks were enacted despite there being nothing more than a risk of people being mistreated and abused: Spanish officers could see asylum seekers being violently beaten and treated in an inhuman and degrading manner, piled onto each other, without being given nourishment or medical care. Those who committed the pushbacks had clear, unequivocal knowledge of the situation to which they were returning people.
AMDH Nador catalogued the rights violations that were committed:
Violation of the right to asylum, as registration of an asylum claim with UNHCR in Morocco does not protect people from police abuses; a copy of their request may be confiscated or ripped up prior to refoulements towards the Algerian border (a problem particularly felt by Sudanese, South Sudanese and Chadians).
Violation of the right to lodging and accommodation, as it is becoming impossible for dark-skinned people to rent accommodation in Nador and other cities, so people find shelter in make-shift camps, sometimes leading to tragedies, for instance when there are fires. This racist segregation means that black people are made to live in the forest, while migrants with lighter skin tones (Syrians, Yemenis, people from Maghreb countries) find spaces to rent.
Violation of the right to life, as deadly migration policies have cost 23 asylum seekers' lives (according to the official tally) at a land border post. EU, Spanish and Moroccan migration policies have caused many deaths at sea, but it is the first time when they have been so deadly at a land border. The death count may be higher, considering the disappearance of 64 people at 20 July 2022.
Violation of the right to physical integrity, not so much when there were clashes as much as at the border fence, when an excessive and premeditated use of force against migrants who were not dangerous caused dozens of people to be seriously injured.
Migrants were subjected to cruel, degrading and inhuman treatment by the Moroccan security forces, as they were piled up onto each other (amidst the injured, dead, fainted and exhausted) for hours, and violently beaten as authorities looked on.
Hot returns by the Spanish authorities of around 100 asylum seekers while they could see the violence that was being inflicted upon them by Moroccan authorities.

[2]

Removal of hundreds of arrested migrants by bus to the Moroccan interior, without making nourishment or water available, including tens of injured people who should have been taken to hospital.
A heavy balance
The AMDH Nador report argues that the official version of events – that all the deaths were caused by the crush and by falls from the top of the fence – is unconvincing. Drawing on video footage and witness statements, it notes that this version fails to look into the reasons for the crush and falls (which migrants deny to have been the cause of death), all the more so as there have been many such falls over the years, hardly any of which have had lethal consequences.
The official reading also disregards that many falls were caused by the authorities' violence and loss of breathing ability resulting from use of teargas and smoke bombs. The main reason for the frenzied scrum, lack of vision and uncontrolled falls to the ground from high up on the fences was the massive use of teargas in a very tight and besieged space, an unprecedented situation at this border. Never in the past, even during larger-scale attempts to cross the border, was this much teargas used; indeed, its use has been rare since 2014, and canisters have only been fired in open areas. The report concludes that the risk of such actions causing deaths and injuries was disregarded.
Why were the migrants surrounded as they approached the border post rather than being allowed an escape route towards the woods on the Gourougou mountain, which may have resulted in lower count of dead and disappeared, as the migrants claimed? In previous attempts, people who had failed to cross the border fence had returned to the woods. The decision to surround people was made in the context of improved relations between Spain and Morocco and, like many such decisions made in that context, heightened the risk of injury and mistreatment.
The AMDH report argues that Moroccan authorities made six serious decisions that explain the tragic outcome:
Attacking migrants on an almost daily basis, even when they were 20 kilometres away from the border;
Not dispersing migrants as they headed towards the Barrio Chino border fence, anywhere on the six-kilometre route;
Deploying around 2,000 agents from different security bodies to surround migrants so that they would not have an escape route;
Excessive use of smoke bombs against hundreds of people who were surrounded in a tight and practically closed space;
Ambulances giving priority to carrying the dead, when there were many seriously injured people to attend to in need of medical assistance;
Moroccan and Spanish authorities failed to deploy assistance teams and equipment despite them being available, when people were in agonising pain as they looked on.
Arrests and prosecutions
At the time the report was published, 65 of the asylum seekers arrested on 24 June were prosecuted, divided in two groups. Both groups were assisted by lawyers from AMDH Nador and other associations. Thirty-six asylum seekers were charged with:
insulting and acting violently towards security forces and officers of authorities in the exercise of their functions;
disobedience;
destroying public goods;
menacing public security and that of people and goods,
bearing cutting weapons;
striking blows and causing injuries with weapons; and
facilitating and organising an unlawful exit from national territory and clandestine entry into a national territory.
A second group of 29 people including a minor, were charged with:
constitution of a criminal group;
kidnapping;
arson;
death threats;
bearing weapons capable of harming;
insults and acting violently towards security forces and officers of authorities in the exercise of their functions;
disobedience by attacking and resisting;
collective agreement to facilitate and organise a group of foreigners illegally leaving the national territory;
illegal residence in Morocco;
destruction and damage; and
posing a threat to public order and internal security.
In both cases, the hearings were postponed on request from defence counsels. The minor in the second group was freed and placed in the care of a provincial commission. The court rejected questions by lawyers to those among the people charged who bore signs of the injuries they had suffered, asking them where, when and how they were injured. Errors were also noted regarding attribution of Sudanese nationality to people from Yemen and South Sudan. Since the time the AMDH report was published, 60 people have received prison sentences.
Conclusion
The report concludes that the Barrio Chino tragedy shows that migration policies have
"…gone beyond any limit, with a heavy balance of [people] dead, disappeared, injured and removed and cruel, inhuman and degrading treatment at the feet of a fence erected and financed for many years by European money".
The report also expresses concern about official efforts to cover up the scandal and conceal the people responsible, who continue to have access to various propaganda channels at the national and regional levels. In fact, authorities in both countries appear to be dragging their feet when it comes to investigating responsibilities and the role played by different actors, as shown by their reluctance to conduct autopsies and identify those who died, and an increase in the number of people considered "disappeared". Just this week, the Spanish parliament voted against launching an inquiry into the Melilla deaths, with one half of the coalition government (the Spanish Socialist Workers' Party) relying upon the votes of the right-wing Popular Party and far-right Vox to quash the call for a commission.
AMDH Nador calls on human rights defenders to realise the scale of the tragedy and the important challenge they face in work to decriminalise migration policies and clarify the role played by European funding, to elucidate further what happened on 24 June.
Yasha Maccanico
Source
Further reading
Footnotes
[1] As the Council of Europe's Special Representative on migration and refugees summarised it in 2018: "A number of reports have underlined that persons from sub-Saharan Africa are effectively prevented by Moroccan authorities from approaching regular border crossing points, notably in Melilla (see section 3.1. above). Consequently, they do not have access to the asylum procedure." See: 'Report of the fact-finding mission', SG/Inf(2018)25,  September 2018, p.9, https://www.statewatch.org/media/documents/news/2018/sep/coe-sr-migration-report-on-spain-mission-3-18.pdf
[2] It should be noted that in the case of N.D. and N.T. v Spain, the European Court of Human Rights ruled (on appeal) that 'hot returns' were permissible in certain circumstances, creating a judicial justification for collective expulsions that runs counter to the intention of the law, but nevertheless has since been built upon by other judgments. As the legal academic Dana Schmalz has argued, the court's judgment "created a line of reasoning that curtails migrants' rights against the wording of the provision [against collective expulsion]." See: Dana Schmalz, 'Enlarging the Hole in the Fence of Migrants' Rights', Verfassungsblog, 6 April 2022, https://verfassungsblog.de/enlarging-the-hole-in-the-fence-of-migrants-rights/
---
Image: Noborder Network, CC BY 2.0